Circle of loaf
Katie Taylor chats to a few of the growing number of Real Bread bakers who are teaming up with local brewers to craft ales using surplus loaves.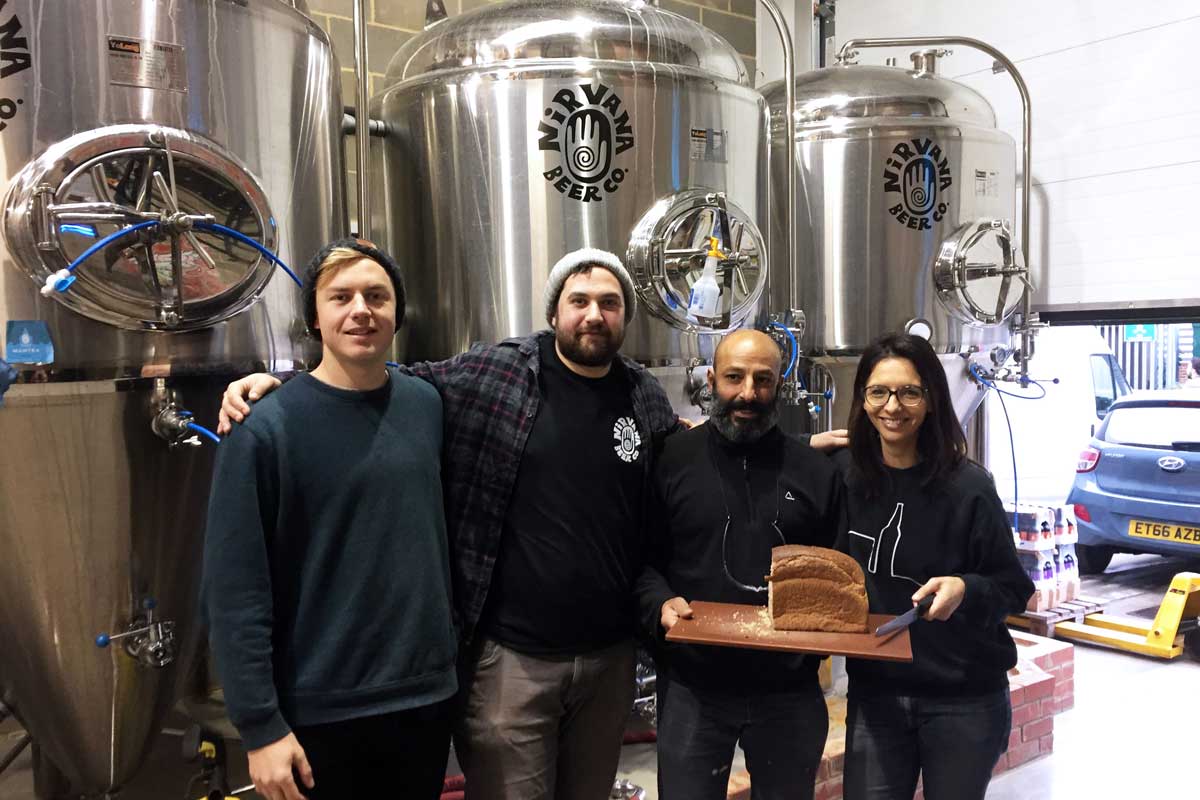 Thousands of years ago, or so it's said, ancient Mesopotamians mixed their life-sustaining daily bread into a gloopy, nourishing drink, and so beer became. Skip ahead through the long unleavened period, past the trencher/manchet era and into the sourdough zeitgeist, and bread beer has made a comeback. Only this time, you won't need a Sumerian straw.
Led by Sébastien Morven, The Brussels Beer Project claims to be the first to bring bread beer back into the light. Brave, especially when your hometown's breweries abide by strict recipes that are hundreds of years old. "We try to be a very different animal," he explained. "I was speaking to Rob [Raenert, a sustainability campaigner based in Brussels] and I couldn't believe the waste created in our city – hundreds of tons of bread, every single year. I thought of the history of bread beer and I wanted to try using the wasted bread to make our own. It took around two years of tests, finding the most efficient way to prepare it, how and when to add it to the mash, to come out with Babylone. It was the first beer made of food waste, and the first beer to be made with bread in the modern day."
The brewery now uses around a ton of bread each month, salvaged from bakeries around Brussels by vulnerable people, who are employed by the training and job coaching non-profit organisation Atelier Groot Eiland.
Raising a Toast
All this feel-good social enterprise energy ignited something in environmental campaigner Tristram Stuart. While on a visit to the Brussels Beer Project tap room, he saw the potential of a beer that was more than the sum of its parts. He returned to England on a mission to find Real Bread – and other - bakers who could join forces with him to produce beer using some of the mountains of surplus loaves in the UK. Toast Ale, the brewery he founded in 2015, is now one of the most visible brands in British craft beer.
Chris Head, Toast Ale's head of partnerships, is keen to point out that social enterprise is firmly at the heart of what they do. "In addition to up-cycling surplus bread and raising public consciousness about food waste, all our profits are donated to the environmental charity Feedback. This year we raised 'equity for good' funding to grow the business, and all investors pledged to re-invest any money they make from into social enterprises or donate to charity."
Getting real
While Toast Ale's main brews are chipping away at, and highlighting, the gargantuan problem of waste in the industrial loaf and sandwich sectors, the brewery is also working with the Real Bread Campaign by linking Real Bread bakeries across the country with local breweries as part of their collaboration series.
Bluebird Bakery in York is one of the Real Bread beer success stories. Their collaboration with the Jolly Sailor Brewery in Selby in early 2018 produced a pale ale that won bronze at the York Beer Festival. Bluebird now regularly passes up to 20 kilos of leftover Real Bread to Jolly Sailor. Bakery owner Al Kippax said: "It's very easy to get involved; Jolly Sailor come and collect the bread and make the beer. They like the fact that each brew will taste slightly different due to the different types of bread we can give them, so they'll take anything we offer. It helps us reduce our waste and it's good for PR too."
Another example was teaming Hiver Beers with Today Bread and St. JOHN Bakery to create Bread & Honey, a limited edition imperial kvass, for London Food Link's Urban Food Fortnight in September 2018.
At the end of last year, Toast Ale teamed up with Nirvana Brewery to create Samsara, a 0.5% ABV pale ale, made using Real Bread from Celtic Bakers in London. The two breweries will be joining forces again to do another low alcohol Real Bread brew for summer 2019.
Beyond the Toast rack
Crumbs Brewing in Reigate gathers local loaves from Real Bread Campaign supporter Chalk Hills Bakery. As with Brussels Beer Project and Toast Ale, bread replaces around a third of the grain added during the mashing stage.
According to 'chief crumber' Morgan Arnell, their collaboration relies on two things: The quality of the bread, and the positivity of the message. "Crumbing the bread really helps," says Morgan, "and the flavour of the bread informs how we brew with it. In our sourdough pale ale we've had chefs tell us they can taste the funkiness of the bread's starter in there. There's definitely a depth there that I really enjoy."
Get brewing
Chris Head hopes that more Real Bread bakeries will start to see the potential of collaborating with breweries. "The more the merrier! We hope we can help bakeries find breweries to work with." If your Real Bread bakery might like to get involved, you can email RTeal Bread Campaign HQ: realbread@sustainweb.org
Slicing surplus

While the Real Bread Campaign fully supports redistributing and repurposing surplus bread, it urges all bakeries to look at how they might avoid the problem of what to do with leftovers by finding ways to reduce the amount of surplus they generate in the first place.

Bakeries: Get your free copy of the No Loaf Lost guide
A bevvy of bready brews

Essex St Brewery x Framework Brewery x Toast:
Toasted Marshmallow Porter (England)
Cameron's Brewery x Toast: Stottie Dunkel Hefeweizen (England)
Hiver Beers x Toast: Bread and Honey (England)
The Wild Beer Company x Hobbs House Bakery: Sourdough (England)
Stroud Brewery x Toast: Toast Ale: Melba Pale Ale (England)
Bute Brew Co. x Bute Co Op: Thorough Bread (Scotland)
Instock: Bammetjes Bier (Netherlands)
4pines x Brasserie Bread: Upcycle Ale (Australia)
---
This feature was first published in True Loaf magazine issue 38, January 2019
---
SHARE