Want Real Bread? Look for The Loaf Mark!
The Real Bread Campaign is helping to make it easier for shoppers to find additive-free loaves.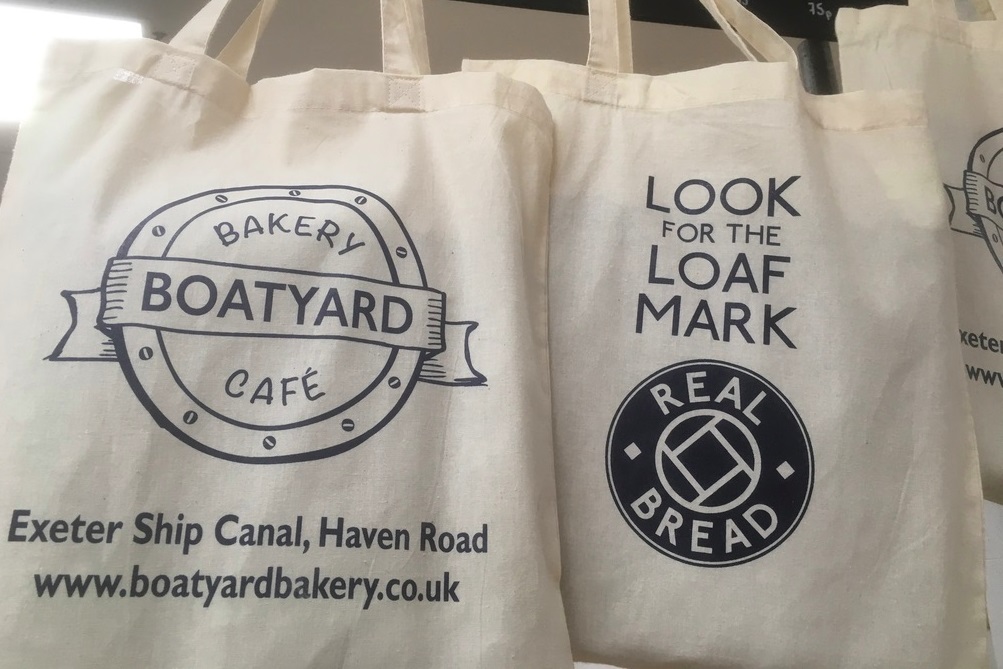 Photo © Boatyard Bakery
How do you know a loaf is additive-free? Reading the ingredients list is the best way, but not every loaf maker and retailer puts them on the bag or displays them at the point of sale.
Even when they do, sometimes you're in such a hurry you'd like a way to know that the baker hasn't reached for the fungicides, or slipped in any other E-numbers, without having to flip to that list. That's where The Real Bread Loaf Mark comes in.
How it works
Launched by the Real Bread Campaign in 2011, The Loaf Mark is a way for a bakery to give its customers an at-a-glance assurance that a loaf is what the Campaign calls Real Bread – ie that I has been made without processing aids or any other artificial additives.
Each year, the bakery signs an agreement that they will only use The Loaf Mark to promote Real Bread. The shopper then simply has to look for The Loaf Mark.
As well as, not instead of full labelling
The scheme is intended to supplement, not replace, ingredient labelling.
The Real Bread Campaign has always insisted that all bakers and retailers should be required to print full lists of ingredients (plus any processing aids or other artificial additives used) on the labels of all loaves, wraps, rolls etc. and food (eg sandwiches) made using them. In the case of non-prepacked food, this important information could instead be displayed on a shelf label.
While the Campaign continues to lobby for full ingredient labelling, it urges all food retailers to take this step voluntarily.
Golden greats
Since the scheme was relaunched in late 2018, 50 Real Bread bakeries have signed up:
Abundance Bakehouse, Anuna Craft Bakery, Artisan Baking Community, Artisan Bread Organic, Badger Bakery, Baked Potato, Bakehouse Born and Bread, Baker Lou, Barkby Bakehouse, Beech Grove Bakery, Bettys [Greece], Bob's Bread Bakery, Bread Man Stu, Companions Bakery, Cookham Bakehouse, Doorstep Bakery, East Sheen Microbakery, Emma's Bread, Grannies Bakery, Greenfield Bakers, Gwendough, Hobbs House Bakery, Imagine Bakery, Ivy Cottage Baker, Jigsaw Bakery, Jo's Loaves, Julian's Artisan Bread & Patisserie, Kennington Bakery, Knead Good Bread, Lekito, Loaf Social Enterprise, Logan Bakehouse, Ma Baker, Mark's Cotswold Bakery, Pagnol Boulanger, Panifica, Peters Yard, Plantissimo, Rise and Shine, SB Artisan Bakehouse, Shincliffe Hall Bakehouse, Slow Food Company, Songbird Bakery, Stark Farm Bakery, Sugardough, The Baking Chambers, The Cambridge Oven, The Forest Bakehouse, Toast Rack, Vanora's Bakery.
Details of where to buy loaves from these Real Bread bakeries (and more than 800 others that aren't current Loaf Mark users) can be found on the Real Bread Map
Support our charity
Your donation will help support the spread of baking skills and access to real bread.