'Listen to the people' urge bakers
More than 150 bakery owners and workers send joint letter to Defra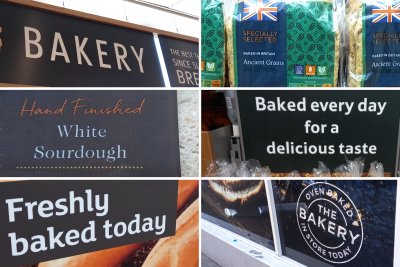 Inadequately regulated supermarket bakery claims. Credit: Chris Young / www.realbreadcampaign.org CC-BY-SA-4.0
Today, the Real Bread Campaign sent a letter, signed by more than 150 bakery professionals from around the UK, to George Eustice, Secretary of State for Environment Food and Rural Affairs. The letter urges the government to include the Campaign's Honest Crust Act proposals for comment in the imminent public consultation on the current, once-in-a-generation review of bread composition, labelling and marketing regulations.
Alison Swan Parente, Chair of the Real Bread Campaign said: "Key regulations governing our sector were laid down almost a quarter of a century ago, and the outcome of this review could affect independent bakers' livelihoods for another generation to come. We are simply asking the government to include these proposals in the consultation so that bakers - and everyone else - can have their say on them."
Andrew Whitley, co-founder of Bread Matters, Scotland the Bread and the Real Bread Campaign added: "This is about honesty, transparency and listening to the people. Our Honest Crust Act proposals are designed to support community bakers who help to keep our high streets alive and to help enable shoppers make better-informed choices about the food they buy."
Keith Kirby, founder of Lekito microbakery in Guildford said simply: "Please do something positive for the artisan and microbakery industry and support what the Real Bread Campaign is saying. Don't ignore us."
The current Bread and Flour Regulations date back to 1998. The government has indicated that the consultation might be launched in August or September this year, though will not give an exact date or any indication of its scope and content.
Honesty and transparency
Since 2009, the Campaign has lobbied successive governments to make full ingredient and additive labelling mandatory for all loaves so that people can easily know what's in them, for whatever reasons they want or need to do so.
In 2019, this became a legal requirement for foods that are pre-packed for direct sale, but retailers still do not have to display full ingredient lists for foods that are sold unwrapped – for example at what the Campaign calls supermarket in-store loaf-tanning salons. Meanwhile, additives that are deemed 'processing aids' do not even have to appear on the ingredients lists of wrapped loaves.
The Campaign's long-standing call also includes setting legal definitions and requirements for the use of a range of bakery marketing terms, including fresh bread, baked in store, wholegrain, sourdough and artisan.
Leo Campbell, co-founder of Modern Bread in Oxford said: "If these simple legal definitions were adopted for our nation's staple food, a whole new era of exciting and important innovation would be unleashed by challenger brands. Without them, the race to the bottom will continue, helping no one, least of all the consumer."
Henrietta Inman, owner and baker at Wakelyns Bakery in Fressingfield, stated: "It is a basic human right to have access to real, healthy food that does not cost the Earth and that is kind to us too. We must act now and ensure that customers know exactly what is in the bread they buy and how it was made."
Run by the food and farming charity Sustain, the Real Bread Campaign is still promoting an e-action via its website, encouraging everyone in the UK to write to their MPs, asking them to urge the government to listen on these issues of fundamental importance around a daily staple of the national diet.
Sourdough September begins in just over two weeks' time, with a rallying cry of: say no to sourfaux!
Signatories
The letter, sent on 16 August 2022 by Alison Swan Parente and Andrew Whitley on behalf of the Real Bread Campaign, was also signed by:
Gareth Roberts, Founder, Amazing-Grains, Olney, Milton Keynes
Lee Dodge, Owner / Baker, Ammonite Sourdough, St Keyne, Cornwall
Andrew Wright, Owner, Andys Bread, Llanidloes, Powys
Klaus Kuhnke, Owner, Artisan Foods, London
Tania Crescenzo, Owner, Artisan Loaf Makers, Wokingham, Berkshire
Sydney Aston, Owner, Astons Bakehouse, Hungerford, Berkshire
Charlotte Crockford, Owner, Bake88, Epsom, Surrey
Paul Rawlinson, Owner, Bakeri Baltzersen, Harrogate, North Yorkshire
Louise Williams, Owner, Bakerlou, Stockport, Cheshire
Dan Booth, Director / Head Baker, Bakerman, Darlington, Co. Durham
Sam Henley, Managing Director, Baltic Bakehouse, Liverpool, Merseyside
Andrew Weston, Owner, Banjo's Bread, Gosport, Hampshire
Sue Shaw, Owner, Barkby Bakehouse, Barkby, Leicestershire
Sarah Fraser Steele, Commercial Lead, Better Health Bakery, Haggerston, London
Zakiya Andrews, Owner, Blackbirds Micro Bakery, Birmingham, West Midlands
Emma Parkin, Director, Boatyard Bakery & Cafe, Exeter, Devon
Phoebe Boulanger, Owner / Baker, Boulanger Artisan Bakery, Presteigne, Powys
Andrew Smith, Director, Bread and Roses, Alnwick, Northumberland
Michael Gopfert, Owner, Bread Circle, Prenton, Merseyside
Graham Capper, Director, Bread in the Borders, Westruther, Berwickshire
Sam Cornish, Owner, Bread of Haven, North Walsham, Norfolk
Steven Winter, Owner, Bread Source, Norwich, Norfolk
Alison McTaggart, Owner, Breadonabike, Cambridge, Cambridgeshire
Jason Crockett, Owner, BredShed72, Markfield, Leicestershire
Deborah Rota, Co-owner / Baker, Buzzing Bee Baked Things, London
Toby Mitchell, Managing Director, Celtic Bakers, London
Daniel Burke, Owner, Charles Artisan Bread, Hackney, London
Paul Barker, Owner, Cinnamon Square, Rickmansworth, Hertfordshire
Julia Cross, Owner, Cold Cottage Craft Bakery, Upper Caldecote , Bedfordshire
Calum Black, Sourdough Baker, Company Bakery, City of Edinburgh
Petrina Traynor, Head Baker, Crust on a Bike, Kilcreggan, Argyll
Ildiko Toth, Owner, Cultured Bread Bakery, Chigwell, Essex
Tara Heron, Owner, Dainty Monkey Baking, City of Edinburgh
Sean Demaine, Owner, Demaine Artisan, Westbury, Wiltshire
Brian Noakes, Owner, Dervaig Village Bakehouse, Dervaig, Argyll
Ellie Burgos-Watkinson, Baker, Dough & Daughters, Crickhowell, Powys
David Stewart, Owner / Baker, Dr Dough, Prescot, Merseyside
Louise Lateur, Director, e5 Bakehouse, London
Julia Farkas, Owner, Eastsheenmicrobakery, East Sheen, London
Tina Hawkes, Owner, Eat Your Crusts, Pershore, Worcestershire
Eddy Sleiman, Founder, Ed Baker, Lewisham, London
Sylvester Spinelli, Owner, Elis Bakery, Newcastle upon Tyne, Tyne and Wear
Shona Rogers, Owner, Elsing Bakehouse, Dereham, Norfolk
Emma Parkin, Director, Emma's Bakery, Exeter, Devon
Liesbeth Bosschaert, Owner / Baker, Envie, Topsham, Devon
Rosy Benson, Owner, Field Bakery, Bridgwater, Somerset
Alfred Musasa Manziala, Manager, Fimivita Free Bread, Birmingham, West Midlands
David Hoyle, Owner, Findhorn Bakery, Findhorn, Moray
Irina Ruseva, Owner, Flour & Soul Bakery, Manchester
Roman Jedlovec, Founder, Flour and Spoon, Leigh on Sea, Essex
Sue Brown, Owner, Forge House Bakery, Lower Heyford, Oxfordshire
Colin Trigg, Owner, Fountain View Bakery, Youlgreave, Derbyshire
Andy Walker, Owner, Gingerbread Bakery, Wistanswick, Shropshire
Mahala Le May, Baker, Granton Community Bakery, City of Edinburgh
David Smart, Owner and Managing Director, Greenhalgh's Craft Bakery, Bolton, Lancashire
Nick Allen, Owner, Greyhound Brewery + Bakery, Pulborough, West Sussex
Hannah Scott, Owner, Hempnall Village Bakery, Hempnall, Norfolk
Sara Ward, Owner, Hen Corner, Brentford, London
Tracey Law, Owner, Heritage Bakehouse, Oban, Argyll
Kate Langston and Sam Dennis, Head Bakers, Heyl Bakery, Plymouth, Devon
Debbie Ross, Owner / Baker, Highland Home Cook, Nigg, Ross-shire
Anna Herbert, Marketing Director, Hobbs House Bakery, Chipping Sodbury, Gloucestershire
Ruth Redgate, Owner, Hunnypot Cottage Bakery, Elford, Staffordshire
Johanna Bottrill, Owner, Jo's Loaves, Luton, Bedfordshire
Juliet Colli, Baker, Juliet's Bread, Ugborough, Devon
Karen Marie Drury-Peppercorn, Owner, Kbroffee, Cambridge, Cambridgeshire
Lizzie Fellows, Co-owner / Co-op Member, Leeds Bread Co-op, Leeds, West Yorkshire
Natalie Gray, Co-op Member, Leeds Bread Co-op, Leeds, West Yorkshire
Keith Kirby, Founder, Lekito, Guildford, Surrey
Luke Fowler, Owner, Levain and Grain, Solihull, West Midlands
Malcolm Williams, Founder and Baker, Little Eye Sourdough Bakery, West Kirby, Merseyside
Neil Holland, Director, Loaf Bakery & Cookery School, Stirchley, West Midlands
Pete Ashton, Director, Loaf Bakery and Cookery School, Birmingham, West Midlands
Nancy Langfeldt, Director, Loaf Bakery and Cookery School, Birmingham, West Midlands
Douglas Mui, Owner, London Road Craft Bakery, Kettering, Northamptonshire
Lucy Johnson, Owner, Lucy's Loaves, Twickenham , Greater London
Jay Matic, Owner / Baker, Manila Artisan Breads, Birmingham, West Midlands
Sam Grinsted, Senior Baker, Mark's Bread, Bristol
Megan Charnock, Owner, Mini Miss Bread, Saffron Walden, Essex
Leo Campbell, Co-founder, Modern Baker, Oxford, Oxfordshire
Patrick Moore, Director, more? the artisan bakery, Staveley, Cumbria
Adrian Clarke, Baker / Carer, Mowbray Bakes, Choppington , Northumberland
Steve Bath, Owner, Myloaf, Cardiff, Vale of Glamorgan
David Nizi, Owner, NIZI Bakery, Hereford, Herefordshire
Sonia, Bakery and Retail Assistant, Novabakehouse, Leeds, West Yorkshire
Maggie Rich, Owner, Off the Rails, Glaisdale, North Yorkshire
Boudicca Woodland, Owner, One Mile Bakery Exeter, Exeter, Devon
David Brewer, Owner / Baker, Orchard Hills Bakery, Walsall, West Midlands
Catherine Paxton, Owner, Paindemain Bakehouse, Tiddington, Oxfordshire
Paul Merry, Owner, PANARY, Shaftesbury, Dorset
Roxanne Beckles, Owner, Pantry to Plate, Barry, Vale of Glamorgan
Peter Cook, Owner, Peter Cooks Bread, Bishops Frome, Worcestershire
Eddie Abbott, Owner, Phoenix Bakehouse, Inverbervie, Angus
George Fuest, Founder, Populations Microbakery, London
Joanna Brennan, Owner, Pump Street Bakery, Orford, Suffolk
Alice Brown, Owner, Raised in Rampton, Rampton, Cambridgeshire
Mark Stevens, Director, Riverside Sourdough, Cardiff, Cardiff
Roger Haycock, Director, Rogers Artisan Bakery, Marsden, West Yorkshire
Tony Wetherall, Head Baker, Roots Bakehouse, Rushwick, Worcestershire
Rose Fiddler Orchard, Owner / Baker, Rosebuds Farm Bakery, Rufford, Lancashire
Matt Warrilow, Owner, Rough Edge Bakehouse, Colwyn Bay, Conwy
Annette Salter, Managing Director, Salt Bakehouse, Stonehouse, Gloucestershire
Anneliese Varley, Director, Salt Bakehouse, Cheltenham, Gloucestershire
Peter Holtmeyer-Cole, Shop Manager, Salt Bakehouse, Stroud, Gloucestershire
Steve Wilson-Fforde, Bread sales, Salt Bakehouse, Stroud, Gloucestershire
Joanna Bailey, Owner, Sourdough by Jo, Northampton, Northamptonshire
David Sargent, Owner / Head Baker, Sourdough Dave, Matlock, Derbyshire
Sophia Handschuh, Owner, Sourdough Sophia, London
Kelly Davies, Owner, South By West, Worthing, West Sussex
Laszlo Kovacs, Head Baker, St. John Bakery, London, Bermondsey
Trevor Gulliver, CEO, St. John Bakery, Bermondsey, London
Nikky Burdekin, Owner / Baker, Strathpeffer Artisan Bread, Strathpeffer, Ross-shire
Sharon Graham-Law, Owner, Sunset Bakehouse, Roade, Northamptonshire
Tim Nash, Owner, Tensheds Bakehouse, Sible Hedingham , Essex
Stephen Michael, Owner, The Bakehouse, London
Clare Barton, Owner / Head Baker, The Bakehouse at 124, Tonbridge, Kent
AnColedy, Owner, The Bakery, Felixstowe, Suffolk
Tanya Young, Head Baker, The Bakery by Knife & Fork, Deddington, Oxfordshire
Steven Rule, Owner, The Billowing Loaf, Stonehouse, Gloucestershire
Gary Derham, Owner, The Bristol Loaf, Bristol
Catherine Vulliamy, Owner, The Conquest of Bread, Hull, East Yorkshire
Alexandra Vaughan, Owner, The Crow's Rest Bakehouse, Wakefield, West Yorkshire
Anne Keenan, Owner / Head Baker, The Culinary Kiwi Bird, Insch, Aberdeenshire
Kirsty Reader, Head baker, The Farm Deli Bakery, Winslow, Buckinghamshire
Rob Paton, Owner, The Fat Batard Bakery, Peebles, Peeblesshire
Alyson Chaney, Head Baker, The Flour House, Southwellp, Nottinghamshire
Darrin Romp, Owner, The Hampshire Real Bread Company, Waterlooville , Hampshire
Jane Todd and Sarah Cripps, Owners, The Kitchen Front, Harpenden , Hertfordshire
Caroline Marazzi, Owner, The Little Artisan Bakery, Great Dunmow, Essex
Eszter Faulkner, Owner / Baker, The Little Sourdough Bakery, Farnborough, Hampshire
Richard Scroggs, Head Baker, The Old Post Office Bakery, London
David Carter, Baker / Tutor, The School of Artisan Food, Welbeck, Nottinghamshire
Caroline Lyall, Owner, The Three Bees Bakery, Maidenhead, Berkshire
Anna Bryan, Front of House Staff Member, The Wee Boulangerie, City of Edinburgh
Yanru Xiong , Front of House Staff Member, The Wee Boulangerie, City of Edinburgh
Mark Garry, General Manager, The Welbeck Bakehouse, Worksop, Nottinghamshire
James Thorn, Owner, The Wild Bread Bakehouse, Faversham, Kent
Rob Mackinder, Baker, Tied Up In Notts, Nottingham, Nottinghamshire
Alex Bettler, Owner, TODAY BREAD, Walthamstow, London
Kate O'Shea, Owner, Tough Mary's Bakehouse, Nottingham, Nottinghamshire
Hannah Parnell, Owner, Two Dales Bakery, Reeth, North Yorkshire
Philip Cardwell, Owner, Uppercrust Bakery, Lytham, Lancashire
Dara O'hArtghaile, Co-owner and Baker, Ursa Minor Bakehouse, Ballycastle, County Antrim
Henrietta Inman, Owner / Baker, Wakelyns Bakery, Fressingfield, Suffolk
Hayley England, Baker, The Welbeck Bakehouse, Worksop, Nottinghamshire
Sheila van Lieshout , Owner, Wester Lovat Loaves, Beauly , Inverness-shire
Bethan o'reilly, Baker, Wild Hearth Bakery, Comrie, Perthshire
Ben Hackett, Head Baker, Wildbread Bakehouse, Faversham, Kent
Simon Spence, Owner, Worton Kitchen Garden, Oxford, Oxfordshire
Andy Elder, Proprietor, Wrington Bakery, Wrington, North Somerset
(At a later date, we may add a list of bakers who added their names after we sent the letter.)
See also
What we're fighting for 2023
Support our charity
Your donation will help support the spread of baking skills and access to real bread.