Animal welfare charity seeks to shame Sainsbury's over chicken standards
Compassion in World Farming (CIWF) launch 'Shamesbury's' campaign and say that the supermarket has abandoned their promises over chicken welfare.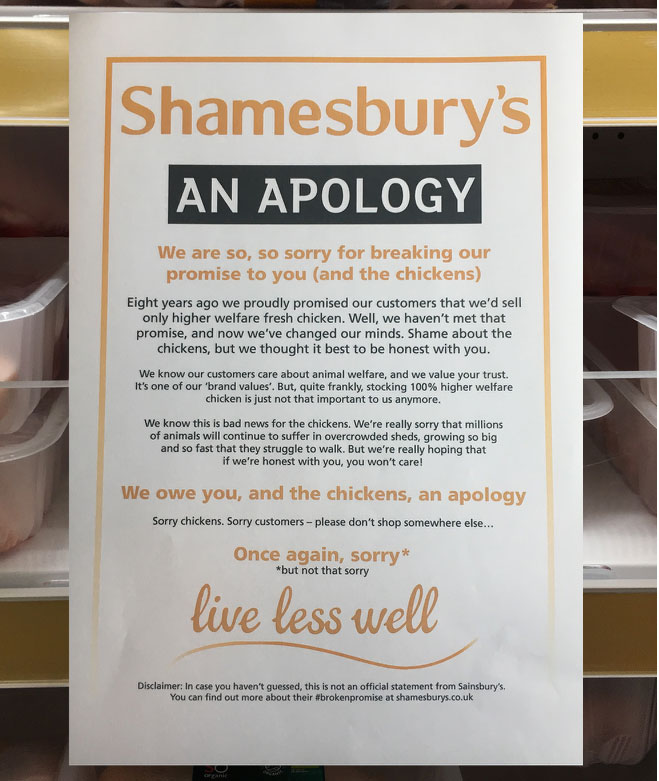 In 2010 Sainsbury's received a Good Chicken Award from Compassion in World Farming (a member of Sustain) for making the commitment to introduce higher welfare standards for all of their own-brand fresh chicken. The supermarket said they would upgrade the minimum welfare standard of all their fresh chicken to the RSPCA welfare mark.

However CIWF say that today less than 20% of the chicken Sainsbury's sell are higher welfare. Compassion say that Sainsbury's has decided not to give chickens more space and not to move to slower growing birds.

CIWF have launched shamesburys.co.uk and are asking the public to sign the open letter to Sainsbury's because the supermarket has decided to abandon their welfare promise.

Sustain contacted Sainsbury's for comment. A spokesperson said: "We are the UK's biggest retailer of RSPCA Assured products and the world's biggest retailer of MSC certified products. While we share Compassion in World Farming's commitment to improving animal welfare practices, we have been clear to them we believe a different approach is more effective.
"The way we work with our farmers is different, and has been for years. We've created a cycle of measuring, managing and continuously improving the health and welfare of our animals, and we believe the results speak for themselves."

In a more detailed email, Sainsbury's say that they have updated the approach their farmers were required to take a number of years ago to ensure high health and welfare practices. The supermarket says they realised the old systems did not give our farmers the freedom to try new technologies and ways of working. Sainsbury's say that this approach has led to their chickens being healthier than ever before; that they have improved the leg health of our chickens and reduced hock marking by 55%.

You can read more about Sainsbury's approach to chicken and animal welfare in general here and here. The supermarket also say they have offered to discuss their approach with CIWF in detail.

Last year one of Sainsbury's main chicken suppliers, Two Sisters, was found to breech hygiene and safety laws.

Sustain campaigns for a food and farming policy which benefits the environment, health, animals and farmers.
---
06/04/2018
Food and Farming Policy
SHARE
---
Food and Farming Policy: Sustain encourages integration of sustainable food and farming into local, regional and national government policies.