Letter to the FT on new EU proposals for stronger food supply chain regulation to avoid unfair trading practices
Sustain, along with the Tenant Farmers Association, Traidcraft and the Moore Stephens Food Advisory group, published a letter in the FT on 18 April 2018. This touched on the proposed European Directive to curb Unfair Trading Practices (UTPs) in the EU food supply chain and why we need such measures in the UK so all farmers and suppliers are better protected against UTPs.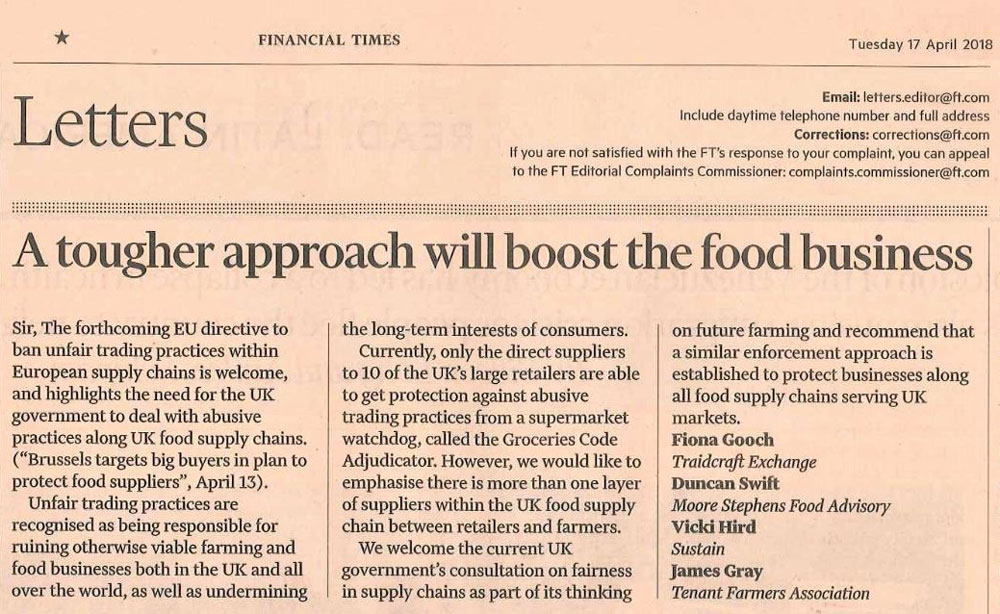 Farming groups, consumers and campaign groups recently condemned the Government's failure to clamp down on abuses in the UK's food system. The Government announced in February that it will not be extending the powers of the Groceries Code Adjudicator (GCA) to protect farmers, instead listing a handful of smaller measures that will do little to curb the power of supermarkets and food manufacturers.
More details on the campaign can be found here.
---
18/04/2018
Food and Farming Policy
SHARE
---
Food and Farming Policy: Sustain encourages integration of sustainable food and farming into local, regional and national government policies.