A webinar in collaboration by Food Foundation, School Food Matters, Chefs in Schools, with support from Sustain's Children's Food Campaign and Soil Association. All welcome and particularly school staff, caterers, local authority officers, community organisations and parents with children eligible for free school meals and preparing for their children.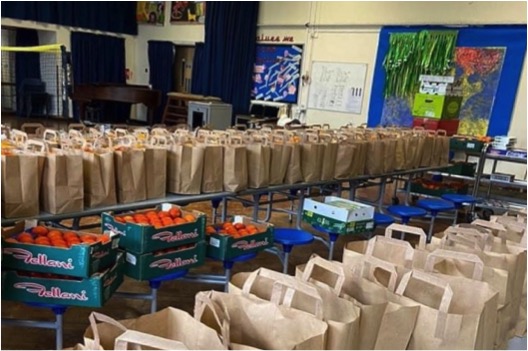 Credit: HC3S / Hampshire County Council
This webinar on Friday 22nd May heard imaginative ideas on how best to cater for pupils, and particularly those most vulnerable children, when returning to school.
We'll be showcasing best practice and learnings from those already working to provide nutritious meals for children during the Covid-19 school closure.
Speakers included: Jeanette Orrey MBE (Co-Founder Food for Life and Co-Chair of School Food Plan Alliance) with Myles Bremner (Myles Bremner Consulting); Paul Jackson (Headteacher of Manorfield Primary School, Tower Hamlets); Mark Davies (Managing Director ISS World Food Services); Claire Gray (Health Improvement Practitioner, Public Health, Oxfordshire County Council); Amanda Whately (Business Development Manager, HC3S Catering).
Published 22 May 2020
Children's Food Campaign: Better food and food teaching for children in schools, and protection of children from junk food marketing are the aims of Sustain's high-profile Children's Food Campaign. We also want clear food labelling that can be understood by everyone, including children.
What we're fighting for 2023
Support our campaign
Your donation will help us champion children's rights, parent power and government action to improve the food environment children grow up in.