Overcoming barriers to farming in the urban fringes
We invited food partnerships from the Sustainable Food Places network for a lively discussion on peri-urban farming. Presentations on the concepts of Food Zones and fringe farming set the scene for breakout group discussions on overcoming barriers to farming in and around towns and cities.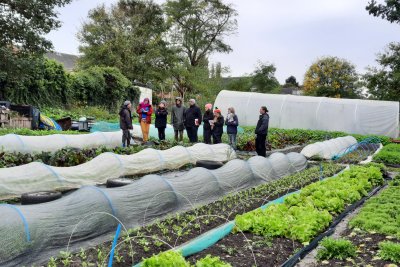 Keats Farm, Bexley. Credit: Mayya Husseini
Why peri-urban farming?
Growing Communities' Food Zones can be a useful model for determining where our food can sustainably come from. Aside from 15% coming from Europe (e.g. olive oil) and 5% from further afield (e.g. bananas), the idea is that we concentrate on growing food within the country. It makes more sense to grow certain foods in certain parts of the country depending on how rural or urban they are. The more perishable a crop is and the smaller its scale of cultivation (e.g. leafy greens), the more it makes sense to grow it closer to the largest markets, i.e. urban centres. And by extension, the larger the cultivation area needed and the easier to store the crop is (e.g. wheat), the more rural the area in which it should be grown.
Peri-urban areas – as a grey area between the rural and the urban – present an interesting proposition. Straddling cities and towns, they have close connections to large markets (not to mention a greater potential labour source and community support), while being made up of larger expanses of undeveloped (or rather not yet developed) land in comparison to urban areas.
According to the Food Zones Model, it makes the most sense in peri-urban spaces to grow smaller-scale and higher value fruit and vegetables, which can benefit from the shorter distances to markets and so retain freshness without the need for refrigerated trucks or even supermarket shelves, if they are being sold as veg bags or at a farmers' market.
Organisations that exemplify the concept of food zones in their operations include Frome Food Hub in Somerset, who include Vallis Veg farm providing mixed vegetables from the town periphery; and Regather in Sheffield who likewise provide mixed vegetables from Wortley Hall Walled Garden.
The value of peri-urban growing
Growing food in the outskirts of towns and cities provides a number of benefits. Being more exposed to food growing may help communities be better informed in how to make healthy, sustainable and culturally-appropriate dietary choices that are, importantly, affordable. This can build better relations between food citizens (or what are more commonly called 'consumers') and farmers towards developing a more supportive and reciprocal relationship.
Also, having responsibly and agroecologically grown produce means caring for the land and so providing more green space and nature to nearby city folk. This can do wonders for physical and mental wellbeing, as well as connecting people to nature and each other, to encourage a greater sense of community.
The Fringe Farming project, led by Sustain, makes constant references to all these benefits of peri-urban farming by growing the movement for agroecological market gardens at the urban fringes. The project harnesses the collaborative energies of two national partners – the Landworkers' Alliance and Shared Assets – and five city partners – Bristol, Cardiff, Glasgow, London and Sheffield – to form and implement local action plans, and lobby local and national policy recommendations.
In the context of the worrying trends of an ageing farming population and land pressures from developers, the Fringe Farming project calls on policy makers to support the kind of shorter supply chains that addresses our current crises in public health, climate, biodiversity and environmental breakdown, and cost of living. It highlights the importance of setting up new farmers - importantly, those that are young and more diverse (e.g. ethnically and in terms of sexuality and gender), and so are likely to lack a well-connected farming background – by delivering an integrated package that joins the dots in terms of land, capital and resources, skills training and access to markets.
As the project's second year comes to completion, we are thinking about what the next steps could look like. For example, could other cities join and in what capacity? What could a fully-fledged Fringe Farming campaign achieve? Is there anyone reading this that is interested in being involved or would like to find out more? The best way is to contact the project's officer, Aryo, who would love to hear from you!
A look at local experience
The Fringe Farming project's Bristol partner, Bristol Food Producers, have highlighted the importance of connecting and making good relations with local MPs and councillors. This has led to the mapping of available land that is suitable for food growing, matching it with land-seeking new entrant farmers and protecting it from development. Bristol Food Producers' research and briefing document has called for local authorities to recognise horticultural training as a skills priority for Bristol, while making it accessible to everyone in the city. This could set the path for an army of skilled growers with land to establish a thriving farming community; or what is typically seen as a rural enterprise but in a peri-urban setting.
We took some time to speak to food partnerships from the Sustainable Food Places (SFP) network to uncover experiences in other local areas around the country. We focused in on access to land and access to markets, as key barriers in establishing agroecological peri-urban food growing.
Access to markets
Public procurement is seen as a potentially important market for peri-urban food growing that is currently inaccessible. As tendering processes for public procurement are governed by price over sustainability, larger producers tend to be favoured, and many public procurement contracts are outsourced to the private sector, which can make it difficult to redress these priorities. Dynamic procurement, which has promised to resolve some of these issues, is proving slower than hoped.
The food partnership coordinators described how the cost of living is impacting CSAs, community farms and other small growers who are losing customers due to cost. Likewise, retailers are said to be feeling the effect of the cost-of-living crisis, who previously might have been more protected than farmers. Some also feel that local production in some areas is geared towards tourism and high-end markets, rather than being appropriate for public procurement.
A range of solutions to accessing markets for peri-urban farmers were proposed, many of which are already being done in different areas around the country:
Creating peer-to-peer dialogues: University of Bristol are quite advanced in their procurement policies, so they are being put in touch with the private sector and schools to give advice
Providing training to producers: if the procurement system is slow to change, they could be trained to work with the current system
Training caterers to be better prepared to work with local producers, for example by developing seasonal menus
Using the Local Food Ecosystem model to develop food hubs based on sustainable, democratic, open-source tech platforms
Set up community supermarkets and 'Food Streets'
Work to build relationships between agroecological farmers and the council, even if there are not many of them
Windmill Hill City Farm is doing a 'pay what you can' veg box scheme
Sustain are also testing the concept of an 'Action Plan for a Good Food Economy', a declaration for councils, anchor institutions, food and drink organisations, chambers of commerce and other organisations.
Access to land
The food partnership coordinators identified several barriers to accessing land for food growing. Finding land that is suitable for food growing and has appropriate infrastructure is hard to come by, especially in locations near to communities. Farmland with affordable housing on-site or nearby is particularly scarce. There were also concerns regarding publicly owned land. Councils do not have the money to maintain their land portfolios and, beyond this, can be hard to engage in discussions either because council officers are seen to work in silos or because these issues can depend on particular individuals in the council. Competing demands for land also creates tensions in urban and peri-urban areas: for example, the need for local services and housing.
Many practical solutions were put forward for accessing land in local areas, including:
Many contributors were able to share positive experiences of action they are already taking locally, such as working with local developers and council estate managers. However, it was felt that local authorities need to put clearer policies and frameworks in place, and to overhaul the planning system which is seen by some to be broken.
What next?
So how can all this local action be supported by policy change? The Fringe Farming campaign has a number of recommendations at the local and national levels. These are condensed into a policy briefing, which you can take to your local MP or councillor when asking for more governmental support for local food systems. Otherwise, stay connected for the next inspiring SFP event.
Read the Fringe Farming report here.
Aryo is the Peri-Urban Farming Officer and leads the Fringe Farming project. The aim of the project is to grow the movement for agroecological food production at city fringes across the UK, both nationally and at a local level: currently, in Bristol, London, Cardiff, Sheffield and Glasgow.
Aryo Feldman
Peri-Urban Farming Officer
Sustainable Farming Campaign
Bella joined Sustain as Local Action Officer, working on Good to Grow, Veg Cities, Sugar Smart, and Food for the Planet. She has a background in organic market gardening and research.
Bella Driessen
Local Policy Coordinator Good Food Local
Support our charity
Donate to enhance the health and welfare of people, animals and the planet.