10 key lessons for local action on food poverty
We've launched a new report to share the key lessons from Food Power on how to empower local action to tackle food poverty and deliver effective, dignified responses. Cecily Spelling, Food Power Coordinator summarises the lessons in this blog.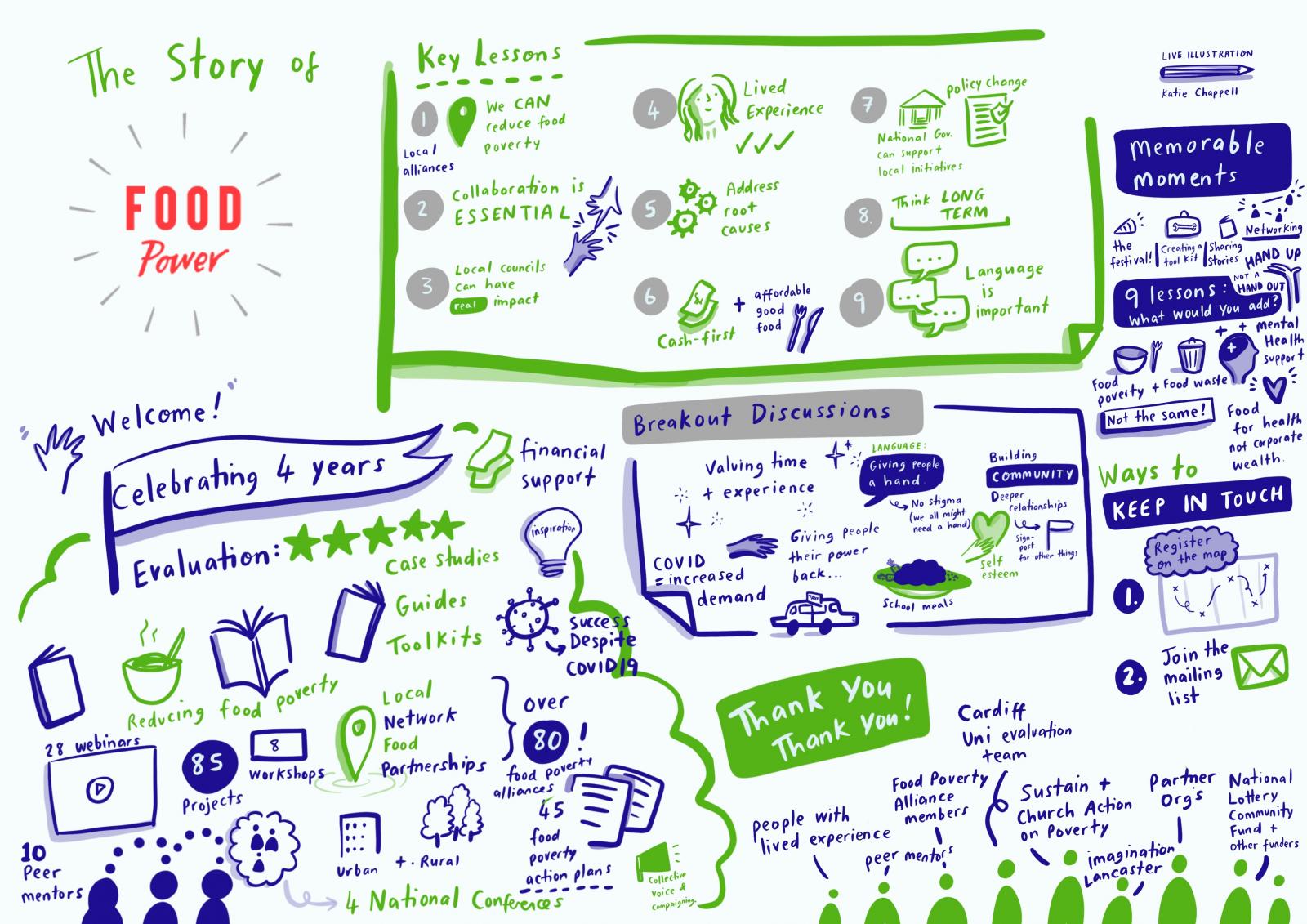 Katie Chappell Food Power
For those that aren't familiar, Food Power was a project run by Sustain and Church Action on Poverty between 2017 – 2021. It aimed to strengthen the ability of local communities to reduce food poverty through developing solutions in partnership and with the support of peers from across the UK.
I started in my role as Food Power Coordinator in September 2020, 3 years and 3 months into the programme. By this point, food poverty alliances up and down the UKhad been working hard to tackle the root causes of food poverty and had been responding to the impact of the pandemic since the spring. Through this work, alliances, people with lived experience of food poverty and allies in the movement have learnt a lot of lessons about what makes successful local action on food poverty.
We've summarised these lessons, along with national recommendations for government and funders, in our new report – Empowering local action on Food Poverty: Key lessons from Food Power. We've identified 10 key lessons which can you read in detail in the report, but to whet your appetite, here is a brief summary:
Communities should develop food poverty alliances and action plans to ensure a sustainable response to household food insecurity.
Local councils should get involved with and support the development of food poverty alliances and actions plans in their local areas.
Experts by experience should be involved in work to reduce food poverty, enabled through appropriate compensation and creative methods that fairly represent their views and amplify their voices.
Sustainable responses to food poverty should include efforts to maximise people's household income and take a cash-first approach.
Local alliances can play a role in ensuring children's access to food 365 days a year. But local and national level change is also needed to remove barriers and prevent the burden falling on overstretched voluntary organisations.
Community food retail initiatives should be developed to support local producers and retailers where possible and avoid further entrenching the current flawed food system.
We should consider the language being used to ensure it fairly reflects and seeks to address the injustices within the system and the voices of experts by experiences.
Efforts to reduce food poverty locally should build towards local food resilience.
Efforts to tackle the root causes of food poverty should be evaluated collectively to effectively measure impact, galvanise collaboration, and understand areas for improvement.
Alliances and local actors should collaborate with diverse organisations to ensure everyone in the community is able to access the good food they need.
Local action plays an important role in tackling food poverty but there are a whole host of structural barriers in place that are hampering progress. So, in addition to local lessons, we identified national recommendations for government and funders that we believe would lead to the real change we need to ensure everyone is able to access healthy, affordable, sustainable food. These are:
National governments should ensure everyone has an adequate income to afford food and other living costs, through living wages calculated in relation to the cost of living and an adequate social security safety net.
National government should provide policy and funding to support local areas to tackle food poverty.
Funders, including governments, should ensure local responses to food poverty work towards long-term strategic responses, rather than only addressing immediate or emergency needs.
Governments should measure the collective impact of their policies across departments and work streams.
Governments and councils should support a right to food to eliminate the disproportionate impact of food poverty on, for example, minority ethnic communities, disabled people and older people.
Action to tackle food poverty should not be siloed but integrated within wider action to improve the food system as a whole.
Through following these lessons, food poverty alliances and people with lived experience have, and will continue to, play a vital role in ensuring we work towards food justice for all. They must be supported to deliver this work though, by local authorities, national governments and others in their community, because they cannot and should not do it alone.
Download the full report and find more resources, including guidance for local authorities, case studies and webinars on the Food Power website.

Cecily worked at Sustain for two years from September 2020 as the Communications and Network Coordinator for Food Power, the Food Roots Incubator and the Food Learning Forum.
Cecily Spelling
Communications and Events Coordinator
Food Power
Support our work
Your donation will help communities identify ways to alleviate food poverty.