Junk food companies are coming up with innovative ways to sell junk food to us during lockdown, some of which might raise a few eyebrows. Fran Bernhardt explores these tactics.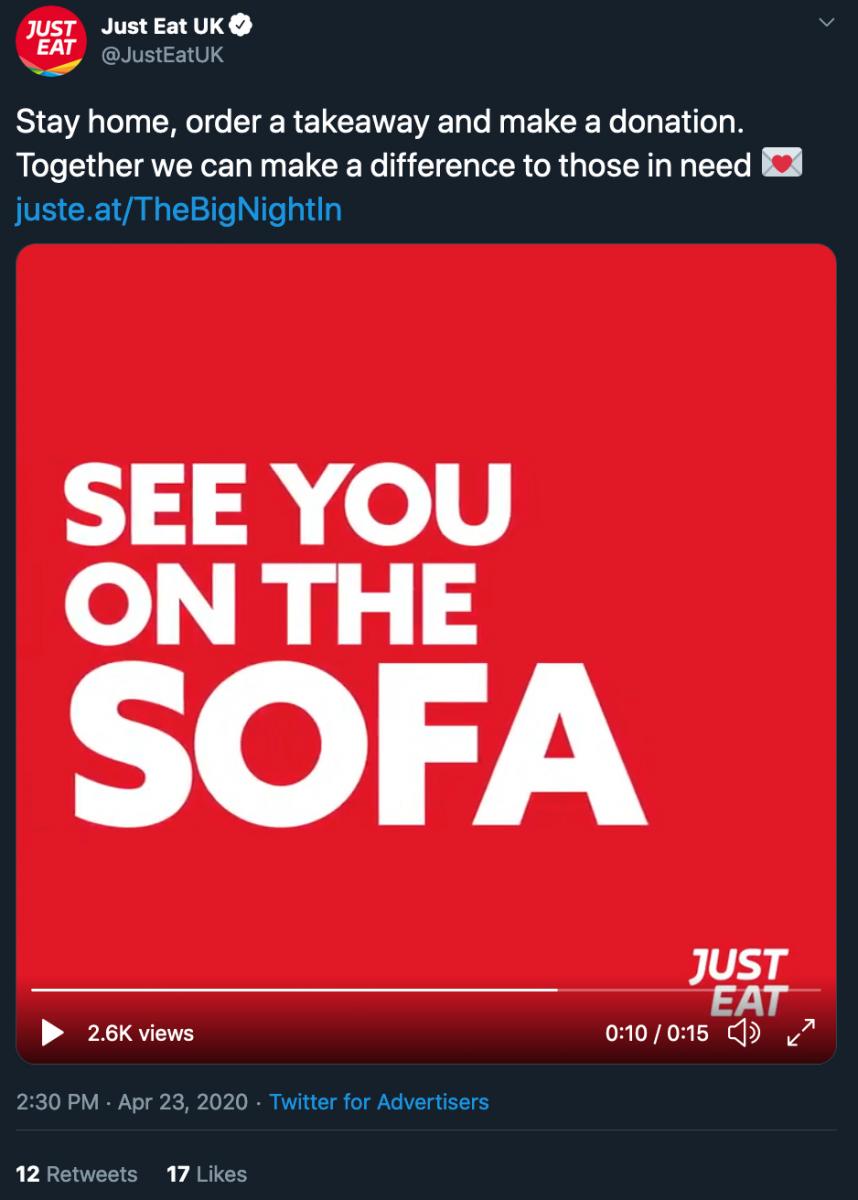 Just Eat's Tweet positioning ordering a take-away as a charitable act. Credit: Sustain 2020
We've carefully followed social distancing rules, forgone intimate moments with loved ones and carefully navigated these disconcerting and often harrowing times. Meanwhile, companies selling junk food have been busy dreaming up opportunities to monetise the crisis, playfully protecting junk food brands as evidence grows that diet-related co-morbidities increase risks of those who end up hospitalised due to coronavirus. So as we stayed indoors and lived our lives through screens, we became sitting ducks for junk food brands putting profits before health.

There's nothing inherently wrong with the occasional doughnut or pizza. In fact, there have been many home cooks and small businesses that have thoughtfully supported loved ones and local communities with gestures of comforting goodwill. The difference here is that some brands are profiting from us over-eating unhealthy food. Last month, doctors spoke out with Dr Aseem Malhotra criticising the food industry for normalising unhealthy foods. Everyone appreciates a treat now and again, but in order to stay truly fit and healthy through this crisis, we need nutritious food too.
"Sponsoring" the NHS by offloading junk food on healthcare workers

You've seen them beaming out at you on social media – overtired NHS staff posing wearily with boxes of the last foods they would recommend for health. Overworked keyworkers - who are taking on some of the biggest sacrifices of their lives – need good choices of nutritious, tasty and wholesome food at a time that suits them, not calorie-dense but nutrient-poor products. But everyone from Pizza Hut to Krispy Kreme has used this ploy. Why? Because what brand selling HFSS (High fat, salt and/or sugar) produce worth their salt (fat and sugar too!) would want to miss out on the opportunity? It's win-win – offload unsold food and best of all, capitalise on free marketing by sponsoring the pandemic heroes.

Burger King offloading meals to the NHS. Credit: Fran Bernhardt

Playing on our emotions and twisting our feelings of community to accelerate sales

Taking advantage of the grief-stricken state of our nation might sound completely unfathomable, but not for junk food brands! We've seen Deliveroo leap on the bandwagon of hashtags about Captain Tom Moore, weepy tweets from Mcdonalds about missing their customers and Just Eat's farcical love letter to Greggs. But Cadbury's takes the biscuit with this tear-jerking video. Using images and quotes from people's lived experiences of lockdown life, it implores us to be generous. Of course, no need to ask Cadburys how we should go about this task!

Cadburys implores us to be generous in their video. Credit: Fran Bernhardt

"Helping" to keep kids busy at home often with an unhealthy dose of brand advertising

HFSS brands are seizing this moment to build brand loyalty from children. While busy parents are juggling working from home with childcare responsibilities, brands have started offering themselves as babysitters. Milkybar introduced its #80AwesomeThingsToDo in mid-April. Around the same time, Mcdonalds launched their new "family fun hub"– filled with children's ebooks, activities and games featuring children's cartoons and of course, that red and yellow children's meal box synonymous with the brand. Deliveroo has started quizzes featuring questions about their service, while Krispy Kreme #DesignForDoughnations competition harnesses flourishing lockdown artistry via drawing their next doughnut.

Milkybar "helping" to keep kids busy. Credit: Fran Bernhardt

Repurposing the stay home message - often with an instruction to buy their products as part of a responsible lockdown

A few brands have taken to spelling out their desires for us to spend our newly locked down lives gorging on their unhealthy products. This message comes at a time when for many of us, opportunities to exercise are severely limited so encouraging snacking on junk is even more inappropriate than usual. We've seen a giant floating Malteser on top of a house captioned "Stay home. Stay safe". Mcdonalds social distanced the lettering of their logo, and Burger King crossed out their tagline to read "stay home of the whopper". But most astonishingly brazen was Just Eat's directive in late April, positioning ordering a take-away as a charitable act.

Just Eat positions ordering a take away as a charitable act. Credit: Fran Bernhardt

Making charitable donations

Cadburys donating to Age UK, Greggs supporting Comic Relief and Children in Need, Coca Cola supporting Global Citizen…Wherever you look at the moment it seems these brands are getting stuck in and doing their bit for the common good. But these are multinational corporations - many of whom are worth billions of pounds, while the beneficiaries are in desperate need of financial support. In many cases, it's the customers doing the donating. Is this really a gesture of goodwill? Or a PR stunt to win public favour and hush future criticism?

Dominoes pizza's donation. Gesture of goodwill or PR stunt? Credit: Fran Bernhardt

Telling us to recreate junk food at home

Now giving away your brand's recipes might seem self-defeating, but in these extreme circumstances, some brands have leapt at the chance to keep us thinking about their products while their stores are closed. Mcdonalds shared their sausage and egg muffin, Pizza Hut encouraged us to nail their pizzas at home and Just Eat took it one step further by rating attempts to re-create junk food on social media. Of course, allegedly none came close to the branded version so ultimately Just Eat implores us to keep eating KFC.

Just Eat rating attempts to recreate KFC at home. Credit: Fran Bernhardt

Imploring us to do their advertising for them

It's unclear whether Haribo and Walkers crisps have furloughed their advertising staff, but either way, they want you to make their adverts for them. ITV has set up a competition to ask members of the public to recreate 5 adverts. Of those, two are HFSS products - Haribo sweets and Walkers crisps. The winning remakes will be shown during Britain's Got Talent. It comes after ITV has come under heavy scrutiny for the high frequency of HFSS adverts during Britain's Got Talent and X-Factor in the past. It's a particularly curious decision since they could have used their existing "Eat Them to Defeat Them" Veg Power campaign creatives to promote healthy eating during lockdown but chose not to.

ITV's competition imploring us to recreate Haribo and Walkers. Credit: Fran Bernhardt

Presenting themselves as a solution - security, safety and "keyworkers" doing their bit to provide access to essential items

Some brands have seen this crisis of resource scarcity and self-isolation as time for a rebrand. Cheeky take-away or indulgent treat no longer, they are now heroes delivering us the essentials! There's no denying that food deliveries have been a lifeline to those who are unable to leave their homes, but brands like Deliveroo are enthusiastically splashing around in this grey area, mimicking governmental language and capitalising on their ability to offer an essential service to advertise unhealthy food.

Deliveroo presenting themselves as "keyworkers" delivering essentials. Credit: Fran Bernhardt

Aligning themselves with unrelated/distantly related worthwhile causes

Some brands have taken a less direct approach to the crisis by aligning themselves with positive social justice causes – perhaps to tap into those of us who want to see these changes post lockdown? To find allies where none of their competitors are looking? Or as a distraction? Whichever the case, Ben and Jerry's has been the most prolific user of this tactic. Over the last few weeks, they have tweeted about Earth Day, immigration detention centres, refugee support and trans rights to name a few.

Ben and Jerry's tweeting about Earth day. Credit: Fran Bernhardt

Advertising as usual

Perhaps the most subtle but arguably underhand response is brands that are simply continuing to advertise unhealthy products as if blissfully unaware of the severe public health crisis affecting the country. Many brands - particularly confectionary whose products can be more easily accessed relative to their hot food counterparts during lockdown - have been unable to resist going ahead with their planned marketing strategies. Brands like Magnum make no mention of the change to our lives on their social media, and after a few weeks' pause, are starting to advertise as usual. Others are interspersing responsive messages to the pandemic with their usual advertising. Cadburys has flaunted its Win the Captain competition throughout the lockdown, offering winners the opportunity presumably to flout the lockdown by meeting football players, even as we must fight our desire to meet loved ones. Maltesers, loathe to give up on months of marketing building up to Easter, continued to advertise their golden bunny competition throughout the beginning of lockdown.

Maltesers advertising as usual. Credit: Fran Bernhardt
Just like the rest of us, HFSS brands are navigating uncertain times, but unlike the vast majority of us, they are choosing the health of their bank balance over the health of the country. Instead of playing their part and doing what they can to meaningfully address the crisis, they are putting their resources into pulling the wool over our eyes. Most concerning of all, the Government is falling for it – they are holding these companies up as heroes in our fight to build back a healthier Britain and recover from this crisis. Most notably, DEFRA recently included Just Eat and Deliveroo in a video thanking national food heroes. While we are seeing companies like Kellogg's actively breaking what little rules there are to govern HFSS advertising, the Government and regulators are doing very little to hold them to account.
The problem is the same as before this crisis but is even more difficult to stomach given one in four people who have died in hospital with Covid-19 had diabetes. If we are really serious about improving the nation's health (and if we weren't before, now is as good a time as any to start!), we need to ensure that everyone has access to fresh nutritious food, and that we take serious, effective measures to restrict these companies which flog unhealthy products from stealing the spotlight.
We're not the only ones keeping a watchful eye on junk food brands' tactics during Covid-19. For more analysis, check out the blog by our friends at the Obesity Health Alliance.
Children's Food Campaign, Action on Salt and Action on Sugar have called on food and drink brands to adopt a voluntary moratorium on all HFSS advertising before 9pm, until the Government takes steps to introduce an official online and TV watershed, as part of its Childhood Obesity Plan.
Fran Bernhardt is Commercial Determinants Coordinator at Sustain. Commercial determinants are industry activities which affect our health, inequalities and climate. Since 2018, she has advised the Mayor of London's team on writing and implementing the Healthier Food Advertising policy which restricts unhealthy food and drink advertising from the Transport for London network. This has led to a weekly reduction of 1,000 calories and a 20% reduction in sugary products in London households' purchases. It is estimated to prevent 100,000 cases of obesity, 3000 cases of diabetes and 2000 cases of heart disease plus it's expected to deliver a saving of £218 million to London's NHS over the lifetime of the current population.
Fran Bernhardt
Commercial Determinants Coordinator
Support our campaign
Your donation will help us champion children's rights, parent power and government action to improve the food environment children grow up in.