A successful complaint to the Advertising Standards Authority shamed Kelloggs into removing Pringles ads shown alongside the popular #PEWithJoe sessions on YouTube. Children's Food Campaign and Action on Salt & Sugar are now calling on all companies to adopt a voluntary moratorium on junk food advertising before 9pm.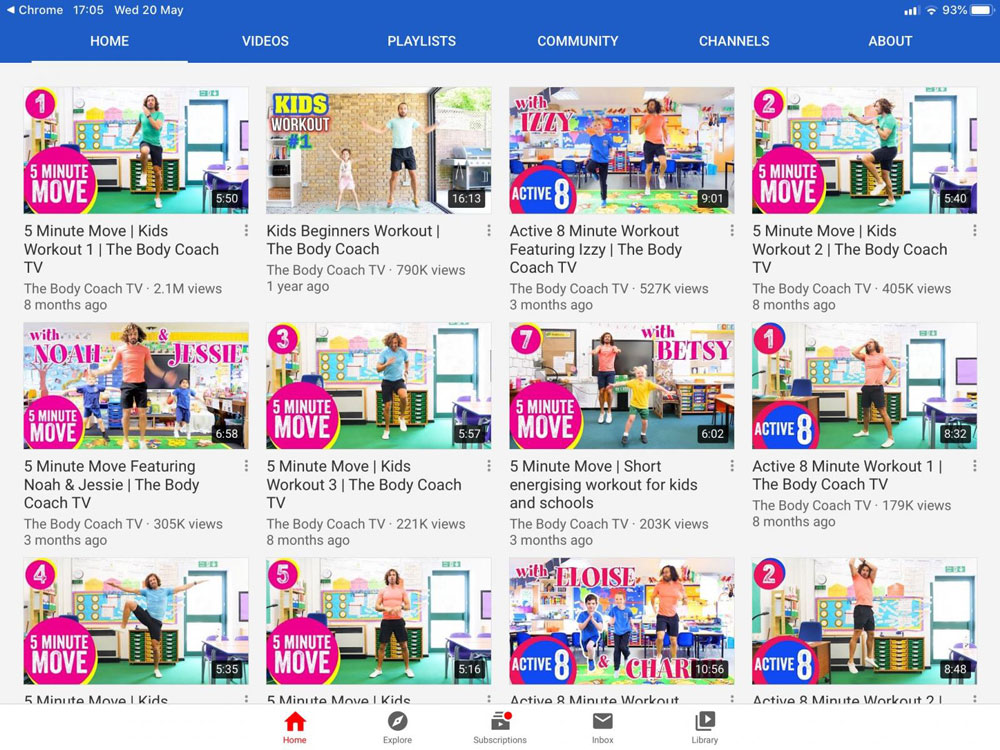 How could the ASA accept Kellogg's excuse that they didn't know Joe Wicks' Body Coach channel was popular with children? Everyone else in the UK knew!
Kellogg's has been exposed for irresponsibly advertising its Pringles snack products to families at the start of PE with Joe exercise sessions on YouTube, according to a successfully "informally resolved" complaint to the Advertising Standards Authority.
The brand has now dropped advertising from Joe Wicks' Body Coach YouTube channel, rather than face a formal regulatory investigation into its online advertising practices. Joe Wicks would have had no personal control over the ad appearing right before his popular children's workout.
Today, both Action on Salt & Sugar and Children's Food Campaign are calling on all food & drink companies to refrain from advertising any food or drink high in fat, salt or sugar (HFSS) before 9pm across all media platforms during the COVID-19 pandemic. This should be until the government is able to resume its previously planned work to introduce a 9pm TV and online watershed on junk food advertising, as part of current Childhood Obesity Plan measures.
In April, a 'pre-roll' ad for Pringles appeared to an unspecified number of the hundreds of thousands of children (and their parents) who tune in to PE with Joe online every weekday, undermining what is meant to be a much-needed health boost during lockdown.
Under current government rules, Kellogg's (like other food and drink brands) is not allowed to promote its 'less healthy' products on children's TV, or any media channel, with an audience of more than 25% under-16s. However, loopholes for online platforms and social media, as well as for peak-time family TV viewing, mean that junk food brands and digital marketeers can currently find other tactics to lure children in.
This isn't the first time that Kellogg's has advertised on websites and YouTube channels predominately viewed by children. The Advertising Standards Authority found similar breaches of its rules by Kellogg's in late 2018.
Nor is Kellogg's the only brand exploiting loopholes via YouTube. Oreos (Cadbury / Mondelez) has also placed pre-roll ads on Joe Wicks' YouTube channel at a time when children of all ages are eagerly searching through and playing all the content from their favourite celebrities.
This news comes as ITV prepares to run 'The Peoples Ad Break' during this Saturday's Britain's Got Talent (23 May), showing user-generated versions of ads promoting Haribo sweets and Walkers crisps. More families than ever are turning to TV and online entertainment during the recent period of lockdown, when children's opportunities to run and play are restricted. Britain's Got Talent has been attracting record numbers of child viewers, yet it is exempt from government rules.
Emerging scientific evidence from this pandemic shows that nutritional deficiencies, obesity and related health conditions could be risk factors for worse outcomes of people hospitalised with COVID-19. There is comprehensive evidence showing the harmful effect of unhealthy food and drink advertising and the government have consulted on plans for a 9pm watershed on unhealthy food and drinks, the outcome of which is yet to be announced.
Barbara Crowther, Children's Food Campaign spokesperson, says:
"A 'Pop, Skip and Jump' is a misleading and counterproductive message for industry to be pushing. Placing this ad directly before Joe's hugely popular children's daily PE class is a total betrayal of his work, and highly insensitive, irresponsible marketing. Children don't need more salt, more saturated fat, more sugar, more excess calories being pushed to them during a pandemic; or indeed at any time.

"Children are even more of a captive audience during this lockdown, and we are hugely concerned they are still being subjected to unhealthy food advertising like this. The food industry and Government's focus should be on building up people's health and resilience; not undermining it."

"The Advertising Standards Authority also has an important role to play in enforcing the rules, yet they have allowed Kellogg's, a known 'cereal offender,' to just 'settle out of court'."
Katharine Jenner, Campaign Director at Action on Salt and Sugar, adds:
"Last month the UK's biggest betting and gaming companies showed some degree of moral fibre by agreeing to stop advertising their products on both TV and radio during the lockdown, in a bid to reduce exposure to those at risk of addiction.

"At this time, when health is more important than ever and our health systems and government are under enormous pressure, we are calling for the British food and drink industry to unite in the interests of public health and, through a voluntary 'moratorium', remove all forms of unhealthy advertising across all media platforms before 9pm during the current pandemic".
Notes
1. Pringles Original calculated to have Nutrient Profile Model score of 11 and thus be classified as HFSS / 'less healthy'. Nutrition data via Sainsbury's & NPM scorecard. https://www.sainsburys.co.uk/gol-ui/product/pringles-original-190g and NPM scorecard.
2. The Advertising Standards Authority does not publish the details of cases that are 'informally resolved' when it decides not to pursue further investigation after a company accepts that it has breached the CAP Code, and voluntarily removes the offending advertising. There are no sanctions or penalties: these cases only merit a one line mention buried in the ASA website.
3. The Pringles complaint was lodged by a member of the public, and shared with the Children's Food Campaign and Action on Salt & Sugar. Details of the case have been taken from the complaint to the ASA made on 10 April 2020, and the letter back from the ASA to the complainant explaining the informal resolution of complaint, dated 6 May 2020. The ASA noted the 'informally resolved' case on its website on Wednesday 19 May 2020, over a month after the original complaint was made.
4. The Oreos advert is subject of a separate complaint recently submitted to ASA, still awaiting verdict. The Advertising Standards Authority has already upheld two complaints from the Children's Food Campaign against Mondelez products, for Cadbury Dairy Milk eggs, and for Freddo.
For more information:
To interview Children's Food Campaign, contact Barbara Crowther barbara@sustainweb.org
To interview Action on Sugar & Salt, contact David Clarke david@rock-pr.com
Press coverage for this story:
The Guardian Kellogg's pulls Pringles ad from Joe Wicks 'PE with Joe' YouTube show
Campaign Kellogg's drops Pringles ad targetting Joe Wicks viewers
The Scotsman Kellogg's to drop ad on Joe Wicks' channel after complaint
The Independent Kellogg's removes Pringles ad from Joe Wicks YouTube Channel amidst claims of irresponsible marketing
The Grocer Kellogg's pulls Joe Wicks ads after kids advertising claims
The Sun Kellogg's pulls Pringles ad from Joe Wicks "PE With Joe" YouTube Show
Daily Express Pringles pulls ads from Joe Wicks' YouTube channel over 'irresponsible marketing' claims
FR24.Com Kellogg's takes Pringles commercial from "PE With Joe"
Nutrition Insight YouTube junk food advertising loopholes flagged as lockdown makes children more vulnerable
Marketing Week What Matters This Morning, 22 May: Kellogg's pulls Joe Wicks YouTube ads amidst growing criticism
Just Food Kellogg's pulls Pringles ad from Joe Wicks YouTube lockdown show
New Food Magazine Advocacy groups call for standardised advertising of HFSS foods
Food Navigator Kellogg's drops advertising from Joe Wicks YouTube channel after Pringles blunder
Head Topics Kellogg's removes Pringles ad from Joe Wicks YouTube channel
Prolific North Pringles ad removed from Joe Wicks' YouTube series
DNYUZ Kellogg's pulls Pringles advertisement from 'PE With Joe'
Support our campaign
Your donation will help us champion children's rights, parent power and government action to improve the food environment children grow up in.