Sign the sourfaux code rejection letter
Can the code!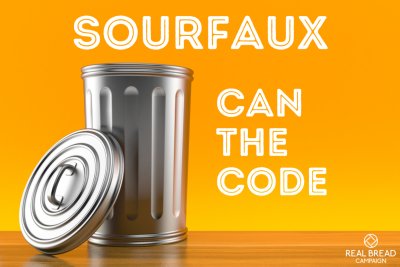 Use on social media to spread the word. Credit:
A government Minister has endorsed a so-called 'UK Baking Industry Code of Practice for the Labelling of Sourdough Bread and Rolls'.
This document and its authors seek to legitimise profiting from using the word sourdough to name and market products made with bakers' yeast, chemical raising agents and other additives.
Please help the Real Bread Campaign to demonstrate that it does not represent the views and needs of genuine sourdough bakers and buyers.
Do you share the Campaign's belief that the government should reject the proposed code and instead enact a single legal definition of sourdough bread, and regulate use of the term?
If so, and you are in the UK, please add your name as a signatory to the letter, urging Defra to can the code.
Update: we sent the letter, signed by more than 1000 people, on 17 May 2023.
See also
If you have any queries or comments, you can email the Real Bread Campaign coordinator.
The letter
Dear Thérèse and Mark,
For the reasons given by the Real Bread Campaign co-ordinator in his letter of 6 February 2023, we the undersigned totally reject the so-called 'UK Baking Industry Code of Practice for the Labelling of Sourdough Bread and Rolls'.
We are appalled that a Government minister should 'welcome' this sham document. It feels like a betrayal of the small bakery business owners who, collectively, have been nurturing the UK's genuine sourdough bread making tradition, and the market for sourdough bread, for at least 50 years.
By rendering the word sourdough confusing as the now-banned term wheatmeal and meaningless as the unregulated term farmhouse, it also feels like a dereliction of duty towards protecting shoppers from being misled.
Instead, we support the case for a legal definition of sourdough, as presented by the Campaign to Defra on 21 January 2022.
Will you please review and withdraw your endorsement of the proposed code, as well as your dismissal of regulating use of the word sourdough?
Why this matters
In his 2 March 2023 reply to the Real Bread Campaign (ref PO2023/02465/SH), Mr. Spencer stated: "Industry codes of practice can provide a useful resource to support a level playing field for businesses." That might be so in some cases but not in this one.
The majority of bakeries making genuine sourdough bread in the UK are small, independent businesses. They help to support more jobs per loaf, helping to keep money circulating in local economies and to keep our high streets alive. They are now being undercut not only by larger bakeries fairly making genuine sourdough bread more cheaply due to economies of scale, but also by companies of all sizes using the word sourdough to market fundamentally different products.
If adopted, the proposed code might conceivably contribute towards equality of businesses of every type and size being able to use the word sourdough to name or market products manufactured using baker's yeast and additives. It would not, however, create equity between a small, independent bakery that makes genuine sourdough bread, and the combined marketing might of multi-billion-pound industrial loaf manufacturers and multiple retailers promoting what the Campaign calls sourfaux.
Not in our name!
As the Campaign coordinator has pointed out, the document was not written or approved by the baking industry as a whole. Calling it an 'industry code of practice' belies the fact that it was drafted in secrecy by and for a small group of organisations whose members have vested interests in profiting from making, selling and using additives and baker's yeast.
This absurd situation is comparable to the Government endorsing a honey composition, labelling and marketing 'industry code of practice' written by sugar refiners, or one for butter being compiled by margarine manufacturers.
Clarity and consumer protection
Repeated ministerial assertions of existing regulations being 'robust' enough to prevent people from being misled, with consumer protection bodies ready and able to enforce them, just don't ring true. According to the Chartered Trading Standards Institute's response to a 2021 BEIS consultation, trading standards service budgets have been slashed by an average of 46% since 2009, while staff numbers have been cut by around 52%. Meanwhile, in December 2019, the Advertising Standards Authority said that it was unable to uphold two complaints, stating "we don't consider that there is a fixed definition of a sourdough loaf."
Both of these clearly demonstrate the need for legal definition and clear-cut regulation to prevent cases arising and to enable simple and swift resolution of any that do. These are things that muddled, disputed, non-binding guidance will not do.
Not just sourfaux
In his reply of 2 March Mr. Spencer yet again failed to answer the question that Defra keeps on sidestepping, so we ask again: when and through what means will we and all other stakeholders get to have our say on the review of regulations relating to the rest of the Campaign's Honest Crust Act proposals? When will the public consultation(s) be on each of its elements?
Yours sincerely,
[We will add the list of signatories, including business names and job titles, where applicable.]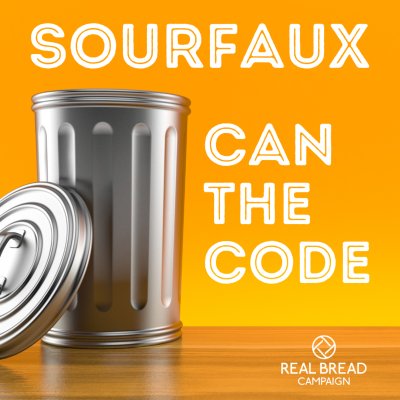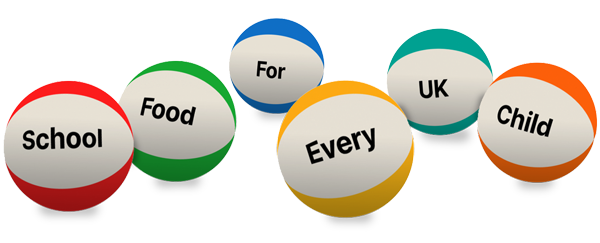 Ask your MP to end the school food postcode lottery now
Support our charity
Your donation will help support the spread of baking skills and access to real bread.