Red Alert: In the cost of living crisis – let's get serious about where our food money goes
When they have not enough money, people go hungry and their mental and physical health suffers. It's time to take serious action on the structural causes of hunger, says Sustain Chief Executive Kath Dalmeny. Here are six things we need to do to help beat the cost of living crisis and ensure £4bn of our food money goes to the right places.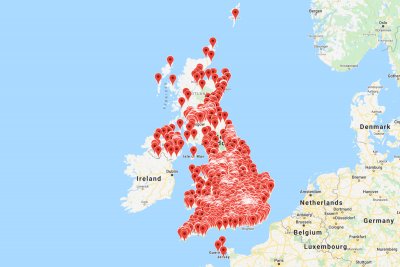 Food banks in Great Britain, spring 2022. Credit: www.givefood.org.uk/needs/
Take a look at the map above. It is a screenshot from a website run by the charity GiveFood, asking people to donate tins of beans and fruit, cartons of UHT milk and bags of rice to help their neighbours in crisis. From Shetland, to Enniskillen, Aberystwyth, Norwich, London and Penzance, and hundreds of places in between, there are people in all of our communities struggling to get enough to eat. This is a tidal wave of household crisis and distress.
Every charity that provides emergency food aid wants to see an end to food banks. This is no way to feed a nation. Just think of all those kind volunteers who turn up in church and temple halls, community centres, schools and warehouses to hand out bags of donated food. Many are reporting that they already cannot cope with the demand. A survey by the Independent Food Aid Network (IFAN) in December 2021 found 90% of the foodbanks in their network have experienced increased need. The removal of the £20 uplift to Universal Credit and the increase in energy bills are likely to be substantial drivers. Volunteers are being expected to act as an emergency service, a tiny sticking plaster across the cruelly widening gap between people's incomes and the cost of living.
Chancellor of the Exchequer Rishi Sunak said in September that "everyone should be able to afford the essentials", i.e. that nobody should be thrown into destitution. Yet new data released by the Food Foundation in February show a continued rise in household food insecurity across the UK. Compared with July 2021 the figure has now risen from 7.3% of UK households to 8.8% (4.7 million adults). Two million children now live in households that do not have access to a healthy and affordable diet. 1 million adults reported that they or someone in their household have had to go a whole day without eating in the past month because they couldn't afford or access food. People who are disabled or on Universal Credit are much more likely to go hungry. If you live in the North, you are more likely to experience food insecurity than if you do in the South. The reasons for all of this are structural, financial, baked into the way our country manages its money.
It is going to get worse. Millions of people in our country face the bleak prospect of relentless household food insecurity as steep rises in the cost of energy and food start to hit home, and the war in Ukraine pushes up fuel prices and affects global wheat supply. Even before the Russian invasion of Ukraine and consequent rapid fuel price inflation, Tesco was predicting an average 5% rise in food prices by the spring; food manufacturer 2 Sisters Food Group has estimated 15% by the end of the year. Five per cent would be bad enough when you are living on a financial knife-edge, but copious evidence from Bootstrap Cook Jack Monroe shows that the price rise in lower-cost, basics ranges has risen by up to 344% for some products, and some cheaper options have been taken off the shelves altogether. British Retail Consortium has warned that food prices will continue to rise and at a faster rate than last year.
This is a Red Alert. What should we be doing as a movement that is passionate about food justice, health and food system sustainability? What should we do as neighbours, as citizens and as policy campaigners? Here's the rub. We can continue to put our efforts into compassionate support to provide food to people in need. However, that need will only deepen and become every more distressing unless we look upstream and fix the reasons why people are falling into food insecurity.
We all need to lend our voices and organisations to advocacy for structural and financial change. As our colleague and Sustain patron Professor Tim Lang says, "We need to ask where food money goes." Our Sustain alliance works on healthy, equitable and sustainable food and farming systems, but notably none of our ambitions can be achieved without money flowing to the right places and to the people who need it. Here are six things we need to support.
Windfall taxes
In February 2022, energy giants BP and Shell announced bumper profits of £9.5bn and £14bn respectively. It is hard not to view such profits as obscene at a time when so many people are having to choose between heating and eating. Public money is needed at a scale way beyond local charity and bags of donated food to help ease the immediate pain of soaring energy prices. Given the state of public finances following the pandemic, and the impression that some people have done rather nicely out of the crisis whilst others are going cold and hungry, windfall taxes may be a rich and publicly acceptable vein.
Real Living Wages
The government's mandatory minimum wage is patchily enforced, and not calculated in response to changes in the cost of living, let alone the unequal impact for people with less money. The Real Living Wage is a better measure, but 1 in 6 jobs in the UK (17 per cent) pay below this, with inadequate wages more likely to be paid to women, Black people and People of Colour, who also (no coincidence here – the link is causal) disproportionately experience household food insecurity. We must all do more to secure Real Living Wages as a bedrock of household food security and health equality.
Sustain calls on national government to link calculation of the mandatory national minimum wage to the cost of living. We also call on local authorities, institutions and companies to become Real Living Wage employers and to require their suppliers to follow suit. The beneficial effects would ripple out through people's shopping and lower-income neighbourhoods, multiplying as it goes. A national expectation for larger companies to pay the Real Living Wage, and to report on this transparently, should also be a priority. Business models predicated on poverty wages and hunger must no longer be acceptable, nor should they be permitted or facilitated by either government or company policy. Shockingly, only half of the FTSE 100 – the largest and wealthiest of companies – are currently registered Living Wage Employers. How are their cleaners and canteen workers faring, as energy price hikes hit?
We can all do something. Good Food Oxford assessed the impact of the Living Wage, which led to development and adoption of the Oxford Living Wage. If we run or work for an organisation, we can lobby internally for it to follow suit. For our small part, Sustain is itself a registered Living Wage Employer. Our pension fund is with NEST, which is a signatory to the Good Work Coalition, using investor power to promote Real Living Wages; while two impressive pioneers in our staff team have become shareholder activists, standing up at company AGMs to demand that big employers such as supermarkets pay their shop, warehouse and distribution staff adequately. Supermarkets are the largest private sector employers in the UK, so the wages they pay are a big part of achieving household food security.
Adequate safety nets
State pensions, Universal Credit and legacy benefits need to cover the cost of living and the cost of raising children so that they can eat, grow and learn well. At the same time, some of the really big costs in people's lives need to be controlled – housing and energy. These are all the job of good government. When this equation is not balanced, people run out of money and food. The effects of the UK's inadequate safety net are seen in the tidal wave of need for emergency food banks, unmanageable debt and arrears, and also in the rise in need for Citizens Advice and mental health services (poverty is unsurprisingly a massive factor in anxiety and mental ill health), as well as emergency welfare payments from charities and local authorities. An inadequate social security safety net puts an unbearable strain on everybody.
Making free school meals available to all children would be a good first step. Scotland and Wales are already making big strides on this for all primary children and exploring options to expand and increase eligibility in secondary schools too. Local authorities also have a key role here (see joined-up local responses, below).
Sustain calls on the Government to use the White Paper that will respond to the National Food Strategy (due any time now) to put household food security and realisation of the Right to Food centre stage, and preferably into law as part of a Good Food Bill, just as Scotland and Wales are now considering. This could also emphasise and support the role and resources of local authorities in local delivery.
At Sustain, we have been working for the past five years to try and shift the emphasis of policy-makers and purse-holders away from sticking-plaster fixes such as emergency food aid and towards properly calculated, adequately financed and dignified solutions to household food insecurity. Some local authorities are listening and are taking systematic action, as you can see from Sustain's Beyond the Food Bank maps and league table of actions taken by London's 33 local authorities (more on joined-up local responses, below). Government has yet to catch up though, offering promising-sounding but then usually temporary and inadequate scraps from the table. Systematic action is possible, where Right to Food principles and the political will are there.
Public money for public goods
The principle of 'public money for public goods' is now enshrined in law as part of the Agriculture Act – paying farmers to protect the environment. The legal principle is that where taxpayers' money is spent, there is a requirement that it should leverage social and environmental benefits and deliver on public priorities.
Why then are £2.1bn of public sector food procurement contracts not required to serve healthy and sustainable food; and to make this accessible and affordable where it is offered in school meals or in a canteen setting for staff (as it is in the House of Commons)? This £2.1 billion is spent in the NHS, on school meals and in the armed forces. And what about all the additional public money relating to food? There are very large additional amounts of it, for example:
This adds up to roughly £4bn of public food money. It should all be spent in a way that puts people before profit and supports health, sustainability, Real Living Wages and the local multiplier effect in communities and neighbourhoods who need it most. It should not go to big companies who siphon out the profits to distant shareholders and fail to pay Real Living Wages.
Yet, instead of supporting struggling local businesses during the pandemic, convenience and independent stores were excluded from the £452m Free School Meals vouchers scheme (despite lobbying by Sustain and the Association of Convenience Stores). Effectively, that £452m then became windfall income for the big supermarkets, many of whom meanwhile continued to contribute to household food insecurity through paying poverty wages. The company who won the publicly funded contract to manage the free school meal vouchers during the pandemic, Edenred, enjoyed windfall profits that jumped 29% to £13.9m. A National Audit Office (NAO) investigation into the contract in 2020 said the Department for Education was "surprisingly unconcerned" over whether Edenred was "profiting at taxpayers' expense". More questions need to be asked about why so much profit can be made out of other people's poverty, and whether families would have benefited more from simply being given the cash.
Defra says it is planning a "substantial overhaul" of Government Buying Standards for food in the public sector, and a public consultation is due for launch "at the start of 2022". This will be a prime opportunity for all of us to insist that, this time, healthy, fair and sustainably produced food must be mandated in the public sector, with contracts going to smaller and diverse enterprises that deliver on other public goods and who pay at least the Real Living Wage.
Sustain and many of our members are also keenly awaiting the announcement of the UK Shared Prosperity Fund, due to open in April 2022, which is meant to be a cornerstone of the Levelling Up agenda. Its predecessors, the pilot Community Renewal Fund and Levelling Up Fund put millions into food initiatives. Our hope is that the new Fund will help meet a desperate need for better infrastructure to support local and farmer-focused supply that could make fresh, healthy, fairly traded and sustainably produced food affordable and accessible to many more people.
As an individual, or a representative of a company or organisation, if you want to add your voice to local or national campaign actions on these vital matters, sign up to Sustain's e-newsletters to get involved.
Joined-up local responses
Local authorities, working with food poverty alliances and food partnerships, have a big role to play in supporting the local services and networks that can prevent people falling into crisis, or catching them as they fall. There is a lot to be said about the value of joined-up local responses to food insecurity, documented on Sustain's Food Power website. Alliances and food partnerships bring together a wide range of actors such as community organisations, local leaders, housing associations, local authorities, public health officials and faith groups.
Food poverty alliances proved their worth in spades during the Covid-19 pandemic, helping to coordinate both emergency and strategic responses to food crisis and to ensure that support reached the people who needed it the most. Suffice it to say that every area should be expected to have a food partnership and/or food poverty alliance because – pandemic or not – the everyday food crisis looks set to grow. However, local alliances and partnerships cannot be expected to pick up the pieces of low income that should be fixed by upstream solutions that only national government can mandate or pay for, such as Real Living Wages, free school meals, and adequate social security benefits.
Local authorities can also do a great deal to ensure that schools are serving good food to children from disadvantaged families through school meals, breakfast clubs and holiday programmes.
Get involved with your local food partnership or food poverty alliance through the links above. Add your voice to local or national campaign actions on these vital matters; sign up to Sustain's e-newsletters to get involved.
Accountability for action
If the experience of working on household food insecurity for over 20 years has taught me anything, it is this: food poverty gets passed like a hot potato between government departments and decision-makers. Nobody wants to step up and take overall responsibility for solving it. We desperately need a legal and policy framework with which we can hold to account all the decision-makers and purse-holders who need to act, and through which each understands their own jigsaw puzzle piece and the part they must play.
Good food legislation could require a strategy that allocates responsibilities to all of the players and policy-makers in a position to help improve household food security. It could require government to allocate adequate resources. It could enable local authorities to draw down adequate resources from the national purse to meet statutory obligations at a local level. It could require private companies and public institutions to take action and to report transparently on progress. The government's White Paper response to the National Food Strategy will be the first test of whether they are serious about fixing household food insecurity, and whether they are prepared to be held to account in a Food Bill. In Scotland, the Good Food Nation Bill currently being developed would enshrine in law progressive realisation of everyone's right to food, whilst in March 2021 the Scottish Parliament passed a bill that will make children's rights part of Scottish law. Westminster needs to follow suit.
What next?
During the pandemic, the scandal of household food insecurity became acutely visible, even to many who would not normally see it or experience it first-hand. The nation pulled together and provided furloughs, hotel rooms for the homeless, a £20 uplift for Universal Credit, food boxes, support for social enterprises delivering healthy meals, help for their neighbours with the shopping, and free school meal vouchers for low-income families. To some extent, we came to a collective recognition that access to food is a fundamental right, and that letting people go hungry is a fundamental wrong.
Let's keep that recognition in clear sight as we buckle in for a tough 2022. We need to raise our voices ever more powerfully and demand that £4bn of our food money must be used to secure everyone's right to healthy, fair and sustainably produced food.
Sustain annual conference - 8 December

Book now
Published 15 Mar 2022
Food Poverty: Over 5 million people in the UK struggle to get enough to eat. We're working to change that through people-powered projects and campaigns that tackle the root causes of food poverty and ensure everyone has dignified access to healthy, affordable food.
Kath is Chief Executive of Sustain: The alliance for better food and farming, since 2016 leading the alliance's response to Brexit and its profound implications for healthy and sustainable food, farming and fishing and developing the Campaign for a Better Food Britain. During the Covid-19 coronavirus pandemic in 2020, Kath has been the alliance lead on Food and Vulnerability, serving on numerous liaison and coordination groups to support the emergency food response at local and national level. She was instrumental in launching a judicial review of the government's approach to children's holiday hunger during Covid-19.
Kath Dalmeny
Chief Executive
Event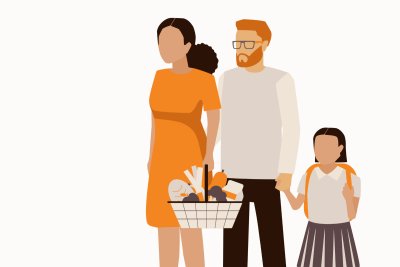 Sustain annual conference - 8 December
Support our work
Your donation will help communities identify ways to alleviate food poverty and increase access to healthy food.