Government funding supports the good food economy
Earlier in the year, the Government created several funds to help kickstart the economy. In November, it was announced that several successful recipients of funding are championing sustainable food initiatives.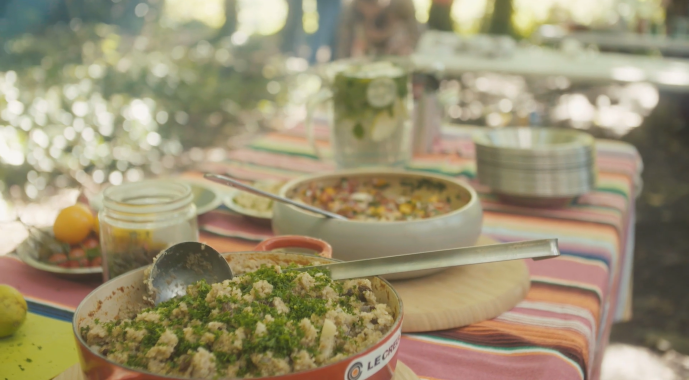 Awevo Films
During the October spending review, Sunak announced the successful recipients of several funds announced in the 2021 March Budget, which support the building back better agenda.
Sustain and the Sustainable Food Places Network has been encouraging and signposting food-related organisations to access this funding.
Ren Piercey at Sustain, who has championed this work, commented;
"We are excited that food initiatives are getting these well needed funds and hope that this inspires others to apply for future rounds.
Below we have listed some of the relevant projects and funded activities that will be invested in to support the good food economy, to help inspire others.
Community Renewal Fund
The Community Renewal Fund offered £220 million for 100 places across the UK to pilot projects which would stimulate economic growth, as a precursor to the incoming Shared Prosperity Fund.
In north Northamptonshire, nearly £110,000 was awarded to the North Northamptonshire Sustainable Food Network to undertake two pilot projects involving rural food chain research and a sustainability audit to reduce food waste. £280,000 was earmarked in the borough for a Parish Asset mapping project to map assets, services and facilities to support bids for community funding, an invaluable resource for community food projects and new enterprises.
Other food related sustainable food related funding was awarded to:
Kent and Medway Partnership for Enterprise, Food and Health (£540,000); Falkirk Food Futures, a project which aims to work closely with communities and organisations to address food insecurity and build a fairer resilient and sustainable food future (£550,000); Food 4 Growth in Torfaen to connect rural agricultural industries with town centres in Torfaen, Caerphilly and Monmouthshire (£620,000); Argyle and Bute Seaweed Academy, an education programme for seaweed farming (£600,000); and SOLE – Sustaining Dunbar, an online directory for local food businesses and more to support the local economy (£440,000).
The Community Ownership Fund
The Community Ownership Fund offered over £5m in funding for their first round to support community ownership of local assets. Out of the 21 assets that were successful in receiving money, over half were food related, including pubs, stores and community hubs.
Villagers in the New Forest were granted funding for East Boldre Community Stores', which will offer post office services as well as groceries sourced from local suppliers and growers. Community-run pubs in East Suffolk, Ashford, Forest of Dean and Highland were granted funding, as did community hubs in Hyndburn, Perth and Kinross and Dumfries and Galloway. You can see what other projects were successful in receiving money from the Community Ownership Fund here.
Transferring assets to community ownership not only protects local facilities that might otherwise be lost, but also has added social, environmental and economic benefits. Profits are invested back into the community, local producers and other local organisations can be better supported and the community has control over the long-term plans and direction of the asset, which is particularly pertinent to food projects and organisations. The next round of this fund opens in December.
Levelling Up Fund
Local authorities bid for up to £20m through the Levelling Up Fund to invest in capital infrastructure to regenerate their region.
In Derry, the council received £5.6m funding for the Acorn Farm Project, which will see the regeneration of the former Ministry of Defense site turned into an urban growing space within the city, as well as a learning and skills development centre (Green Skills Academy) and a sustainable food events venue.
In Newhaven, the council received £12.7m funding to help support the fishing industry and stimulate a local market for fish through a new hub. The hub will include a working fish market and auction, a signature seafood restaurant and hospitality training school, and spaces for new enterprises.
The London Borough of Newham received £20m funding to support their community wealth building agenda through their 15 minute neighbourhood plan, where residents will be able to reach all necessary amenities within a 15 minute walk or cycle. The funding will also go towards rebuilding the boroughs key food markets, Green Street and Queen's Market.
Round 2 of this fund will open in Spring 2022. Sign up for Food Coops newsletter or Sustainable Food Places to find out first.
Support our charity
Your donation will help us support communities to set up and run food coops and buying groups across the UK to improve access to healthy food.