Local food champion, urban forager, innovative chef and community organiser Rachel de Thample tells the story of her journey into the field of good food.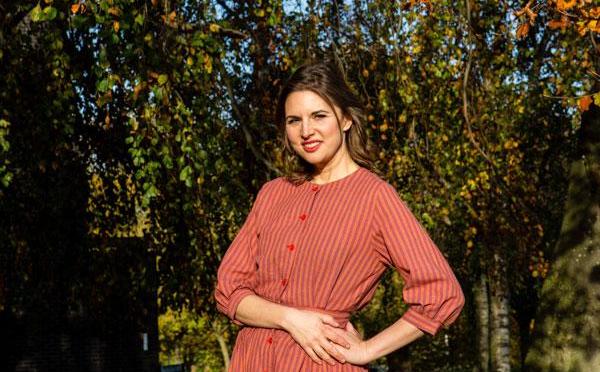 Rachel de Thample has worked in the kitchens of Marco Pierre White, Heston Blumenthal and Peter Gordon. She is the author of Less Meat, More Veg (Kyle Books), FIVE (Ebury), Tonics & Teas (Kyle Books) and has served as Commissioning Editor of Waitrose Food Illustrated and Head of Food for the pioneering organic box scheme Abel & Cole. She lives in Crystal Palace, London, where she has helped set up numerous local food initiatives, including the award-winning Crystal Palace Food Market. Rachel currently teaches preserving courses at River Cottage in Devon, wild food cookery and preserving at Made in Hackney, runs Market Table pop-up dinners and writes for Locavore and The Simple Things magazines.
What initially drew you to working in good food?
I've always had an inquisitive nature, wanting to know the stories behind things, and my first job was working for a local TV news station. There were some really grim moments covering homicides and other unsavoury topics and at the end of the day, I didn't see how this news was going to move the world in a positive direction. I went on to edit newspapers and online magazines but still felt my work had no real sense of purpose. That's when I decided to get into food. Be it writing about food, teaching people how to cook, or starting small food businesses, there's a real sense that your work has meaning and can help shape a healthy future. Food has the opportunity to bring communities (and families) together, it brings joys, sparks memories, it nurtures and nourishes, it keeps life going, it's political, it's economical, it's everything really.

You wear many different hats: author, chef, teacher, community organiser. What's been most valuable in helping establish your career as a freelancer?
Without a doubt, the experiences gained working at a local, community level are the ones that have shaped me and my career the most. I've help set up a community garden, a local organic food market which has created job opportunities for the community, a tipsy garden in my local pub, and a small preserves business harnessing seasonal gluts. These projects all started with a pen and paper and were sprouted from an idea and a passion to address a problem and to provide opportunities, such as helping educate people about where their food comes from and creating a marketplace where locals could have access to affordable organic local food. When you're part of launching something that magical and successful from scratch, it makes you realise that anything is possible and that you can create a livelihood by addressing issues you're passionate about.
Tell us about a memorable 'lightbulb moment'.
My biggest lightbulb moment came after reading Barbara Kingsolver's Animal, Vegetable, Miracle. The book details, month-by-month, Kingsolver's move to the country to live off the land. She escapes the city to a rural farm where she rears her own livestock for meat, grows all her own fruits and vegetables and really embraces the art and need for preserving food during peak harvest times to ensure the larder's full year round. I wanted to see if Kingsolver's experiment was possible in an urban setting. While I didn't try to sustain myself for an entire year, I did successfully grow and forage my own Christmas dinner one year, as well as a few celebratory feasts either side of the big day. Since then, foraging, preserving and growing food have become a regular and important and deeply fulfilling way of life.
Where do you see opportunity in the future of sustainable food?
I think there's a lot of scope in creating small, hyperlocal mini-businesses producing things you find in your local shops that you can easily make on a small-scale local level. Some examples I'm exploring are locally produced and sold cider, cider vinegar and water kefirs featuring locally-grown and wild flavours. There's also opportunities in growing herbs locally to supply local restaurants, as well as producing herbal teas, jams and chutneys – which is something I've done before. If you collaborate with local shops, restaurants and cafes, you could easily set up a number of small, part time food businesses.
If you could have a conversation with yourself back when you first started working in this field, what advice would you give?
The advice I give my son (and myself) every day is not to fret over mistakes. Learn from them and keep moving forward. Everyone stumbles and falls but what makes one successful is the strength to pick yourself back up and carry on, stronger and wiser. It's also really important to own up to mistakes. People respect you more if you bite the bullet and admit when you've messed up. The first pop-up dinner I ever did was a complete and utter disaster. I sent a personal message to each diner, refunded them fully, I cried and lost a lot of money but I didn't let that be the end. I made detailed notes of where things went wrong and have since been running really magical, successful pop up events – and have had wonderful support from some of the people who attended my ill-fated debut.
Learn more about careers in sustainable food and farming with Roots to Work.
Maddie leads on Sustain's communications strategy and social media, as well as supporting campaigns and promoting the work of alliance members. She also manages Roots to Work, a platform for job opportunities in the field of good food.
Maddie Guerlain
Communications and Learning Coordinator (maternity cover)
Support our charity
Donate to enhance the health and welfare of people, animals and the planet.