A better, brighter future for hospital food is possible
Today Prue Leith and the Campaign for Better Hospital Food are calling for the Department of Health to improve hospital food standards for patients. Add you voice to theirs and email Secretary of State for Health Jeremy Hunt to demand better hospital food.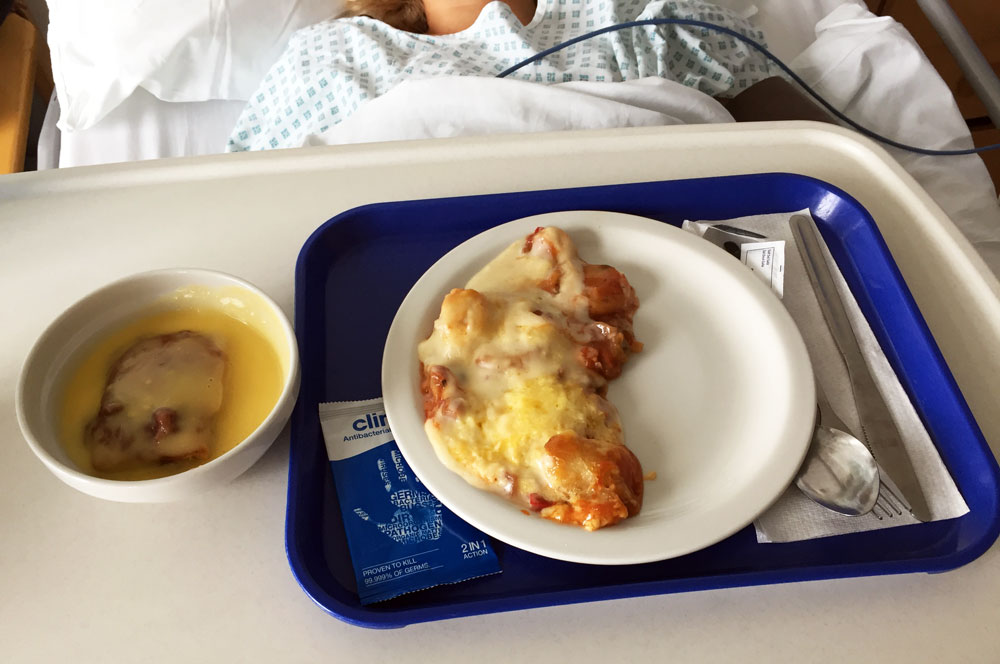 A new poll of 1,000 people, released today by ITV's Good Morning Britain, shows that a third of patients actually lost weight during their time in hospital. And it is no wonder considering the same survey found that just under half of the patients who needed assistance to eat their food said they didn't get that help. Imagine the situation. If you have sight problems, a physical disability or are recovering from surgery, it may be hard even to reach your own food, let alone serve yourself hot soup safely. We know that where better food policies are in place, truly caring NHS hospitals support vulnerable patients much better.
The survey involved 1,000 people who had been in hospital during the last two years, and almost half of those that took part revealed they had to buy in extra meals and snacks during their time in hospital. A third said they didn't have their special dietary requirement met by the hospital catering. And separate research out this week indicates that hospitals are a source of staggering levels of food waste. These results are disappointing but sadly not surprising. The overall picture of hospital food is one of under-funding, under-reporting and underestimating the problem and its impact on patient health and recovery.
Patients recovering in hospital need tasty, good quality and nutritious food, as good food not only makes us feel better but also helps us heal faster. Yet, according to the Government's own findings, almost half of hospitals in England aren't meeting Department of Health basic standards for hospital food.
The quality of food in schools for our children and grandchildren is prioritised and protected by tough legal minimum standards, and rightly so. The high standards achieved for school meals prove that good quality food can be achieved by public institutions, and some pioneering NHS chefs do just that. But can it be right for food standards to drop off a cliff for children when they are sick and admitted to hospital? When we are in hospital, we are at our most vulnerable and high standards for hospital food should be an NHS priority. After all, hospital patients are most likely to be people in their 60s and everyone should expect the same high standards and high quality food and care for our older people as we expect for the youngest in our society.
Better food is good for patients, but also makes sense for the hospital and for our NHS as a whole. Malnourished people are likely to stay in hospital three times longer than their well-fed neighbours. Malnourished people are also much more likely to be re-admitted at a later date. Yet, we know from Campaign for Better Hospital Food research in London that less than a third of those hospitals served freshly cooked food for their patients. The remaining two thirds of hospitals were serving reheated ready meals. The same study shows that 20 per cent don't provide a replacement hot meal if a patient misses a mealtime for any reason - they may get a cold sandwich, or they may get nothing at all. And this is just London; sadly nationwide data just doesn't exist – hiding the true scale of the problem.
Finally, in a time we are all being told to tighten our belts and make savings, the level of food waste happening in hospitals is astonishing. The amount of wasted hospital food isn't measured nationwide, but we know from a recent information request that 17,000 meals were wasted last year in just two Norfolk hospitals, which means that effectively, over £50,000 was scraped into the bin in those hospitals alone. When we think that there are around 300 hospitals across England, we can imagine the true scale of the hospital food waste problem.
High quality, tastier, better presented food is more likely to be eaten and less likely to be wasted, especially if hospitals also provide the support that some people need to eat it.
Hospital patients deserve better, our hospitals must do better, and I want to ask you all to take action to email Jeremy Hunt and help make this a reality.
Published 4 Oct 2017
Better Hospital Food: The campaign represents a coalition of organisations calling on the Westminster government to introduce mandatory nutritional, environmental and ethical standards for food served to patients in NHS hospitals in England.
Katherine is one of the team that runs the Alliance to Save Our Antibiotics. She has a Social and Political Studies BA from the University of Sheffield, a Magazine Journalism MA from City University and a CIPR Advanced Certificate in PR. Katherine believes passionately in the links between food, health and wellbeing.
Katherine Button
Campaign Coordinator
Save Our Antibiotics
Support our charity
Donate to enhance the health and welfare of people, animals and the planet.