Need (or for some reason want) to avoid gluten, as well as avoiding additives and gums too?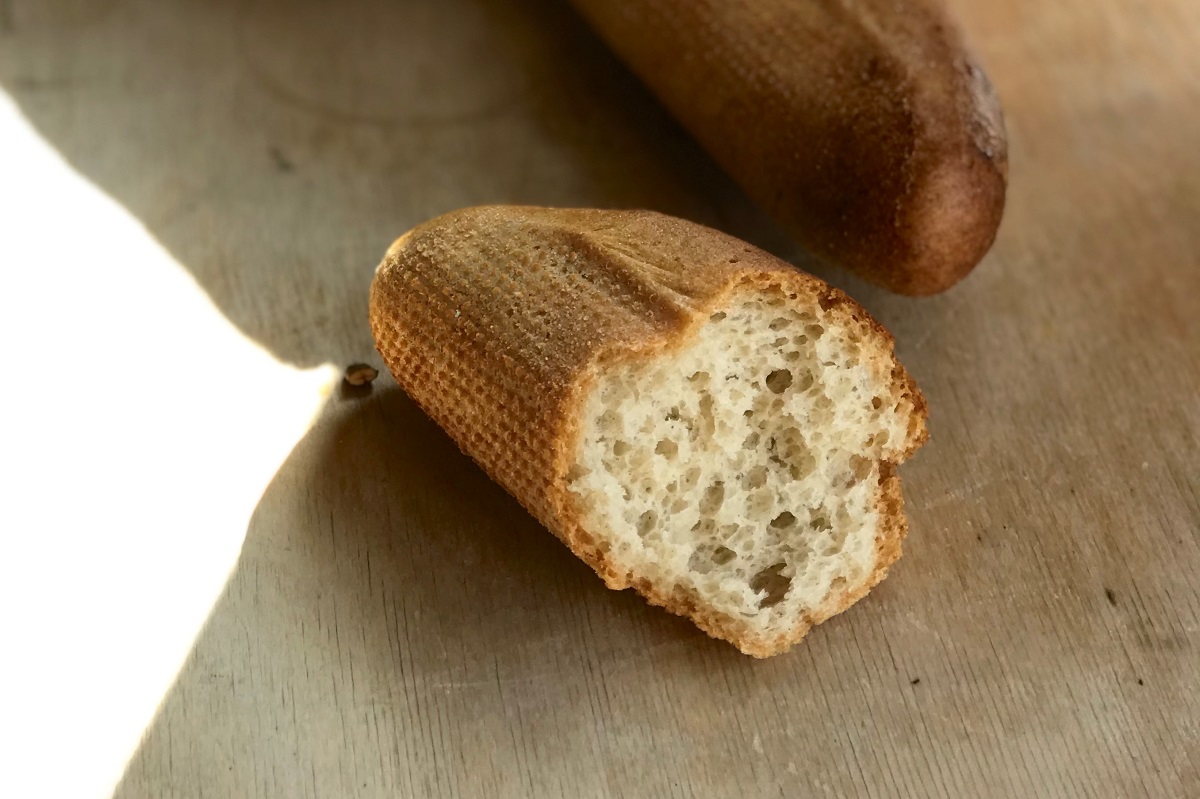 Photo © Naomi Devlin
Naomi says: "This crusty, soft crumbed baguette relies on fluffy potato starch for its tender crumb. On the rare occasions when only something white and crusty will do, this is the one."
She suggests: For perfect results every time, treat yourself to a proper baguette pan.
Ingredients
Makes two baguettes
250g potato starch
80g tapioca starch
70g sorghum flour
70g quinoa flour (or more sorghum flour)
12g psyllium husk powder
8g sea salt
360g lukewarm water
20g fresh yeast (or 7g dried)
3 large egg whites (110g)
30g olive oil (2 tablespoons)

Butter/lard or olive oil to grease the pan
Sesame seeds or gluten-free flour to dust the pan
Method
Whisk the dry ingredients together in a mixing bowl. If using dried yeast, mix it in at this point as well. Otherwise, pour a little of the water over the fresh yeast, mashing it to make a paste.
Add in the rest of the ingredients, whisking until all the flour is incorporated and the mixture is a cake batter consistency.
Next get your hands into the dough and start squishing and stretching to encourage the psyllium husk to absorb the water. It should start to come together as a very soft dough that you can scoop onto the tin or onto the baking tray. Set aside while you prep the baguette pan.
Generously grease the baguette pan and sprinkle with sesame seeds or dredge with a gluten-free flour. Divide the dough in two and scoop along the pan and gently smooth the surface using a rubber spatula and wet hands if necessary, leaving a couple of centimetres for expansion at either end. Alternatively, you can bake this in a loaf tin. Just put the mixture into an oiled bowl to prove for 15 minutes and then shape it on an oiled surface before proving fully in the tin.
Cover the dough with oiled parchment and set aside in a warmish place to rise until it has almost doubled in size (about 45-60 minutes), then remove the parchment and dust the surface of the loaves with gluten-free flour.
Preheat the oven to 260ºC (240ºC fan oven), well before the proving time is up and put a baking tray in the bottom of the oven.
You can slash the loaves with a very sharp breadknife to help expansion if you have a steady hand – do this just before baking.
Put the loaves carefully in the oven and pour a cup of hot water into the baking tray in the bottom.
Bake the loaves for 20 minutes and then turn the oven down to 180ºC on the fan setting and bake for a further 25-30 minutes. You may need to cover the loaves with a little foil if they seem to be turning too dark.
The loaves will seem rock hard when they come out of the oven and there should be no squidge, but they'll soften as they cool. Cool on a rack and only slice once completely cold or the bread will be sticky. Wrap in a cloth, then slice and freeze any you won't eat within 24 hours as (like any real baguette) this bread will stale quickly.
About the baker
Naomi Devlin is the author of the books Food For A Happy Gut and River Cottage Gluten Free, and is working on another book of simple, gum-free, g-free bread recipes.
She also teaches cookery, including at Ashburton Cookery School, Plant Hub and Divertimenti; and River Cottage courses in gluten-free sourdough and other g-free Real Bread.
See also
---
Recipe text © Naomi Devlin. Reproduction prohibited without written permission of the copyright holder.
---
Social sharing
If you make this, please share your photo(s) with the world on social media using #RealBread and other relevant hashtags, linking back to this recipe. Better still if we can see you in the photo, too: #WeAreRealBread!
Please don't forget to tag us, and the recipe's author. You can find us on:
Published 20 Mar 2019
Real Bread Campaign: The Real Bread Campaign finds and shares ways to make bread better for us, better for our communities and better for the planet. Whether your interest is local food, community-focussed small enterprises, honest labelling, therapeutic baking, or simply tasty toast, everyone is invited to become a Campaign supporter.
Support our charity
Your donation will help support the spread of baking skills and access to real bread.