Tasmania-based Chris Stafferton is on a mission to prove that g-free and additive-free are not mutually exclusive.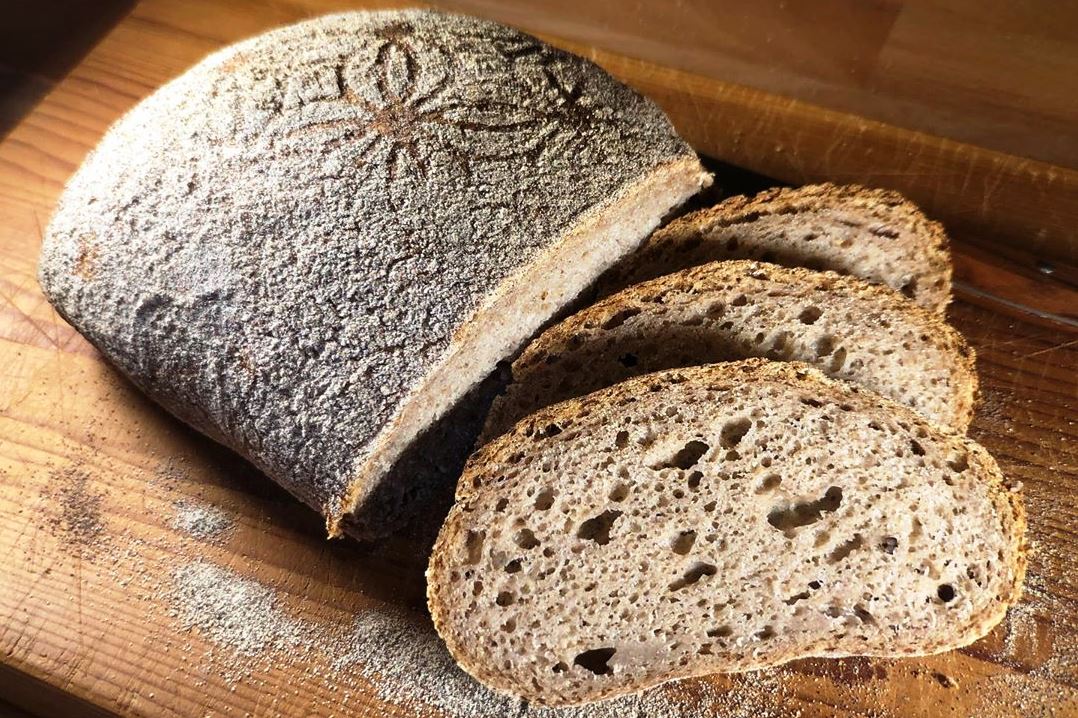 Buckwheat-based g-free sourdough tabatière © Chris Stafferton
If you are amongst around 1% of the population with coeliac disease, have a genuine allergy, or simply believe there isn't a way for you to stomach anything made with wheat, barley, rye or oats, you might walk to a retailer's growing 'free from' section to find your rations.
When you have paid the often extraordinary price, and tried the product offered, you may resign yourself to never eating anything like Real Bread again.
Slow hope?
'Wait', I hear you say, 'surely it's been shown that people who are unable to eat no-time industrial wheat products can still enjoy long-fermented genuine sourdough bread?' Didn't the 2004 study 'Sourdough bread made from wheat and non-toxic flours and started with selected lactobacilli is tolerated in Celiac Sprue patients' prove it?
Well, no, not quite. In a conversation recorded in Samuel Fromartz's 2014 book In Search of the Perfect Loaf, Professor Marco Gobbetti, one of the study's authors, indicated that what was done by the team under laboratory conditions could not be achieved at home. Gobbetti conceded that using a sourdough starter in other conditions "might have some slight effect on gluten, it was just uncertain how much. Maybe it was 0.1 percent, maybe 10 percent of what they were achieving in the lab."
Gourmet world
So, if even genuine sourdough wheat bread is still off the menu for people with certain medical conditions, is all Real Bread forever forbidden to them, or is there another way? Real Bread Campaign supporter Ingrid Eissfeldt, founder of gluten-free Real Bread bakery Artisan Bread Organic, told me: "On the way home from the winning our World Bread Awards we were stopped by a fellow baker and judge who enthusiastically congratulated us on the amazing breads we produce – that meant a lot to us. Many people look at gluten free bread as food for 'sick people' – that is so sad, as there is a gourmet world of textures and exciting flavours out there!"
In 2014, I entered a miche I had baked in the open section at the local show. Under the rigorous judging of the Country Women's Association of Australia, it came first. What makes this special is that the loaf was not made with the usual wheat or rye, but with quinoa and tapioca.
Bringing out the best
Now, you might think that gluten is essential to bread, so how do you make Real Bread without it? If you look at almost any gluten-free loaf recipe, it will require you use a gum - usually xanthan or guar – and/or other food additives in an attempt to replicate what gluten does. None of these is necessary.
Just as the characteristics of different wheat and rye flours lend themselves to particular types of bread, so too do the characteristics of various gluten-free flours like buckwheat, millet, quinoa, sorghum, teff, amaranth, rice, corn and tapioca, along with flours made from peas and beans. The challenge is to work out the best approaches and techniques to bring out the best of each flour.
So, it is possible to make good bread - Real Bread – without gluten or additives: You just need to know the right natural ingredients to use and the right bread making techniques to employ.
See also
---
Originally published in True Loaf magazine issue 23, April 2015
Since this article first appeared, Chris Stafferton has published the gluten-free Real Bread book Promise and Fulfilment.

You can find Chris's buckwheat and chia bread in the bake section of our site.
We'd love to share more gluten-free Real Bread recipes! If you have one you created that you'd be happy for us to publish, please email it and your photo of the bread (2:3 aspect ratio, wide rather than tall, and at least 1200 pixels wide) to realbread@sustainweb.org
Published 17 Sep 2020
Real Bread Campaign: The Real Bread Campaign finds and shares ways to make bread better for us, better for our communities and better for the planet. Whether your interest is local food, community-focussed small enterprises, honest labelling, therapeutic baking, or simply tasty toast, everyone is invited to become a Campaign supporter.
Support our charity
Your donation will help support the spread of baking skills and access to real bread.