Real Bread Week review: Rising together
The Real Bread Campaign's 11th annual, international celebration of additive-free loaves and people who make them brought together bakers and other Real Bread lovers worldwide.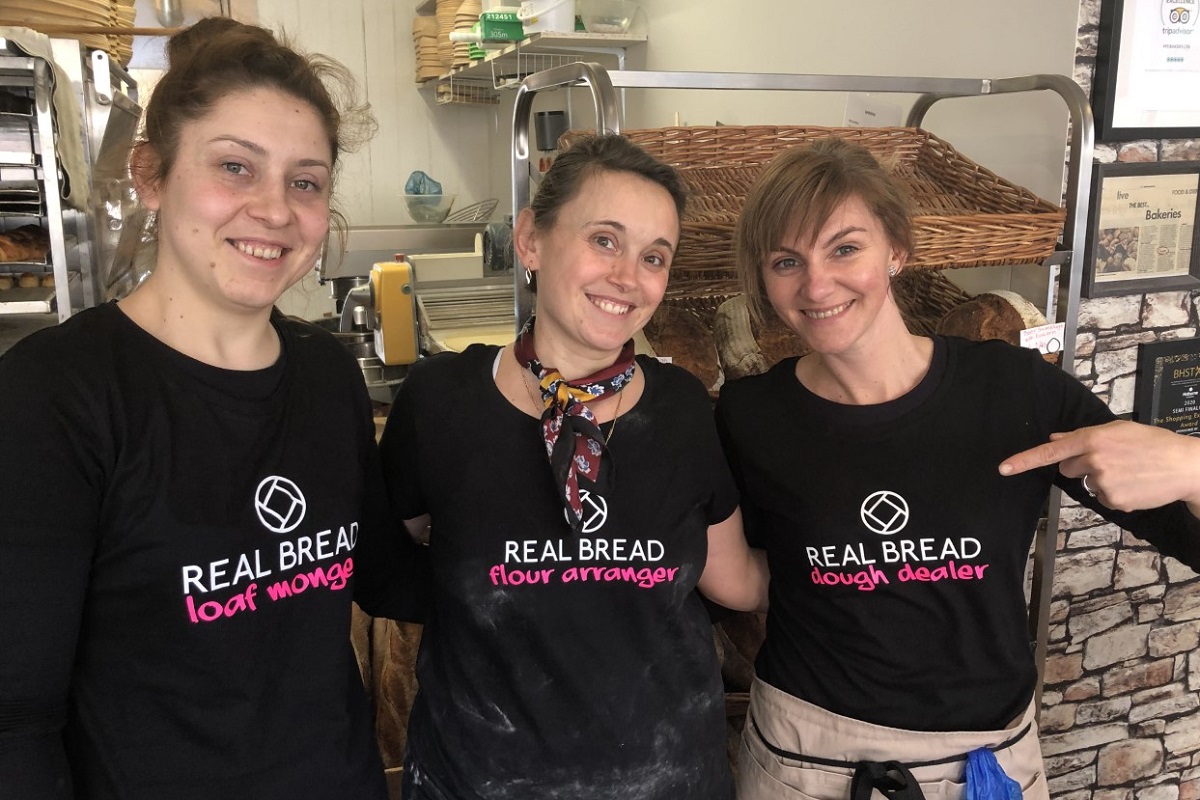 Real Bread Week 2020 saw nine days (because seven really isn't enough) of baking and buying classes and other activities taking place around the globe. This was evidenced by more than 2000 social media posts from at least 37 countries
Planet Leicester Bakers founder, Michelle Stratford, who launched a Bread Bike loyalty card during the week, said: "It's been the best Real Bread Week I think since I started PLB. Excellent profile given to the good that good bread can do."
Our photo album of some of the people who got involved in Real Bread Week
Pan global
From Edgware to Ecuador, people all over the planet baked, bought, taught and posted their #RealBread across social media. Loaf lovers joined in from Argentina, Australia, Austria Bolivia, Brazil, Canada, Chile, Colombia, Denmark, England, Fiji, Finland, Germany, Iceland, India, Indonesia, Iran, Ireland, Israel, Japan, Malaysia, Mexico, Netherlands, New Zealand, Northern Ireland, Poland, Portugal, Saudi Arabia, Scotland, Singapore, Spain, Sri Lanka, Turkey, United Arab Emirates, Uruguay, USA, Vietnam and Wales. The Dare to Lead team even baked their daily bread while on a round the world clipper race.
One parent commented: "The toddlers had great fun making their bread and taste testing great motor skills kneading." At the other end of the age spectrum, residents at Sydmar Lodge Care Home enjoyed a morning of reminiscing while tasting a range of Real Breads from local bakeries.
The many, many baking classes, sourdough starter giveaways and other activities during the week included Triangle Bakehouse in Ripponden, West Yorkshire, opening their doors for a community bread oven event for home bakers to bring their dough to bake in the deck oven. The bakery also ran a sourdough session for children and one for adults, with a focus on mindfulness.
Bake well
Not all loaves are created equal. As well as time and choice of ingredients, key to the difference between Real Bread and industrial loaves are people. The Real Bread Campaign is all about people: Those who craft, buy and eat bread. Not to forget the farmers, millers, teachers… As part of our Together We Rise initiative, major themes for the Real Bread Campaign are the social, therapeutic and employment opportunities offered that making offers.
Current GBBO champion, David Atherton, once volunteered for Better Health Bakery, run in east London by a mental health charity. He told us: "I've been making bread since I was smaller than I remember and have always thought it's really important my mental health. It's very meditative but maybe the main thing is that you've accomplishing something."
In bakery owner Tami Isaacs-Pearce's case, baking evolved from calming to a career: "Kneading for calm lead to Karma Bread microbakery. It's not quite a panacea (see what I did there!) but together with the right treatment, it can heal. It did, it does!!! I have to return to the dough, in the same way we are taught to return to the breath."
Laura Childs said: "There is something so therapeutic and natural about starting from nothing and ending up with a beautiful loaf of bread. For me it connects me to everyone else who did it before."
On Instagram, comments included:
"I actually feel like baking bread saved me in a way. A few years ago it helped me out of a really dark place. I always say that #bakingismytherapy but I didn't really realise that there were others who felt the same. ♥️"
"After the birth of my second child, and being at home and isolated in a different country, baking bread and trying to perfect it on a regular basis has been real therapy and cheap!!"
"Yes, baking is a therapy for me. I've been depressed and fighting it strongly."
Inspiring stories
As part of our ongoing Together We Rise initiative, we threw the spotlight on inspiring organisations helping people to bake a better future, one loaf at a time. The nine organisations profiled in new features we published on our website included The Good Loaf, in Northamptonshire, which provides training and employment opportunities to vulnerable women; Hove-based social enterprise Stoneham Bakehouse founded by Simon Cobb after he left his teaching career due to depression and anxiety; as well as The Lantern Bakery in Hampshire and Derwen College in Shropshire, which both provide training and employment opportunities to people with learning difficulties and disabilities.
Meanwhile, Campaign ambassador Ian Waterland ran a Therapeutic Baking class at The School of Artisan Food, a Mindful Bread workshop, and ran a sensory session at Homefield College with a group of students on the autistic spectrum.
A home baker commented: "I think it is a fantastic idea. It raises awareness about what Real Bread is. I love the fact that so many people use it as a support to improve mental health."
Raising awareness and dough
The Real Bread Campaign and people who got involved with Real Bread Week secured media coverage in places including Australia, Ireland, South Africa and the UK. Highlights included The Telegraph's three-page feature and follow up article, plus Real Bread Campaign ambassador 'Bake With Jack' Sturgess talking about the week on Channel 4's Sunday Brunch show.
One bakery owner said: "We had a stint on the local radio as a result of Real Bread Week, which was broadcast to tens of thousands of people and was a great chance for reaching a different audience and increasing sales."
A fundraising drive during the week for Sustain, the charity that runs the Campaign, generated more than £2000 through supporter subscription payments, book sales and doughnations.
Looking ahead
Real Bread Week returns on 20 February 2021, ahead of which is this year's Sourdough September.
Stay up to date with Together We Rise, and the rest of the Real Bread Campaign's work, including ways in which you can get involved, by clicking on the link to sign up to the FREE mailing list.
---
Please support us
Help Sustain to keep running Real Bread Week, and everything else we do in one or more of these ways:
Doughnate £10 or whatever you feel
If you think that you are a Campaign supporter (we don't have members) already, PLEASE login to double-check your support is up to date.
---
SHARE