How microbakery owners Ingrid Chen McCarthy and Jeff McCarthy are working to address issues of accessibility.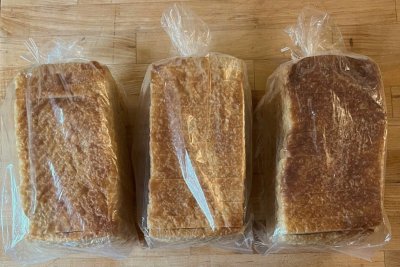 Soft, sliced on a sliding scale. Copyright: Breadservice
Breadservice is our family-owned, home-based, one-baker, state-certified microbakery at our 110-year-old farmhouse in the College Hill neighborhood of Greensboro, North Carolina. We use sourdough and other long fermentation methods to make Real Bread with heritage grain flour from the local Old Mill of Guildford, baking everything in our Rofco B40 oven.
We recognise that our bread is largely inaccessible to people in our community on tighter budgets, so we work on ways for more folks to be able to enjoy wholesome, locally-made, Real Bread.
Soft and sliced
Our first step was introducing the tangzhong method. This is the Chinese name for a technique of boiling some of the flour and water from a bread formula into a thin paste that is then mixed into the dough. The benefits of this are myriad, not the least of which is it resulting in a remarkably moist, tender crumb and an extended shelf life - I'm talking days. I've also found that dough made using this technique reaches full gluten development faster, ferments more vigorously, and is easier to handle.
I started using it regularly in our white sandwich loaf, producing a soft, close-crumbed texture that many people are familiar with. Until recently we called this Public Pan Bread, before we realized that the name confused more that it explained about what's meant to be our most recognizable, approachable bread, so we changed it.
Another, more fundamental challenge to accessibility was solved by buying a commercial bread slicing machine. Now we can offer a readily-identifiable, user-friendly everyday bread that we can proudly say is more wholesome and more delicious than your average industrial sliced white.
Discounted subscription
Guilford County, where we live, has consistently ranked one of the highest in the country for food insecurity. One in five children here live in food insecure homes. Greensboro has affluent neighbourhoods with access to dozens of grocery stores but nearby are areas in predominantly Black and brown neighbourhoods where food deserts are real. This is largely as a result of the historical, racist practice of redlining. The term dates back to the 1930s-era New Deal, which included government-insured mortgages. The government developed a ranking of investment risk to determine where (and who) was eligible for the loans, employing colour-coded maps on which areas in which Black people lived were deemed too risky for the lending programmes and marked in red.
As part of our wider vision of accessibility, we have always wanted to make our bread affordable to anyone who wants it. We recognised that our bread is largely out of the reach to people in our community on lower incomes or with more stretched budgets.
To try to address this, we introduced a Sliding Scale Sandwich Bread Subscription. Our regular retail price for our long-ferment sandwich bread is $5. We know that this is still out of reach for many folks, so we're offering a number of subscriptions at a discounted rate. Breadfriends can choose to pay as little as $10 a month to pick up a loaf a week; or $20 monthly for two loaves per week.
How the discount is possible
Our most affordable sliding scale option is priced at just slightly above ingredient cost, without really factoring in all of our other costs of production and running this small business. To keep costs down, the Real Bread in our sliding scale scheme is primarily leavened by Gary our sourdough starter but, unlike our house sourdough, with the addition of a small amount of baker's yeast. The reduces the fermentation time from thirty hours down to six hours (still way over anything from a supermarket) and makes a much more consistent process.
It's really important to mention that this is only possible because Breadservice is not our primary source of income. Ingrid has a full-time job as a research and development chef for a national grocery chain that pays most of our bills, which gives us some cushioning and the ability to offer our Real Bread essentially at ingredient cost.
The challenges we outlined at the start of this article sometimes feel insurmountable, but our sliding scale option feels like a small but meaningful way we are able to contribute to food access in our area. We know that paying up front for a month is still out of reach for some people who have to budget week-by-week, but hope this option offers a way for at least some of our neighbors on lower incomes to enjoy wholesome, locally-made Real Bread more regularly.
See also
Published 23 Feb 2023
Real Bread Campaign: The Real Bread Campaign finds and shares ways to make bread better for us, better for our communities and better for the planet. Whether your interest is local food, community-focussed small enterprises, honest labelling, therapeutic baking, or simply tasty toast, everyone is invited to become a Campaign supporter.
Support our charity
Your donation will help support the spread of baking skills and access to real bread.