Virtuous Bread and Bread Angels founder Jane Mason considers the role microbakers can play in feeding and strengthening a community.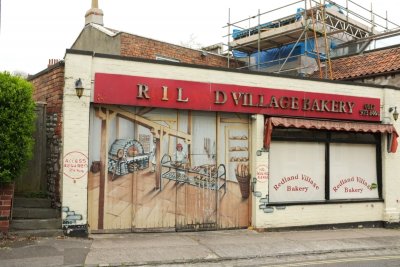 A food desert in the making. Credit: Derek Harper, CC BY-SA 2.0
One of the things that we will remember about the Covid-19 crisis is the fact that people fought each other over loo rolls. Images from Finland to Florida depicted shoppers with trolleys full of them, as well as the empty, battered shelves from which they were taken. After the run on loo roll came the hoarding of pasta and frozen peas as shoppers found that there were no tomatoes from Spain, asparagus from Chile, strawberries from Peru, or oranges from South Africa. Overstretched supermarket supply chains had finally snapped.
Rather more prosaically, and certainly more concerning, was the fact that there were no loaves or flour on shop shelves. There wasn't even any yeast. In those first few weeks, my inbox was flooded with mails from people trying to find out where they could get their hands on some flour, figure out what to do with the flour they had managed to find, or learn to make bread without baker's yeast.
Over the following days and weeks, news outlets ran interviews with executives from supermarkets, reassuring people that there were no food shortages, and that the delays in the supply chain would be ironed out eventually. Within weeks, shopping was indeed back to normal, albeit with masks, social distancing, and long queues.
The reason that all of this is so important is that many people in industrialised countries experienced, for the first time, what it is like not to be able to go out and buy whatever they wanted, whenever they wanted it.
Food deserts
For many people, however, this was not a new experience. According to a 2018 study by the Social Market Foundation, more than one million British people live in food deserts, while the United States Department of Agriculture puts the US figure at more than 23 million Americans.
Food deserts are defined as areas in which people have severely limited access to affordable, fresh, nutritious food. Limiting factors include poverty, lack of public transportation, and/or a dearth of shops that sell such food. People who live in food deserts cannot buy fresh food, even if they want to.
The situation is not only tragic and unjust, it has dire social consequences. People who live in food deserts have higher rates of obesity and diabetes than people who do not. This means they are also at higher risk of other serious health conditions, which may negatively impact their ability to develop wealth. Communities in food deserts get poorer and as they do so, the shops that sell fresh food are more likely to close down and leave. It is a downward spiral, and its direction is not reversed by food banks and other 'outside in' initiatives, no matter how critical and positively life-saving they are.
The term food desert is controversial. Karen Washington, an American food justice activist, feels the term is inappropriate and limiting because a desert makes us think of a place where nothing will ever grow – a place of no potential. The reality is that where there are people, there is great potential for community and where there is community there are opportunities for improved mental and physical health, wealth creation, and social development.
Where do bakers come into this?
I am a baker who set up Bread Angels, one of the largest networks of microbakers in the world. We bake, teach people how to bake, and teach people how to set up microbakeries. By baking and selling Real Bread to people in our local communities, and by teaching others, microbakers provide valuable products and services, generate an income for ourselves, and can potentially employ others.
The presence of a microbakery might also help to inspire and enable other small locally-owned businesses to open and thrive. In a food desert, a microbakery can nurture the first shoots of a 'food oasis'. Having had a fantastic experience buying and consuming Real Bread from their local microbaker, many customers will now never buy a loaf anywhere else. Some people have expanded the range of what they buy from local, small producers, which in turn has encouraged more to set up shop. These changes are not limited to middle class neighbourhoods. With support, anyone can learn to bake and set up a business that serves their local community with fresh, handmade, Real Bread.
This kind of 'inside out' solution reverses the downward spiral because it develops both health and wealth at a local level.
Angels with floury fingers
Like other many other microbakers, Bread Angels bake for people in their local communities, offering a central collection point to which people can walk or cycle to collect their freshly-baked bread – and have a chat with the baker at the same time. Some Bread Angels deliver to their loyal customers.
During the Covid crisis, Bread Angels proved just how valuable they were: sales shot up as people wanted to avoid the supermarkets, wanted to buy a better loaf than was available through any existing grocery delivery service, or simply found that shop shelves were bare. People also wanted to support local businesses, whose income had more or less vanished, but whose costs remained.
As a nation, we need to invest in training more food entrepreneurs in more communities both to strengthen and shorten the food supply chain, and to build healthy communities in which everyone has a chance to flourish. Here's to a world where support is given to people who can really make a difference to the lives of the million people living in food deserts: improving health, social outcomes, and happiness.
@virtuousbread
@breadangels
See also
Sustain's work on food poverty
Real Bread for all
Microbakery
Knead to Know...more
Heaven sent
Published 14 Mar 2022
Real Bread Campaign: The Real Bread Campaign finds and shares ways to make bread better for us, better for our communities and better for the planet. Whether your interest is local food, community-focussed small enterprises, honest labelling, therapeutic baking, or simply tasty toast, everyone is invited to become a Campaign supporter.
Support our charity
Your donation will help support the spread of baking skills and access to real bread.