A relative newcomer to the world of Real Bread, Eddy says that lockdown was a catalyst for a life change.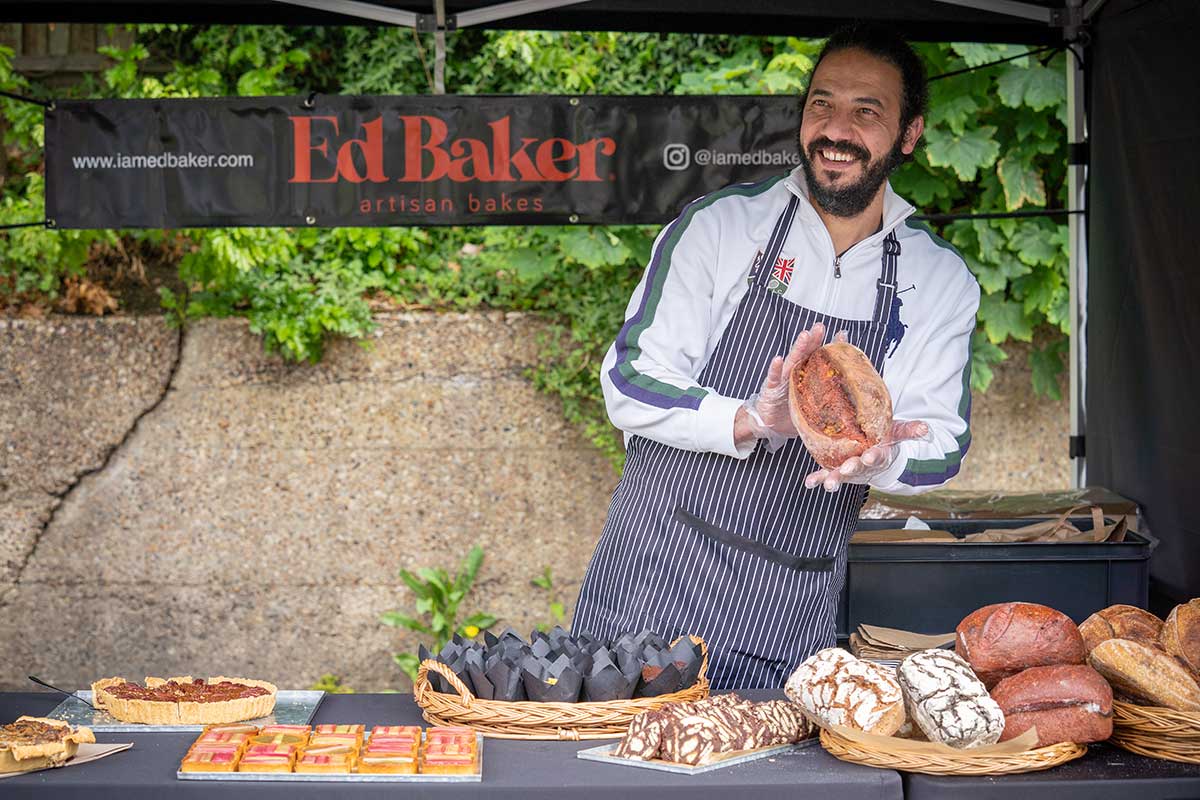 Eddy Sleiman © Ed Baker
I was born in 1979 in the Lebanon. I was lucky to have been born in a place that is very well known for its exquisite cuisine and to grow up in a family who appreciate good food. Once known as 'the Paris of the Middle East' Beirut is a city that is rich, diverse and arguably could be said to have one of the world's healthiest diets – provided you are not carnivorous like me!
Living to eat
Despite all that the culture and the country had to offer; I felt that it was too small for me. From a very early age, I had the vision of travelling and living abroad, exploring different cultures and experiencing all of their complexities and nuances, which of course included their food. I left the Lebanon in 2005, living in Jordan, Qatar, the United Arab Emirates and Saudi Arabia before I made a permanent move to the United Kingdom and made England my new home.
From 2005 to 2019, all of my professional experience was in marketing. This journey started in experiential activities and progressed into a strategic role after I became a Chartered Marketer in 2014. I used to take a lot of city breaks and my travels tended to be to food-destinations in order to enjoy unique culinary experiences. I simply couldn't stop thinking about food, and each experience made me hungrier for more. I became a culinary explorer but didn't give it more weight than that as I was blinded by the walls of The City!
Discovering my passion
Mainly due to work-related stress, 2019 was a very difficult year for me. I developed severe anxiety and underwent cognitive therapy to be able to deal with day-to-day pressures.
It was during the therapy that my passion for food started to take a different trajectory. The kitchen became my haven. I was relaxed, constantly smiling and feeling good about all aspects of my life. This is where I realised that the corporate world was killing be before my time and I knew that I need a change.
In December 2019, I decided that 2020 would be dedicated to developing a plan that would enable me to leave marketing behind and pursue my passion for food and travel. In January 2020, I attended the SIGEP food show in Rimini, Italy. The visit made me feel confident about my choice and more inclined to move forward with my career change. Now I was just waiting for the right time to do it.
Lockdown's gift of time
Then the pandemic hit. I was furloughed in April 2020, which triggered putting my plan into action. Seeing redundancy looming on the horizon, I stocked up with premium organic flour directly from Shipton Mill and set up in my home kitchen to start a never-ending process of trial and error in pursuit of delivering 'The True Loaf' otherwise known as Real Bread. A loaf that is highly digestible and full of flavour. In May 2020, I incorporated my Greenwich-based business as Ed Baker, making a promise that I will always use organic flour, offer healthy food choices and deliver authentic flavours.
As had seemed almost inevitable, in September I was made redundant but by then I was ready to take my sourdough Real Bread to market, just in time for Sourdough September. I make it according to the Real Bread Campaign criterion of no additives. I use organic flour and Cornish Sea Salt, and each loaf takes from 24 to 30 hours from the moment it is mixed to the moment it is baked.
To market
My first two clients were Sans Store, a deli shop in Forest Hill, and Diogenes the Dog, which is a wine bar in Elephant and Castle. The responses from both were brilliant: "Phenomenal bread. Consistent and has a firm following." "Our customers have given great feedback about Eds' produce and often come in especially to pick up a loaf."
Still baking from home, I joined the Real Bread Campaign and ran my first sourdough starter giveaway from Made in Greenwich. I applied to London Farmers' Markets to become a stall holder at Blackheath Farmers' Market. Happily, they liked my food and I was approved in October 2020. Lockdown restrictions meant that they were unable to offer me a pitch straight away but I signed up to The Real Bread Loaf Mark scheme in anticipation and I got my stall in May 2021.
Flying the nest
At the time of writing, I am in the process of finalising paperwork to open my artisan bakery and deli shop in a south London neighbourhood between Hither Green, Ladywell and Lewisham stations in late 2021.
I take my ambassadorial role very seriously and am committed to promoting the Campaign's values, principles and purpose. I'm planning a series of activities that will include bread making master classes in the bakery to provide people with real life baking skills and knowledge. If you are in the area, please drop by and you are also always very welcome to contact me by email or social media.
Want to start a (micro)bakery like Eddy?
Knead to Know...more, the 10th anniversary edition of the Real Bread Campaign's unique microbakery business handbook, is out now.
Originally published in True Loaf magazine issue 48, October 2021
Published 15 Nov 2021
Real Bread Campaign: The Real Bread Campaign finds and shares ways to make bread better for us, better for our communities and better for the planet. Whether your interest is local food, community-focussed small enterprises, honest labelling, therapeutic baking, or simply tasty toast, everyone is invited to become a Campaign supporter.
Support our charity
Your donation will help support the spread of baking skills and access to real bread.