A fuller introduction to one of our previous batch of official ambassadors, who has clocked on for another shift.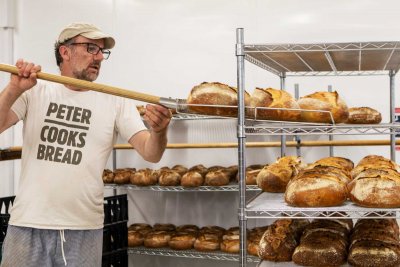 Peter at work. Copyright: © Slow Food Birmingham
I think I can say that, rather than having an early passion for bread baking, baking found me. Originally from Aylesbury in Buckinghamshire, in the 1980s I did a catering management college course in Torquay and embarked on a career in restaurants. One of my favourite memories of working in the hospitality industry in London was the early morning delivery of fresh bread and pastries. Little did I know then that my life was going to be in baking.
Ludlow
Relocating in the 1990s to Ludlow in Shropshire, I was in the right place at the right time to get involved with the town's emergence as the foodie HQ of the UK. This was built on the foundation of its small, independent business owners who did things the old way; great products and great service. SC Price & Sons made Real Bread with slow, overnight fermentation, which resulted in flavours that modern, industrial baking with all its shortcuts and dough 'improvers' can never achieve. Working at Price's, I learnt the methods and recipes from the old bakers who remembered their fathers' stories of making up dough in pre-electric mixers and delivering bread by horse and cart. The flavour of those overnight loaves was outstanding and kept generations of Ludlow families returning to the shop.
Looking back, this was a revolutionary time. I was a member of the town's Chamber of Commerce in 1995 when the famous Ludlow Food Festival was launched, and joined the festival committee the following year. I brought the perspective of being a Real Bread baker to help establish the core aim of the festival, which has always been to support and promote the finest local food and drink producers of Ludlow and the Welsh Marches.
There were many highlights of my time in Ludlow. They included being chosen as a Local Food Hero by Rick Stein, running a baking workshop with Will Holland at the Michelin-starred La Becasse restaurant, and baking at the Intercontinental Hotel in Mayfair as part of Ludlow Comes to London. What really stands out, though, is becoming part of the food and drink community. Being able to collaborate with brewers, cider makers, and cheese makers and use their fantastic produce in my breads is something I immensely proud of. Today the friendships and connections I have built with the best local food producers and my passion for Real Bread is stronger than ever on the mission to reconnect people with the quality food that we all need.
Bread heroes
As I tried new recipes and gained more confidence in my baking, two people in the bread world were key influences. When we made the switch to using flour from Shipton Mill in Tetbury, I was lucky enough to spend time with their test baker, Clive Mellum (featured way back in True Loaf issue 7), who first turned me onto sourdough. His knowledge of baking is unsurpassed and his generosity of time and teaching made a huge positive impact on me.
Secondly, I attended some of Dan Lepard's early courses in Ledbury, and the limitless possibilities of bread making really struck me. Dan demonstrated how, with a few tweaks here and there, you can take just three or four basic ingredients and turn them into an infinite variety of loaves, buns, rolls, flatbreads etc. I am proud to say that Dan remains a firm friend and, when I came to set up my own bakery many years later, I was honoured to welcome him to open it.
Moving and growing
I left Ludlow in 2013 and thought it was the right time to start my own business, which I did in Bishop's Frome, Worcestershire. Peter Cooks Bread opened up its doors with very little in the way of a grand plan but built on a passion for Real Bread and a mission to share it with people in our local community. Through a little luck and sticking to the core aim of making the best bread we can, we have grown from just two of us, into a company that employs around 35 people. Our business is mostly wholesale, with the odd market and festival thrown in. We supply a very broad range of pubs, restaurants, cafés, farm shops, delis, hotels, burger shops, throughout Herefordshire, Worcestershire, Shropshire and north Gloucestershire.
As the business has grown, we've found the biggest challenges to be managing our amazing bakery team and consistently producing brilliant bread and pastries. It's often said that a business is only as good as the people in it, and that's the case here. For the loaf or pastry to be as good as it can, every stage of the process - from mixing, fermentation, shaping, proving and baking, through to packaging and delivery - must be spot on. Every person in that process must make decisions with the knowledge that it will affect the final product.
Over the years, I have been fortunate to win many accolades for my Real Bread, including Waitrose Small Food Producer, BIA Best Speciality Bread, a number of World Bread Awards, and have been named Herefordshire Food Producer of the year – twice!
The future
With my wife Mavis at my side, we run the bakery, our campsite and our beautiful home, as well as keep up with our six children. Sharing the joy of bread making is a key part of my journey and we plan to convert one of our barns so we can run a baking school here. A wood-fired oven will also make it ideal for pizza nights on the campsite. It's a busy life, but one that I wouldn't swap for anything.
---
Originally published in True Loaf magazine issue 49, January 2022
See also
Real Bread Campaign ambassadors
Published 24 Jan 2022
Real Bread Campaign: The Real Bread Campaign finds and shares ways to make bread better for us, better for our communities and better for the planet. Whether your interest is local food, community-focussed small enterprises, honest labelling, therapeutic baking, or simply tasty toast, everyone is invited to become a Campaign supporter.
Support our charity
Your donation will help support the spread of baking skills and access to real bread.