For planners
---
Harness the strategic benefits of community food growing as part of your green infrastructure
In this section we will look at the benefits of community food growing to meeting key strategic objectives for sustainability, health and wellbeing, education, skills and enterprise, regeneration and good design. We draw on Sustain's work with planners and examples of planning practice.
Sustain encourages local planning authorities to use their planning powers to support community food growing through the mechanisms of plan-making and decision-taking, neighbourhood and area planning and by publishing planning guidance.
Menu
---
How community food growing contributes to strategic objectives
Sustainability
Community food growing spaces contribute to achieving policies on mitigating and adapting to the effects of climate change and other sustainability priorities. Urban food growing spaces help achieve sustainable development in the following ways:
locally grown food reduces food miles and improves air quality;
adaptation to the impacts of Climate change – for example flood alleviation and cooling urban heat islands;
permeable surfaces of food growing spaces and the harvesting of rainwater contribute to sustainable drainage; and
green roofs provide accessible open space in high-density development.
Health and wellbeing
The activity of growing food offers people the chance
to take exercise,
socialise,
reduce stress
access fresh and healthy fruit and vegetables.
Education, skills and enterprise
Small-scale community food growing and urban agriculture projects can encourage the growth of the local food economy and develop skills and the improved employability amongst participants.
Community food growing spaces
provide a learning environment,
develop transferable skills that increase skills and employability.
encouraging enterprising activity,
create viable social enterprises selling to local businesses or directly to the consumer.
Regeneration and community development
Community food growing spaces
foster community cohesion and inclusion
improving the local area and contributing to successful regeneration.
Design and residential amenity
Community food growing spaces contribute to high quality design and the provision of a good standard of amenity for existing and future residents within housing developments.
---
Local Plan policies for community food growing
A guide for planners brings together in one place examples of planning policies around the UK that support community food growing. It is aimed primarily at planning authorities to help them to use food growing as a way of creating healthy communities.
Dr Hugh Ellis, Town and Country Planning Association, in his foreword to the guide said,
"Truly sustainable development can deliver multiple benefits such as social housing, zero carbon design, sustainable transport and local food sourcing, and this report puts community food growing into this mix, showing how more planning authorities could easily be following suit and making this standard practice in their plan making and decision taking."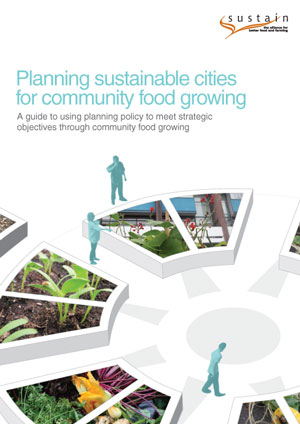 The guide helps planners comply with Planning Practice Guidance for the National Planning Policy Framework in England, which requires planners to support the provision of space for food growing as part of building a healthy community - a principle that is relevant across the whole of the UK.
The range of strategic objectives that community food growing contributes to are highlighted and are illustrated with examples of planning policies and decisions, and projects, to show why and how to provide more food growing spaces.
The report's recommendations for planners include the adoption of a strategic policy that supports food growing, to protect existing community food growing spaces and provide new ones. And, that planners should influence provision of food growing space in new developments by setting targets for the amount of space to be provided. The report shows that such pioneering planning guidance in Brighton & Hove has resulted in over one third of new developments now incorporating community food growing.
Planning sustainable cities for community food growing: A guide to using planning policy to meet strategic objectives through community food growing (2014) Sustain.
Following a survey of Americal planners, this article looks at how local governments in the US can remove public policy barriers to locally grown food.
Urban Agriculture and Community Engagement in policies and plans: Key questions explored in this journal are how communities are engaging in urban food policy making and planning and how local governments are responding to community demands for food policies and plans.
What are food systems?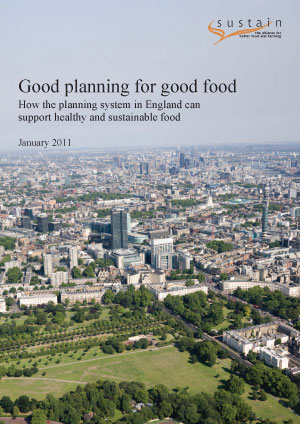 Sustain has looked at how the planning system in England can support healthy and sustainable food. A 2011 report explores how local authorities and communities can use planning policy and decisions to create more local and sustainable food systems. There are a number of ways planners and associated professionals could help create a more sustainable food and farming system. For example, they can:
Protect and increase both the number and the diversity of types of food retail outlets – such as small shops and markets - locally, and within easy walking distance of communities, or by public transport.
Create and protect food growing spaces in and around a locality. Allotments, community growing spaces and a range of other under-utilised public and private space could be used to increase the availability of healthy and sustainable food by expanding the space allocated for food growing. Such spaces can also enhance the quality of productive green spaces in neighbourhoods thereby contributing to biodiversity.
Discourage food waste, and stimulate productive and/or environmentally benign ways of using unavoidable food waste.
Support jobs in the food and farming sector by encouraging small- and medium-sized food enterprises (SMEs), such as markets and on-site farm shops, and local and regional distribution infrastructure.
Good planning for good food - using planning policy for local and sustainable food

Community food growing and social housing
Neighbourhoods Green, Capital Growth and Planning Aid for London have published shared learning and good practice from communities and social landlords who have been involved in food growing initiatives on social housing owned land. The publication offers practical ideas to support those working for or with housing providers in collaboration with local people, to establish food growing schemes.
Edible estates, (2014) Neighbourhoods Green, The National Housing Federation
Growing Health
Food growing for health and wellbeing
Growing Health is a national project run by Garden Organic and Sustain, which is funded by the Tudor Trust, to see how community food growing can be routinely used by the health and social care services as a way of promoting health and wellbeing for a range of individuals and population groups.
Reuniting health and planning
The TCPA has been leading a series of initiatives to reunite the public health and planning professions to create healthier, happier communities and places. See details of recent and ongoing projects and publications.
The RTPI's Planning Horizons project examines the vital role that planning can play in delivering improvements to health. Its report published in 2014 includes access to food and urban agriculture.
Gardens and Health
A National Gardens Scheme report on the health benefits of gardens and gardening makes suggestions for Local Government including:
assessing demand for allotments and – where appropriate and locally supported –reducing the plot size to create opportunities for more people to experiment with growing their own food.
supporting the use of excess and low quality public land and space as community gardening schemes.
prioritising in planning developments access to green space – particularly for lower socio-economic groups eg space to grow food on roofs, communal gardens, or allotments.
Join the Planning Food Cities email list
Shaping the future of local areas to create a more sustainable and local food system.