The People's Loaf at Aston's Bakehouse
Pay-it-forward scheme launched in Sourdough September.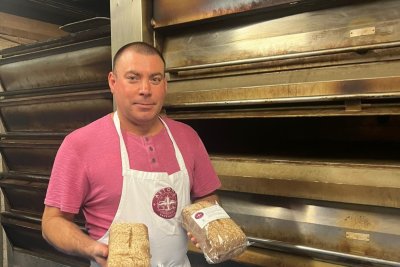 Iulian Varodin with The People's Loaf. Copyright: Aston's Bakehouse
Aston's Bakehouse has launched The People's Loaf, a certified organic sourdough bread, made from wholegrain flour, semolina, white wheat starter culture and a pinch of sea salt.
Prompted by the Real Bread Campaign's Real Bread For All initiative, the bakery will donate an 800g People's Loaf to one of its charity and community partner organisations for every three of the loaves sold. In the first week of the scheme, the bakery gave 23 loaves to Acton Homeless Concern.
Owner and baker Syd Aston said: "Times are tough and making ends meet sometimes means that people have to cut corners and, sadly, food is often one of them. We strongly believe that everyone deserves a taste of good, honest, Real Bread, so we're teaming up with a local food bank and our customers to do our bit."
Real Bread Campaign coordinator Chris Young said: "We'd love to hear from more small bakeries that are finding ways to bridge the gap between what it costs them to produce Real Bread and what people in their local communities on tighter budgets can realistically afford."
Giving a bit back
The use of semolina (a milling by-product) and a reduced profit margin has also enabled Aston's to sell The People's Loaf for around 25% less than its standard 800g white sourdough.
Syd added: "We're trimming our profit on this, so people who are able to support the scheme can also enjoy this fantastic loaf for a bit less."
During Sourdough September, the bakery is also doughnating 25p for every People's Loaf sold to Sustain, the food and farming charity that runs the Real Bread Campaign.
Syd's range of Real Bread can be found at a dozen farmers' markets across London, as well as organic shops in the capital and around Berkshire, Wiltshire and Oxfordshire.
Download the free Real Bread for All guide
See also
Support our charity
Your donation will help support the spread of baking skills and access to real bread.