Laura Hart, owner of the eponymous bakery, on developing the JustBread affordable loaf scheme with Batches Bakery and Heart of BS13.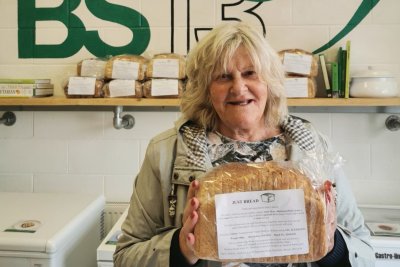 Heart of BS13 customer buying Hart's Bakery loaf. Copyright: Heart of BS13
Hart's Bakery is located in a busy worker and commuter area, right outside Temple Meads station in Bristol, with a steady stream of affluent customers eager and able to buy our sourdough Real Bread, pastries and savouries. However, we are very aware of huge inequality of wealth distribution through our society and city, with many areas of Bristol deprived and lacking in quality, affordable food options.
Over the last few months, we and Batches Bakery have teamed up with Heart of BS13 to find ways to make Real Bread more affordable. This local charitable organisation and social enterprise works in Hartcliffe and Withywood, the BS13 postcode area of the city, where around one in eight households are living in severe food insecurity. Heart of BS13 runs social enterprise projects including a market garden, flower farm, city farm and a frozen meals production kitchen. When they approached us about the possibility of adding bread to that menu, we immediately wanted to get involved.
Everyday bread but better
For the JustBread scheme, we decided that we need to produce something comparable to what people are used to; still recognisable and family-friendly but made from better ingredients, with no additives and using artisan processes. Hart's Bakery has developed a whiteish, everyday loaf made with 15% wholemeal flour, leavened with baker's yeast, baked in a tin and sold sliced. This is a new world for us! All of our other bread is basket-proved sourdough, which we sell unsliced, so we have had to invest in tins and a slicing machine specifically for this project. Feedback that we have received so far has been very positive, with many families choosing to buy one or more of our loaves every week.
We currently subsidise the loaf, enabling Heart of BS13 to sell it for 75p, which is less than brand name loaves and all but the very cheapest 'value' range supermarket own-brand ones. We have started by sending around 25 of our loaves once a week, every Tuesday. As this only represents a relatively small proportion of our production, we feel able to absorb the costs. Batches Bakery supply sourdough loaves on the same day that we do, subsidising their loaves as part of their Community Supported Bakery mission.
Next steps
In spring 2023, Heart of BS13 will launch a mobile shop. Their electric cargo bike will visit streets in Hartcliffe and Withywood offering high-quality, affordable staples such as vegetables, milk and - of course - Real Bread from Hart's and Batches bakeries.
It is early days for the JustBread scheme. It's not something we ask our customers to contribute to, or even have really told them about, but we'd like to engage them as the project develops. We'd love to see the scheme grow and other bakeries in Bristol to get involved so that together we can reach more people and give them the chance to choose Real Bread
@hartsbakery
@heartofbs13
@batchesbakerybristol
Are you making Real Bread for All?
If your bakery runs an in initiative that helps to make Real Bread affordable to more people, we would love to help share your knowledge to inform and inspire other business owners. Please drop the Real Bread Campaign a line.

(Rather than bakeries giving away Real Bread, we're interested in ways they are bridging the gap between what it costs to get it to the shelf and selling some loaves at a reduced price.)
See also
Published 20 Feb 2023
Real Bread Campaign: The Real Bread Campaign finds and shares ways to make bread better for us, better for our communities and better for the planet. Whether your interest is local food, community-focussed small enterprises, honest labelling, therapeutic baking, or simply tasty toast, everyone is invited to become a Campaign supporter.
Support our charity
Your donation will help support the spread of baking skills and access to real bread.