Calling All The (Urban Food) Heroes: Your starter for ten
London Food Link, the voice for good food in the Capital, is on the hunt for the people and organisations doing good through food and drink.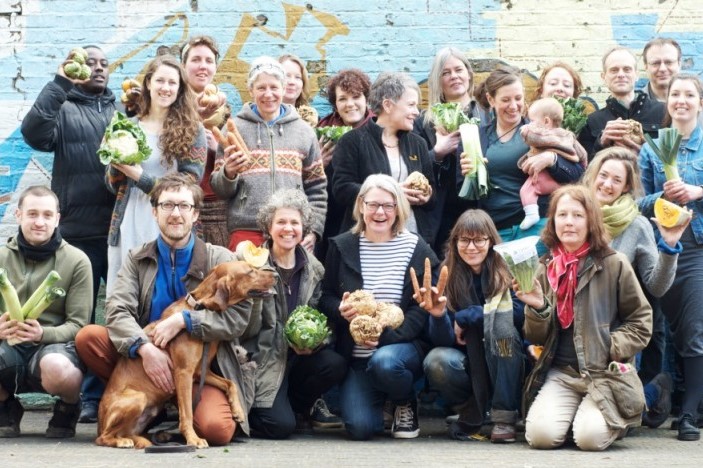 In collaboration with UnLtd, the Foundation for Social Entrepreneurs, LFL has launched the Urban Food Heroes award to support and celebrate the people doing amazing stuff to get good food on your plate.
Everyone involved in enterprises helping people in London, their local community and the planet through growing, making, cooking, selling or saving food and drink is invited to enter by 2 October.
Successful entrants will feature in The First 50 on the new LFL Urban Food map being launched in early 2018, while UnLtd will offer mentoring and business support to selected enterprises.
To whet your appetite, here are the first ten chosen already…
Café from Crisis: Provides a route into employment for homeless people and ex-offenders by offering training in skills for working in hospitality and catering. This covers customer service, barista training and cooking skills, plus external opportunities with industry partners. The teams at its two London cafés prepare healthy food from scratch on site. www.crisis.org.uk/get-involved/cafe-from-crisis

Change Please: A social enterprise staffed by homeless people, to help homeless people, empowering them by providing full barista training, jobs paying the London Living Wage and support with housing, bank accounts and mental wellbeing.www.changeplease.org

Forty Hall Vineyard: This social enterprise in Enfield is the only commercial-scale vineyard in London and the only community-led one in the country. Volunteers learn skills including vineyard maintenance, project management, running market stalls and public speaking. www.fortyhallvineyard.com

Growing Communities: Runs a pioneering, organic local veg box scheme, farmers' market and patchwork farm in Hackney. Also runs a peri-urban farm in Dagenham, which shares skills for growing, processing, cooking and selling organic food. www.growingcommunities.org

Hackney Herbal: A social enterprise growing herbs on a patchwork of sites around Hackney to create herbal infusions. Profits go towards free community creative, health and wellbeing activities; volunteering and training in herb growing and tisane making; and courses with mental health charity The Centre for Better Health. www.hackneyherbal.com

Headway East: A charity working across 13 London boroughs to support people living with brain injury. Food activities include baking in the cob oven; growing veg; and learning or relearning cooking skills for life, to run the daily lunch club and Headway EATS community supper clubs. www.headwayeastlondon.org

Luminary Bakery: Offers training, work experience and paid employment, empowering vulnerable women to build careers. The social enterprise uses baking 'as a tool to take women on a journey to employability and entrepreneurship, equipping them with transferrable skills for the working world,' and aims to 'break the generational cycles of abuse, prostitution, criminal activity and poverty.' www.luminarybakery.com

Made in Hackney: Run by the charity AMURT UK, this social enterprise works with a diverse range of people to: promote health and environmental benefits of eating a local, organic, seasonal, plant based diet; teach skills to grow, cook, preserve and compost; provide training and an affordable kitchen space for ethical food entrepreneurs; offer good food training and volunteering opportunities. www.madeinhackney.org

Nemi: Specialist tea social enterprise offering training and employment to help refugees rebuild their lives. Works in partnership with resettlement agencies including the Refugee Council to empower people arriving in the UK and help them feel more at home. www.nemiteas.com

Dee Woods: The co-founder and coordinator of Granville Community Kitchen, Dee has worked in community food education, health promotion, organic food growing, food history and research for over 25 years. In 2016, Dee was named Cook of the Year by the BBC Food and Farming Awards. www.granvillecommunitykitchen.wordpress.com
Nothing in your part of town on the list yet? There are forty places left to fill, so invite the good food entrepreneurs near you to enter today!
Find full details of the Urban Food Heroes awards at www.londonfoodlink.org
Urban Food Fortnight 2017 runs until this Sunday, 24 September www.urbanfoodfortnight.org
*ENDS*
Media contact: Chris Young chris [at] sustainweb.org or Sarah Williams sarah [at] sustainweb.org
NOTES
Suggested tweets:
Calling the capital's Urban Food Heroes: @LondonFoodLink is looking for YOU. Enter today: www.sustainweb.org/londonfoodlink/awards/
Doing good through food in the capital? Enter @LondonFoodLink's Urban Food Heroes awards at: www.sustainweb.org/londonfoodlink/awards/
Run a London food social enterprise? Enter the Urban Food Hero awards! www.sustainweb.org/londonfoodlink/awards/ #socent
London Food Link's past and present work includes: Nurturing the Capital Growth network, running Urban Food Fortnight, being an Urban Food Awards founding partner, spawning Sustainable Fish Cities, helping to define good food standards for the London 2012 Games, looking Beyond the Food Bank with the London Food Poverty Project, and helping to establish – then sitting on – the London Food Board.
That's not to mention publishing The Jellied Eel magazine and hosting frequent events to connect and celebrate the people who grow, make, cook, save and enjoy good food in the capital.
What people have said about London Food Link
"London Food Link changed my life! You were the first organisation I contacted when Sid and I launched Grub Club three years ago." Olivia Sibony, co-founder of Grub Club
"Hiver would have happened if not for the fantastic work of London Food Link and the introduction to the local honey on my doorstep." Hannah Rhodes, founder of Hiver Beer
Sustain summit
12 Oct 2022
The summit will consider meat and dairy production and consumption in the context of the climate and nature emergency, where inspiring work and opportunities exist, and the assumptions and underlying values about meat which have shaped our policy to date.
Support our work
Your donation will help support community food initiatives and enterprises to thrive as part of a more sustainable food system.