Bristol bakery Batches is crowdfunding
A sourdough re-starter in south Bristol.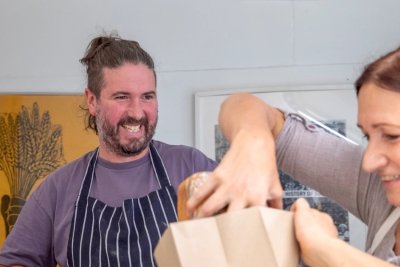 Baker and customer. Copyright: Batches Bakery CIC
Batches Bakery CIC was launched, and has been run for four years, as a volunteer-powered project. They are now working to raise £9000 by 1 November 2023 to crowdfund the re-launch of the bakery with new, financially-sustainable model.
Rewards for backers range from posters and baked treats; through sourdough and pizza making workshops; to a private, three-course meal for up to ten people.
About the bakery
The Batches Bread Project began in 2019. The bakery donates loaves to projects around Bristol and sells the rest on a pay-as-you-can basis. The team also teaches aspiring bakers how to bake on a commercial scale. They say: "We believe that everyone should have access to fresh and nutritious food, regardless of their economic situation. We are committed to producing affordable sourdough bread, using organic and locally-sourced flour."
Batches had been completely run by a dedicated team of volunteers until July 2023, when lack of volunteer availability meant the project had to be put on pause. "All of the bakers were gutted to have to stop baking, and we got so many sweet messages from people that get our bread, that we knew we couldn't let this be the end."
They re-grouped, wrote a business plan and set up a community interest company, ready to re-launch on a professional footing.
Social enterprise
The bakery's model involves a Real Bread subscription service, typically making between 50-70 loaves a week. These are priced on a sliding scale price (currently from £2 to £4.50) on a pay-it-forward system, with customers who can afford the top price helping to subsidise lower-priced loaves and bread that is donated locally. "We partner with existing community projects across Bristol who have identified people experiencing food insecurity and provide them with weekly nutritious and affordable bread."
Skills for employment
As well as addressing food insecurity within their local communities, the Batches Bakery team are passionate about improving access to the workplace for people from marginalised groups.
Once Batches Bakery has re-established itself as a financially-sustainable business, the next stages of the plan are focused on their mission of increasing access to training in commercial bakery skills and business knowledge for people distanced from the workforce. Working closely with their existing community partners, they will offer a three-month 'Bakers Apprenticeship' to train people to a high, commercial standard in a "supportive and progressive work environment."
What the money will go towards
The money raised by the crowdfunding campaign will be spent on equipment (including a dough mixer and replacing "some of our sad looking proving baskets.") and building maintenance – including fixing their leaky roof and repainting to "give our space a spruce, ready for the relaunch." It will also enable creation of a decent website to promote the business and its social enterprise mission. "Whilst we have taught ourselves to bake delicious Real Bread in the last four years, none of the team know how to make websites!"
Crucially, the new model includes employing a permanent member of staff on a fair wage to lead the volunteer team and develop the business. The crowdfunding will help to subsidise their salary for six months
Dispatces from Batches' community
"I'm so sad that you'll be stopping baking and I hope you'll be back in the future! Me and the family really love your bread and think the model is such a great idea." Batches Bread subscriber
"Not only have you fed my sourdough habit, a bonus for me has been supporting a bakery that works hard to make sure folks of all incomes can get a slice of the action ;). I really hope you can get baking again soon, because Tuesday without fresh warm bread just isn't the same." Batches Bread subscriber
"Batches Bakery has provided delicious loaves for our community freezer, since July 2022. Each week BS13 residents can pick up a sourdough loaf along with their free meals. The loaves are delicious with a super-soft texture and crunch to the crust." Heart of BS13
See also
Support our charity
Your donation will help support the spread of baking skills and access to real bread.