Charlie Haughton introduces a bakery that's on a mission to make Real Bread accessible to more people in Bristol.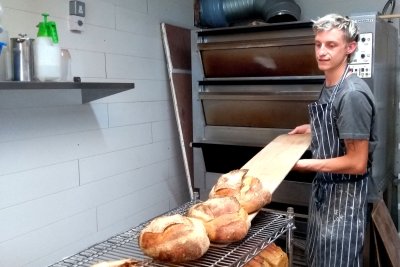 Charlie at work. Copyright: Batches Bakery
The idea for the Batches Bread Project came in 2019, born from a group of friends' desire to learn how to make good-quality Real Bread. We started baking from home and came up with a rough plan of each baking sourdough bread on a weekly rotation, sharing the loaves between us. The benefits were clear; we could enjoy the sort of bread we wanted to eat without paying shop prices, whilst also gaining additional skills. This laid the foundation for the Batches Bakery philosophy of creating access to affordable, quality bread, as well as collective learning.
The bakery takes off
Fast-forward to March 2020. As Covid changed the shape of society, our plans changed. We considered the possibility of using the skills we had developed to bake more Real Bread and distribute it around the city. We were offered weekly use of a professional bakery and put the word out that we were offering affordable sourdough bread. Linking up with St. Pauls Adventure Playground, northeast of the city centre, we began giving bread away each week to families connected with the space. Before we knew it, we were producing 70 loaves a week and the Batches Bread Project was born.
After a few months we really settled into to the project. We were happy with our bread and the effect the space was having on our production. Then things changed again! The founder of the bakery we were using was leaving the city and was willing to pass on the lease and sell the equipment to us. Although it was completely unplanned, it felt like too good an opportunity to miss. It felt like we had created a great model that more and more people were interested in getting involved with, so we pulled together and Batches Bakery took over the space.
Tackling food inequality
Issues of accessibility are vast in the world of food. They reflect, and help to create, stark divides in our society. We understand that small bakeries charge what they do in order to pay fair wages, cover their other costs and reflect the value of what they do and produce. The reality is, however, that this makes good quality bread unaffordable to a lot of people in this country.
Some people can and will pay £4 or more for an artisan loaf of Real Bread. Because of cultural, financial or geographical reasons, other people only have access to industrial loaf products. Equality and access are complex issues but we have kept them in mind throughout and will work to tackle more in the future. We have always maintained the importance of making bread as nutritious and affordable as possible.
How it works
We bake once a week. We are committed to sourcing flour from independent mills, including Stoates at Cann Mills in Dorset, and are keen to learn more about the complexities of working with local and heritage grains. There is much wisdom to be gained from these grains and what they can offer us in terms of flavour, nutrition and diversity.
We aim to sell two thirds of our bread through a pay-as-you-can scheme, asking people to pay £2 a loaf to cover our costs, £3 - £3.50 for a loaf plus one for us to give away, or more to help fund the future of the bakery and Batches Bread Project. The other third of the bread we make we give away through different projects across Bristol.
Volunteering
We believe that issues of food accessibility and security can be helped through exploring models that move away from traditional commerce and competitive markets, so run on a completely voluntary basis. This takes away some of the commercial pressure that normally exists when selling bread.
Volunteering with us is a brilliant way to learn about bread making using commercial baking equipment (without signing up for expensive workshops), plus you get the satisfaction of being involved in a community. It's a particularly good opportunity for any prospective professional bakers looking to get experience before joining the industry. The collective is always evolving, with new people joining the team. To start baking with us you don't have to have any experience, just a passion for learning all things bread. People new to the team get a chance to bake with our bakers, who are keen to share their knowledge. Relying on volunteers is a lot of effort. It also presents challenges - including a barrier to involvement for some people - but together we make it work.
The future
After a recent paint job and some long-term planning, things are looking good for Batches Bakery. Keeping education and people at the centre of the space we are working on new ideas, including:
Offering baking workshops to help empower people to make their own affordable bread.
Widening our reach and offering use of the space to socially-focused community groups.
Creating an apprenticeship to teach commercial baking skills and self-directed working.
Hosting events at the bakery to raise money for the continuation of the project.
It's still early days for Batches. We know we can increase our reach and we hope to find more organisations through which we can give away our bread. We dream of increasing the days the bakery is used for making bread to give away and to share the knowledge we have gained to as many people as possible. For now, it's a case of watch this space, while we work out our new ideas. In the meantime we'll keep enjoying sending out delicious and nutritious loaves.
Originally published in True Loaf magazine issue 51, July 2022
See also
Published 6 Dec 2022
Real Bread Campaign: The Real Bread Campaign finds and shares ways to make bread better for us, better for our communities and better for the planet. Whether your interest is local food, community-focussed small enterprises, honest labelling, therapeutic baking, or simply tasty toast, everyone is invited to become a Campaign supporter.
Support our charity
Your donation will help support the spread of baking skills and access to real bread.