Carr's won't say no to sourfaux
Real Bread Campaign challenges flour mill's packet mix marketing.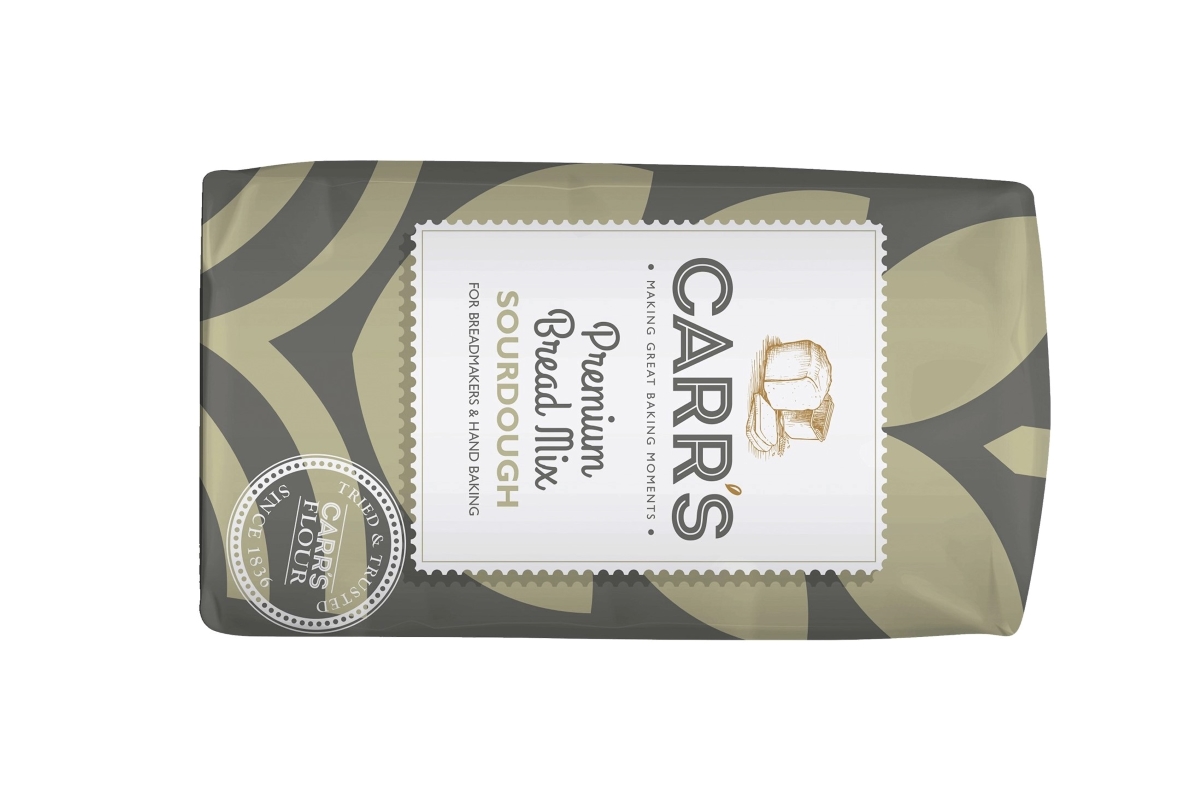 Carr's bread mix
The following is correspondence between Real Bread Campaign co-ordinator Chris Young and the mill. It was prompted by the company using the charity's #SourdoughSeptember to promote a packet mix marketed as sourdough, but that in fact contains baker's yeast.
The Campaign calls this sourfaux but Carr's declined to rename the product.
From the Campaign to Carr's
13 September 2021
We run #SourdoughSeptember to encourage people to buy genuine sourdough bread from local, independent bakeries, make their own sourdough bread, and to support our charity's work. Thank you for getting involved on social media in our annual, international initiative by sharing the sourdough starter guide on your website.
We are not, however, happy with your 'Premium bread mix sourdough' or your use of our initiative to promote it.
Any potential benefits of making bread through the sourdough process rely on long, slow fermentation of the dough in the presence of lactic acid bacteria. Speeding the proving/rising of dough using baker's yeast or other raising agents greatly reduces the fermentation time and, therefore, the biochemical changes necessary to result in any such benefits. If the dough is made without a live sourdough starter culture (eg using some packet mixes that contain only inert/denatured, dried sourdough starter culture) then those biochemical changes cannot happen at all.
Genuine sourdough bread is made using a live starter culture, but no additives or other raising agents. Any product named or marketed using the word sourdough but that contains an additive or other raising agent is what we call sourfaux. We believe this practice to be misleading, particularly to those people who report that they can enjoy genuine sourdough but not industrial loaf products (or even, in some cases, Real Bread made using baker's yeast) or understand there to be health/nutritional benefits of eating genuine sourdough.
As your mix contains baker's yeast, we ask you to remove the word sourdough from its name and marketing, and stop using our #SourdoughSeptember initiative to promote the product.
I look forward to your response.
Carr's to the Campaign
30 September
Thank you for your email.
We provide a range of bakery and flour products to a wide number of consumers. We are proud suppliers to independent bakers and promote their produce. We also provide product to a range of retailers, restaurants, wholesalers and not least the home market. Our differing flours and mixes are used by expert home bakers through to entry level bakers; the mixes in particular help to promote an interest in baking and home cooking.
As I'm sure you will know, there is no fixed legal definition of the term 'sourdough' in the UK, we therefore follow the industry code of practice in relation to our labelling that is supported by The Association of Bakery Ingredient Manufacturers, Federation of Bakers, Craft Bakers Association, The British Sandwich and Food To Go Association and Pizza, Pasta and Italian Food Association. This states that for 'product name with sourdough: a product made with live/active sourdough, and/or inactive/deactivated/devitalised sourdough, where commercial bakers' yeast has been used as the principal leavening agent in the final dough and which may also contain permitted additives. The product may not contain additives which are added specifically to impart a sourdough type acidity, flavour or aroma to the finished product (eg acids or their salts.) Marketing terms may only describe the flavour characteristics imparted by the sourdough and should not imply that the product has been made using a traditional sourdough process'.
We are confident that our Carr's Sourdough Bread Mix makes it very clear to our consumers that the product does not require a starter and has a dried sourdough culture, rye already within it. Indeed, this product is directed at the bread maker market and in no way could be confused with the traditional sourdough process.
We have promoted #SourdoughSeptember on behalf of our bakery and commercial customers, also to educate and inform. However, as a courtesy to yourselves, we will seek to avoid directly associating our 'White Bread Mix with Rye Sourdough Culture' product directly with this hashtag in the future. We will also remove the social media posts that link directly to #sourdoughseptember and the Carr's Sourdough Bread Mix.
The Campaign to Carr's
1 October
Thanks to the Carr's team for getting involved in our annual, international #SourdoughSeptember by encouraging people on social media to make genuine sourdough bread, leavened only with a live starter culture. Thank you also for agreeing not to make any further associations between Sourdough September and any Carr's mix that contains baker's yeast and/or additives.
Will you please also say no to sourfaux by removing the word sourdough from the name and marketing of such mixes that you produce?
There is a growing body of evidence to suggest that there might be nutritional and other health benefits of eating genuine sourdough bread. The chance of any such benefits are greatly reduced, if they occur at all, when eating a loaf made by a process sped up by the use of baker's yeast.
I do indeed know that a clear, legal definition of genuine sourdough bread is needed to better protect shoppers and the owners of businesses that make it. It is why we continue to lobby for one as part of our ongoing call for an Honest Crust Act of improved marketing and labelling legislation. To minimise the risk of confusion or deception, our proposed Act would also prohibit the use of the word sourdough in the name or marketing of any products containing additives or leavening/raising agents other than a live sourdough starter culture.
We utterly reject the 'industry code of practice' to which you refer. We believe it to be a cheats' charter, written by (and for the benefit of) industrial baking entities that, until relatively recently, had little to no interest in sourdough bread. When drafting it, its authors rejected any input from the Real Bread Campaign. This was despite them knowing that many (perhaps the majority of) bakeries crafting genuine sourdough bread in the UK, some for decades, are in our network of supporters and friends. We believe that shunning these true custodians of the ancient craft of sourdough bread in order to redefine what it is and cash in with fundamentally different products is just wrong.
I understand that Carr's supplies, and therefore has to maintain a good working relationship with, bakeries and baked product manufacturers of all types and sizes. On this particular issue, we urge Carr's to align your practices with the needs and beliefs of bakers of genuine sourdough, and to do what's right for people who want or need to be sure they're eating the real thing.
I look forward to hearing from you again.
From Carr's to the Campaign
At the time of publication (15 October 2021), we still had not heard back from Carr's.
See also
Support our charity
Your donation will help support the spread of baking skills and access to real bread.