The Government has published a Brexit 'no deal readiness report', as an anonymous source from number 10 briefs journalists that no deal is coming.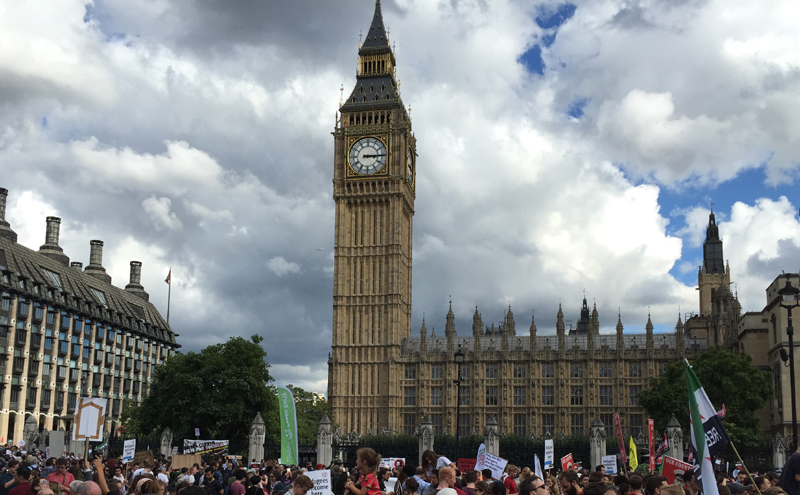 Photo credit: Kath Dalmeny
The government has today published a 159-page 'no-deal readiness report' saying that the UK "must be prepared to leave on 31 October – even if that means leaving without a deal." It came as a source from inside Number 10 leaked their views on how the negotiations with the EU were going.
We summarise as follows: in their view, the talks are not going anywhere and the UK will withdraw co-operation on issues like security if the EU doesn't compromise at this point. They made clear that "We'll either leave with no-deal on 31 October or there will be an election and then we will leave with no-deal."
If you are too Brexit-weary to read through 159 pages of 'no-deal readiness report', here is our filleted summary. It restates the Government's position on lots of areas including food, farming and the environment and outlines what more has been done to prepare for a no-deal. This document confirms:
The UK's 'dedication' to meeting domestic and international climate commitments and says the UK will introduce a Carbon Emissions Tax, replacing the EU Emissions Trading System.
Plans to introduce an Environment Bill that "will ensure environmental standards are not only maintained but enhanced" and creating an Office for Environmental Protection.
That as the UK would no longer be part of the EU regulatory framework for veterinary medicines, the Government will put in place processes and IT systems to manage UK veterinary medicines and regulatory activities.
The UK will be out of the Common Fisheries Policy and will lose the automatic right to fish in EU waters. In return there would be no automatic access for EU vessels to fish in UK waters.
The UK will set up a new 'Single Issuing Authority' to give out licences to fish in UK waters. This will be a collaboration between the UK's fisheries authorities and the devolved nations.
Seafood exporters will require an Export Health Certificate (EHC), and in most cases a validated catch certificate, to export fish and fish products between the UK and EU. Consignments will also need to enter the EU via a Border Inspection Post (BIP) that handles fisheries products.
The same cash total will be made available in funds for UK farm support until the end of this parliament. It also states that all current rules and processes will remain the same until an Agriculture Bill is passed through the UK Parliament and/r devolved legislatures.
The UK will need to be on a list of EU 'third countries' in order to export live animals and animal products to the EU – and that a new vote will be taken by the EU on 31 October to confirm the UK is on the list. Exports to the EU of animals and animal products will also need to be accompanied by Government-issued Export Health Certificates (EHCs).
Agrifoods will only be allowed to enter the EU via an EU Border Inspection Posts (BIPs) in the EU and advises businesses to redirect their trade route.
The UK has put in place its own IT system called the Import of Products, Animals, Food and Feed System (IPAFFS) to track the arrival of animal products and high risk food and feed not of animal origin from third countries and the EU (as it will no longer be part of the EU system). The UK would also no longer have access to other EU systems, networks and agencies that assess and track food safety, such as the Rapid Alert System for Food and Feed (RASFF).
The EU will introduce new sanitary and phytosanitary checks on goods coming from the UK, but, at least initially, these will not be replicated on the UK side. Imports from the EU to the UK will not require the Export Health Certificates required for products going the other way – unless they are transiting from other countries, in which case they'll need to be registered with IPAFFS.
EU organic produce will be accepted as such in the UK – but can not confirm if this will be reciprocated by the EU.
The UK will create its own scheme and logo to replace the EU geographical indicator scheme – and says the EU has still not asked the UK to recognise their GI products. UK products will be automatically protected; products from around the world will be able to apply to the UK's new scheme.
Kath Dalmeny, chief executive of Sustain said,
"We have been clear that a No Deal Brexit would be disastrous for food, farming and environment; this document is just the latest evidence of that. Leaving the EU without a deal will interrupt the flow of food into our country and destroy export markets for local producers. We urge politicians of all parties to find a solution to this political mess."
Support our charity
Donate to enhance the health and welfare of people, animals and the planet.