Real Bread Campaign supporters' survey.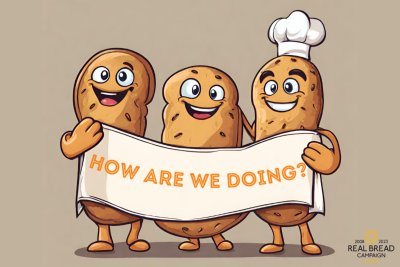 Bread people. Credit: Chris Young / www.realbreadcampaign.org / Canva CC-BY-SA-4.0
The main thing that has enabled the charity Sustain to keep running the Real Bread Campaign for the past 15 years is the annual payment that our supporters make each year.
If you're one of them (thank you!) it would be great if you could take a couple of minutes to tick a few boxes in this anonymous survey to help us get a general picture of why people become (and continue being) Campaign supporters.
Real Bread Campaign supporter survey
Your answers will help us to work out what we might do in the future in order to attract and retain more supporters.
Not a supporter?
If you're in our wider network, but don't chip into the Campaign kitty each year, we'd still like to hear from you.
Real Bread Campaign friend survey
See also
Support our charity
Your donation will help support the spread of baking skills and access to real bread.