Local bakeries on the rise but facing multiple threats
Open University study finds the number of small bakery businesses in the UK has increased over recent years but that they are threatened by rising costs and a skills shortage.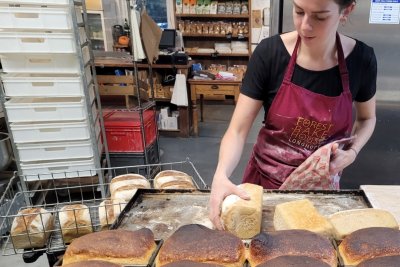 Forest Bakehouse. Copyright: Emma Bell
The report is based on a survey of 202 small bakery business owners in the UK, interviews and other research. The study was conducted between May and July 2022 by The Open University, with support from the Real Bread Campaign and Craft Bakers Association.
Key findings
In 2021 there were 2,720 businesses making bread, fresh pastry goods and cakes in the UK.
Of these, 2,540 were small businesses (with 50 employees or fewer).
The total number was up from 1,874 in 2008 and 2,478 in 2019.
More than a third of small bakery businesses that participated in the study are less than five years old, with 17% having been founded since the start of 2020.
45% of participating bakeries over 25 years old use additives, while only 4% of those under 10 years old do.
Bakeries with a turnover below £500k are significantly more likely to make genuine sourdough bread than those with higher turnovers.
The top three threats identified by bakery owners are cost of ingredients, rising energy costs, and cost of living pressures on customers.
Recruitment and retention of skilled bakery employees is another major challenge.
Survey responses suggest lack of diversity in small bakery business ownership.
Covid and beyond
Based around what is thought to be the first survey of its kind conducted post-pandemic, the study highlights how small bakeries adapted after the first lockdown and many saw an upturn in business. Some started to offer online and delivery services, with sales increasing as people turned to small, local retailers.
The report goes on to note that the outlook is now much bleaker, with soaring costs, recruitment issues and a cost-of-everything crisis that is touching all sections of society and potentially putting bread from small bakeries out of the reach of many people. It also examines what a successful future for small bakery businesses might look like in the face of these significant issues.
Barriers to earning an honest crust
Some respondents expressed concern about the lack of regulation of bread labelling and marketing. One baker quoted in the report said that the way manufacturers and retailers are allowed to use artisan, local, stoneground, hand-shaped, sourdough and similar means: "that these terms become meaningless". It contributes to difficulty small bakers can experience in explaining to customers the ways in which their business, processes and breads are fundamentally different to, and why their products are priced differently than; those of large retailers.
Recommendations
The report suggests that bakery owners work together with policy makers, educators and suppliers to build more resilient supply chains, improve training and career pathways for bakers and enhance customer awareness about the benefits of locally-made, fresh bread and bakery products.
Emma Bell, Professor of Organisation and Leadership at the OU Business School, says that, while highlighting the economic plight that small bakeries are in, the report also shows just how important they are to local communities. "Small bakeries enrich our food culture by using craft skills to make bread in local, traditional and sustainable ways. In recent years, consumer demand for these artisanal products has increased and the number of small bakery businesses has grown. Now, in the face of soaring costs and a shortage of skilled bakers, we need to find ways to support these innovative small businesses and make sure they continue to survive and thrive," she said.
Real Bread Campaign co-ordinator Chris Young added: "This report gives an insightful snapshot of the state of micro and other small bakeries in the UK. While the Real Bread movement remains vibrant, the findings highlight the plight that many small businesses face and underline the need for the support that the Real Bread Campaign has urged the government to provide."
[The Real Bread Campaign sent a copy of the report to the more than 40 MPs, including the Secretary of State and Minister of State at Defra, and the Business Minister. It was also sent to more than 150 journalists.]
See also
Support our charity
Your donation will help support the spread of baking skills and access to real bread.