Chlorine washing may fail the food safety test, microbiologists say
British microbiologists have found that chlorine-washing food does not kill listeria and salmonella food poisoning bugs. The technique has been the cause of controversy relating to US and UK food standards, especially chlorine-washed chicken.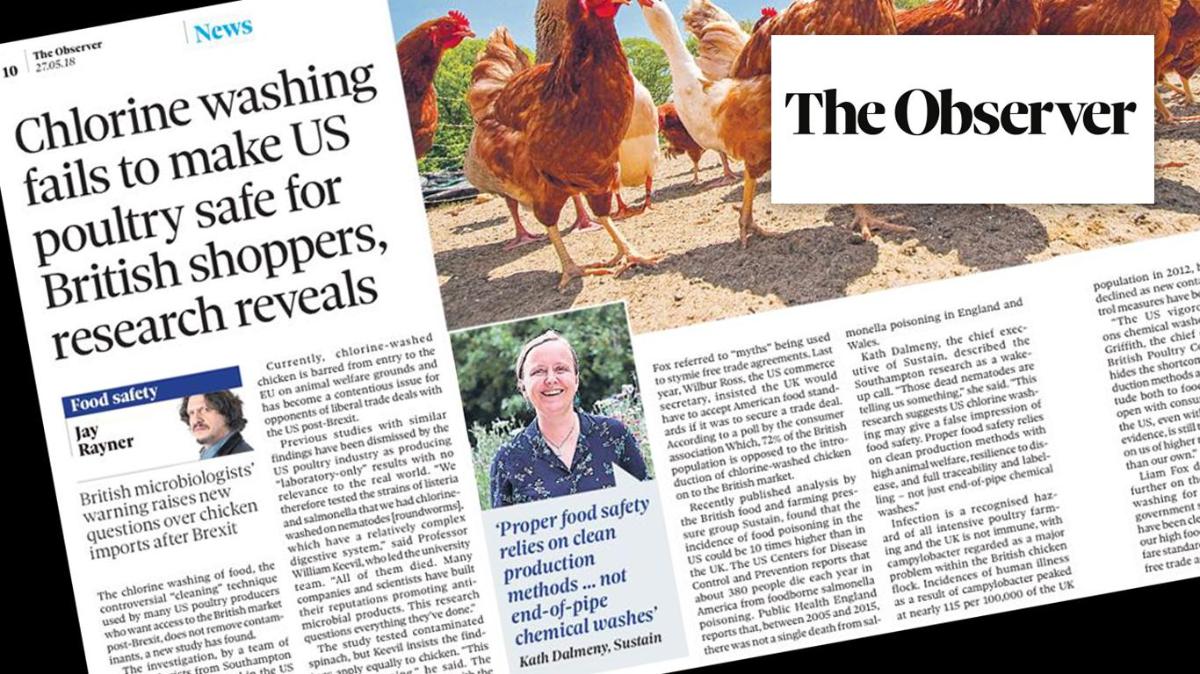 The scientific rsearch conducted at the University of Southampton, and reported by Jay Rayner in The Observer on 28th May, Sustain's chief executive Kath Dalmeny said:
"Sustain's analysis of official food poisoning data shows that the rate of food poisoning is up to ten times higher in the US than in the UK, mainly from salmonella and campylobacter in chicken and eggs. Those dead nematodes are telling us something. This research suggests US chlorine-washing may give a false impression of food safety. Proper food safety relies on clean production methods with high animal welfare, resilience to disease, and full traceability and labelling - not just end-of-pipe chemical washes."
"These findings are doubly concerning in light of the US Commerce Secretary Wilbur Ross already having told the UK that we will have to accept American food standards if we want a trade deal. Yet the UK's trade negotiators will agree such food standards in secret and our own Trade Secretary Liam Fox has dismissed worries about chlorine-washing as 'scaremongering' and a 'detail'. This shows that our food standards are not in safe hands. It's time for health professionals and the public to be involved in deciding food standards, not just ill-informed trade negotiators."
Ready the story by Jay Rayner in The Observer
Back in November 2017, the UK's Secretary of State for International Trade Liam Fox said that "When it comes to standards, we have made it very clear that we will not see a reduction in the quality or safety of products—either goods or services—made available to UK consumers. We will determine in the United Kingdom what we think those should be, and then we will negotiate with any countries that are willing to negotiate on those terms. We will determine what we choose for Britain's future."
Yet in April, Liam Fox said that for too long the argument has been focused on "misleading claims about food standards" and "we need people – to confront the myths and wilful distortions perpetuated by the anti-trade lobby".
US Commerce Secretary Wilbur Ross flew to London to speak to the Confederation of British Industry in November 2017. The CBI posted a blog about his speech which can be read in full here.
In it, he mentioned the "limited role of science in assessing risk, especially in sanitary matters" as a hindrance to US business exporting to the EU and advises us to drop this policy. This is a reference to the EU's historic refusal to accept chlorine-treated chicken and hormone-treated beef from the US. The US argues it is unscientific to refuse to accept them as they don't impact on human health. The EU's position is that while it accepts there are no safety concerns with eating chlorine-treated chicken it believes these farming techniques mask low hygiene and animal welfare standards, which it won't accept.
---
29/05/2018
Food and Farming Policy
SHARE
---
Food and Farming Policy: Sustain encourages integration of sustainable food and farming into local, regional and national government policies.