Making bread with and for children?
Calling teachers, school cooks and people making Real Bread in community settings.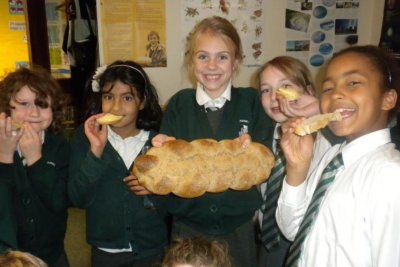 Bake Your Lawn loaf 2011. Copyright: Berkswich Primary School
The Real Bread Campaign is gearing up to renew a focus on making Real Bread with and for children.
We need to make contact with teachers, cooks/caterers and other people making Real Bread in schools and other community settings so we can harvest the hive mind to help us inform and inspire more to do so.
Do you do any of the following, or have you in the past?
teach children to make bread
teach adults bread making skills to pass on to children
run a wheat growing project with children
make bread with children for whom English is a second or other language
use bread as a topic across a range of subjects, such as history, biology, language, geography etc.
help to put Real Bread on the menu of a school or other public sector / community eatery used primarily by children
If so, then might you be interested in us helping you to share with others some of what you've learned? Please email us.
If not but you know someone who does/might, please pass this message on.
Roots and new shoots
In the first phase of the Campaign, we ran three projects related to bread and youngsters:
Lessons in Loaf: Bread making in schools, which also used the topic of bread across a range of curriculum subjects.
Bake Your Lawn: Our grow-a-loaf- guide on how to take a handful of wheat to sow, mill, bake and eat.
Real Bread on the Menu: Encouraging schools and other public sector institutions to serve additive-free bread, either made in-house or bought from a local Real Bread bakery.
Now, in our 15th anniversary year, we're going back to school, not least because food skills and knowledge, as well as public sector meals, are important elements of making Real Bread for All.
Could you help write our third book?
We're planning to publish a crowdsourced, crowdfunded Bake Your Lawn book.
This will update and expand on information from those first two guides with knowledge and advice harvested from people who've been growing, milling and making Real Bread with children in schools and other community settings.
The book will be complemented by longer articles in our magazine and website by and about people doing this brilliant work.
If you're keen to share your knowledge and experience in these fields, please drop us a line.
Jump on stage and grab the mic
We're pulling together panels for a number of events to help inform and inspire more people to get making Real Bread with and for children.
If you fancy being a visible, vocal champion for any aspect of this, please email us.
Real Bread by everyone, for everyone
Real Bread is made and enjoyed by people of every age, nationality, colour, sex, sexual orientation, gender identity, ethnic heritage, differing ability, neurological status, religion/faith (or none) and economic background, who speak every language and dialect worldwide.
We are working to ensure that what we do (as well as with and for whom we do it) better reflects this this diversity of background and identity.
There are many exceptions but the majority of supporters we've gathered and Real Bread bakers we've worked with over the past decade and a half are white, middle class people. Thank you all for your continuing support!
In recent years, we've been trying harder to invite everyone else to the party as well. Our success at being a more inclusive network, attracting and celebrating a wider range of people has been limited, though.
If you might be able to help within and beyond our current bubble, please get in touch.
What is Real Bread?
Real Bread can be a hand-shaped, basket-proved, crusty, wholemeal, organic, heritage wheat, sourdough boule with big holes in it, pulled from a wood-fired oven by a true artisan baker...but it doesn't have to be!
Real Bread…
is made without chemical raising agents, so-called processing aids or any other additives.
can be an unleavened flatbread, raised with baker's yeast, or made by the sourdough process.
encompasses every type of additive-free bread from every culinary heritage, whether baked, steamed, fried, roasted, griddled…
can be gluten free.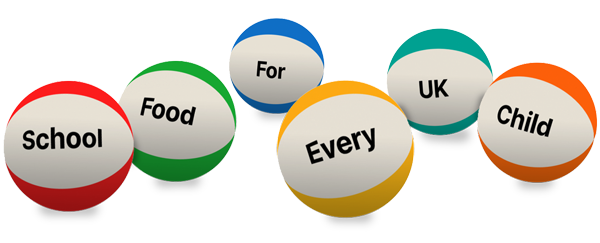 Ask your MP to end the school food postcode lottery now
Support our charity
Your donation will help support the spread of baking skills and access to real bread.