Family bread making scheme crowdfunding
London parent/child project seeks support.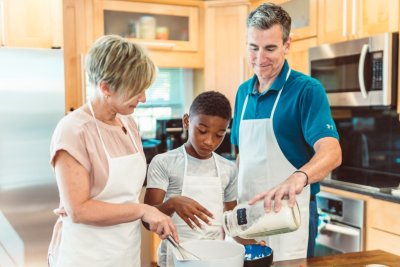 Stock image - your support will lead to some real-life photos!. Credit: Rodnae Productions, Pexels license
The Flour Union is running a crowdfunding campaign to raise £4000 by 1 May 2023 to create a six-month pilot programme, involving designing, developing, running and evaluating the first set of Bread That Bonds workshops.
Visit the project's Crowdfunder page
What is Bread That Bonds?
The programme will comprise four, four-hour long workshops run over the course of two months. At each workshop, parents and children will learn a new recipe and bread making technique using readily-available, affordable ingredients. Participants will then have a week in between each session to practice at home, helping them to develop bread making confidence and achieve consistent results.
The project is being run by former professional baker (and current Real Bread Campaign ambassador) Marcia Harris, who is a Child and Family Support Practitioner at a London primary school. She says "taking four, simple ingredients and transforming them into bread is magical. Learning how to make an additive-free, healthy loaf at home, with very little equipment, is a skill everyone should have!"
Relationships and resilience
In addition to skills and knowledge in support of healthy eating, Bread That Bonds will focus on relationship building. During the dough proving and baking time at each workshop, parents will learn a variety of tools to help their children develop emotional literacy and resilience. Parents will be encouraged and empowered to make baking with their children a key part of their weekly routine, helping to nurture their relationship.
Marcia says: "building emotional resilience in children, and strengthening the parent/child relationship, is especially important for families living with extra challenges such as low income, poor mental health, bereavement and domestic violence."
What the funding will cover
Programme development
Marketing and outreach
Venue hire
Equipment purchase
Workshop delivery
Project evaluation and data collection
After the pilot
The aim is to develop and deliver Bread That Bonds on a pay-as-you-feel basis, encouraging everyone to take part. The idea is that people who can afford to pay can help those who can't.
The hope is that the results of the pilot will put The Flour Union in a good position to apply to local authorities and other funders for support.
Taster
The Flour Union will be running pay- as-you-feel taster sessions at OmVed Gardens in Highgate, north London, over the April 2023 half term. Details will be published at www.theflourunion.com
Support our charity
Your donation will help support the spread of baking skills and access to real bread.