Entries and nominations invited from home bakers, bakery owners and their customers.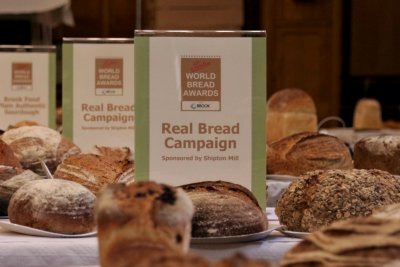 World Bread Awards judging. Credit: Chris Young / www.realbreadcampaign.org CC-BY-SA-4.0
Last updated 7 June 2022
BBC Food and Farming Awards
After a healthy run of winners, it's been a few years since a Real Bread Campaign supporter bagged one of these, so enter/nominate now! Categories relevant to people involved in the Real Bread journey from seed to sandwich include:
Best Food Producer
Farming for the Future
Community Food Champion
Young Countryside Champion
Wales Food Hero Award
Read full details and nominate
Last day for nominations - 27 June 2022.
Observer Food Monthly Awards
Categories in which you might want to nominate your favourite Real Bread baker/bakery include:
Food hero
Best food personality
Best cheap eats
Best new cookbook
Best social media
While you're at it, maybe you'd like to nominate the Real Bread Campaign for one of these?
Food hero
Outstanding achievement
Read full details and nominate
Voting ends on 20 June 2022. Winners will be announced at the OFM Awards ceremony on 13 October 2022.
Tiptree World Bread Awards with Brook Food
Following two years of celebrating Bread Heroes, this year's awards swing the spotlight back towards the bread they make.
Categories
Entries are invited from professional and hobby bakers.
While the Real Bread Campaign encourages all bakers to avoid chemical rasing agents, so-called processing aids and other additives, the awards include a special category reserved for bakers steer clear of these unnecessary extras. Thanks to category sponsor Shipton Mill, the winner of the Real Bread Campaign award will take home £500.
Entries are also open across 18 other categories, including genuine sourdough, flatbread, baguette, wholegrain and ciabatta. In honour of Her Majesty's platinum jubilee, the jubilee loaf category challenges bakers to create bread fit for a queen.
The chance for you to vote for your favourite bakery in the people's choice category will begin on 1 September.
Judges
The blind tasting duties will be shared by more than 80 judges, including Real Bread Campaign co-founder Andrew Whitley; official Campaign ambassadors Peter Cook, Aba Edwards-Edun, Marcia Harris and Cindy Zurias; and past Campaign ambassadors Aidan Chapman, Danielle Ellis, Duncan Glendinning, Emmanuel Hadjiandreou, Jane Mason, Andrew Smith and Jack Sturgess.
The closing date for entries is Sunday 9 October and the winners will be announced at a ceremony in London on 26 October 2022.
Baking Industry Awards
Run by the publisher of British Baker, these awards have a strong track record of recognising that the best bakers don't use additives, often honouring a Real Bread maker as their Baker of the Year.
The 15 categories include awards for best speciality bread, team, and sustainability initiative, with an entry deadline of 9 May 2022.
Outstanding Contribution to the Baking Industry
Nominations in this category are open until 17 June for "an outstanding individual – one who has made, or is still making, a special contribution to the bakery sector." Maybe you know of one - perhaps a baker, miller, equipment supplier or, ahem, Real Bread campaigner...
Read full details and enter/nominate
Winners will be announced at a ceremony in London on 20 October 2022.
Scottish Bread Championship
Run as part of the Royal Highland Show by The Royal Highland and Agricultural Society of Scotland, in partnership with the Scottish Food Guide and Scotland the Bread, and sponsored by Edinburgh Bakers' Trust.
It is the only national bread competition that we know of that has the Campaign's definition of Real Bread as a basic entry criterion across all categories:
Classic sourdough bread – made using only flour, water and salt.
Enriched sourdough bread – with additions of seeds, fruit etc. Can be sweet or savoury.
Bread made from Scottish-grown grain, milled in Scotland.
Breads reflecting Scotland's food culture e.g. made with historic grains. It can also reflect international influences and traditions (e.g. Italian, Ukrainian, fermented flatbreads/crispbreads).
A bread excelling in nutritional quality.
Bread made from certified organic ingredients.
Cottage loaf – inspired by the benefits of baking at home for the family.
Online entries end on Sunday 22 May 2022. Entrants will be asked to send their loaves for judging on 18 June 2022 and winners will be announced during the Royal Highland Show.
See also
What we're fighting for 2023
Support our charity
Your donation will help support the spread of baking skills and access to real bread.