They bought, they baked, they boosted
People in more than 40 countries make Real Bread Week another success.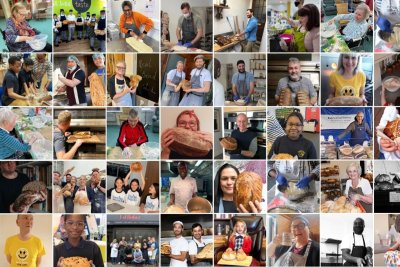 #WeAreRealBread for #RealBreadWeek 2022. Copyright details below.
The Real Bread Campaign's annual, international initiative saw people around the globe get behind the three main aims of the week by buying Real Bread from local bakeries, baking their own and boosting the charity behind the Campaign.
Buying and baking
Of more than 100 bakery and baking school business owners who responded to the post-event survey:
36% gained social media followers
33% used the opportunity to get local media coverage
20% saw an increase in sales/bookings
Of 70 other people who responded, 54% said the week inspired them to make bread, while 16% found a Real Bread bakery they didn't previously know about and 13% bought Real Bread from a local, independent bakery for the first time.
Boosting
During the 10 days, 194 people either became Real Bread Campaign supporters or renewed their support, while others made doughnations, bought the Campaign's books or Real Bread gifts.
Collectively, #RealBreadWeek, #RealBreadBuddiesDay, #RealBreadCampaign, #RealBread and #WeAreRealBread were used more than 8,500 times on Instagram alone, where the Campaign gained more than 1000 new followers.
We saw #RealBreadWeek tagged posts from people in: Australia, Belgium, Austria, Brazil, Canada, Chile, Colombia, Costa Rica, Cyprus, El Salvador, England, Finland, France, Germany, Greece, Hong Kong, Hungary, India, Indonesia, Ireland, Italy, Malaysia, Malta, Mexico, New Zealand, Northern Ireland, Norway, Palestine, Peru, Philippines, Portugal, Puerto Rico, Saudi Arabia, Scotland, Singapore, Slovenia, South Africa, Spain, Sweden, Switzerland, Turkey, Ukraine, USA and Wales.
They included chef Raymond Blanc and Jamie Oliver, whose #RealBreadWeek post rapidly gained 44,000 likes.
Media outlets that featured Real Bread Week included BBC Good Food, Belfast Telegraph, Bold Outline (India), Daily Post, The Grocer, International Business Times, Living North, Luxury Lifestyle Magazine, The Metro, The National, Star Journal (Australia), Sunday Life and War Cry.
Save the dates
Real Bread Week 2023 will run from 18 to 26 February and Sourdough September's there for you every year.
Time's running out to buy
The limited edition 'Real Bread for life' smiley design t-shirt, apron and mug are only available until 15 March 2022.

Take a look and buy now
Learning
An initial look at survey feedback makes it clear that we still need to work on how we communicate.
We began promoting Real Bread Week 2022 in March 2021 via the dedicated webpage and news items on our website, enewsletters, emails directly to business owners, our supporters' magazine, our supporters' forum (and other Facebook groups), frequent posts across a range of social media channels and media coverage secured by our PR work.
Despite all of this, a number of respondents said they didn't have enough notice (or even were not aware) of:
The dates of Real Bread Week
The existence of Real Bread Buddies Day
Suggestions we published of how to get involved
Poster and logo artwork we made available to Campaign supporters
The local media release template and guidance we make available
The existence of The Real Bread Loaf Mark scheme
Businesses being encouraged to get involved in ways that work for them and that benefit them
The Campaign's media PR work that began in autumn 2021
The week being about Real Bread, not just sourdough
The Real Bread Map that enables people to find fellow Real Bread bakery owners
We will be reviewing the survey feedback in further depth to look at ways we can make our initiatives more beneficial to bakers and other people we run them for.
If you have any suggestions of ways we could improve our communication to supporters and other friends, please let us know!
You said
Here are just some of more than 150 positive comments we received…
"We definitely had more customers in the shop interested in finding out what Real Bread was all about." Rob Paton, The Fat Batard Bakery, Scotland
"It's a struggle at the moment, but Real Bread Week gets me inspired and makes me remember why I get up early to bake!!" Kelly Davies, South By West, England
"It has been an amazing event." Julia, CHEF Ortiz, Mexico
"Thanks for all your hard work. All the social media coverage definitely got people talking about it here in Wales that weren't already aware of it." Tom Baker, Rye and Roses, Wales
"It's a wonderful initiative that gives a boost to small independent bakery businesses." Peter Cook, Peter Cooks Bread, England
"Excellent time for publicity locally - even in a very small way." Caroline Parkins, Leakers Bakery, England
"It's great to be part of raising the profile, together, of that which we believe in." Sara Ward, Hen Corner, England
"Would love to see this movement in the US." Kristin Ryall, Bread and Flours, USA
"I thought it was very visible on social media - the Instagram team did great!" Daisy Pound, Gritstone Microbakery, England
"It's always a positive and celebratory experience. Enjoyed finding out more about other bakers and their baking." Sonya Hundal, Greenfield Bakers, England
"I think it's an amazing awareness campaign, a lot of people don't know what goes into their bread." Sylvester Spinelli, Elis Bakery, England
"It is lovely to feel connected with a global network of folk who appreciate Real Bread!" Catherine Vulliamy, Conquest of Bread, England
"It's a good chance to explain to people in our community how what we do is different and better. We do say this the whole time, but having an event validates and gives a focus to it." Caroline Stephens, Rex Bakery, England
"It's a great chance to shout about how great Real Bread is." Emma Williams, Y Felin, Wales
"It is a great way to boost engagement with our community around the benefits of buying/baking/eating Real Bread, what we do and the work of the Real Bread Campaign." James Thorn, Wild Bread Bakehouse, England
"Sadly this year this event was overshadowed by events developing in Ukraine, but bakers pulled together to show their humanity and raised awareness of Ukrainian culture and bread played a core part of it. Food doesn't have boundaries and bread connects us all." Eszter Faulkner, The Little Sourdough Bakery, England
"Real Bread Week was a great opportunity to get in touch with other bakers, find out about their businesses and their products and get to meet them face to face." Sharon Graham-Law, Sunset Bakehouse, England
"It was great. We gave away 200 bread baking boxes to kids and to charities. more please." Greg, Britain Loves Baking
"Thank you for your hard work. Real Bread Week definitely gives businesses like us a boost, with national press aware and posting, locally we get some greater awareness." anon
"It's a really good focus to bring people together and provides a great hook for local bakeries to promote themselves." Mark Ellis, England
"It has inspired me to get back on the path and address my 'not so successful' bakes!"
"Go you! You're doing a really valuable educational role, and I hope you can continue to help, grow and promote!" anon
"Gives a reason bake (like I need one) and share bread for friends." Anon, Finland
"I applaud all your efforts. A week's focus is a really good thing to do."
Photo credits
Alice, Oaklands Nursing Home © Claudia Godinez, New College Lanarkshire students © Paul Clark, Renu Chandraker, Stoneham Bakehouse © Simon Cobb, Steve Buck © Chris Young, Daniele Panzarino, Fermento © Gerard Harkin, Lucy Warburton, People First Tameside © Claire Hassall, Rita, Oaklands Nursing Home © Claudia Godinez, Children baking © Pakeman Primary School, Ali and Mohammed, Kabul Kitchen © Stewart Chambers, Dandenong Star Journal, Sue Hudson © Sue Hudson, Charlotte Baker and Harris McNeill , Ballintaggart © Ballintaggart, Eddy Sleiman, Ed Baker © Chris Young, Benedict Harding, The Electric Bakery © Heidi Wilson, Sam Cornish, Bread of Haven © Sam Cornish, Rose, Oaklands Nursing Home © Claudia Godinez, Scott Kenny, Hambleton Bakery © Hambleton Bakery, Henry, Oaklands Nursing Home © Claudia Godinez, Ulla Ojanen © Ulla Ojanen, Ian Reeves © Tony Read, Children baking © Pakeman Primary School, Bob Wright, Bob's Bread Bakery © Bob Wright, David Barton © Clementine Cousins, Mat Follas, Matt Wilding, Jane Wilkins, Sue Smith, Steve Pallant © Winfrith Bakery, Sisters © Triplets In My Kitchen, Leon Seraphin, Beyond Foods © Beyond Foods, Farida Shinwell, The Avenue Story © Farida Shinwell Ed Baker class © Chris Young, Jackie, Melina's Bakery © Stewart Chambers, Dandenong Star Journal, Chris Young © Chris Young, Children baking © Pakeman Primary School, Ed Baker class © Chris Young, Bash and Jawad, Baker Boys © Stewart Chambers, Dandenong Star Journal, Marley Sue © Darryl Alder, Boudicca Woodland, One Mile Bakery Exeter © Boudicca Woodland, Paul Ferguson © Chris Young
Support our charity
Your donation will help support the spread of baking skills and access to real bread.