Recent crumbs of news from the world of Real Bread.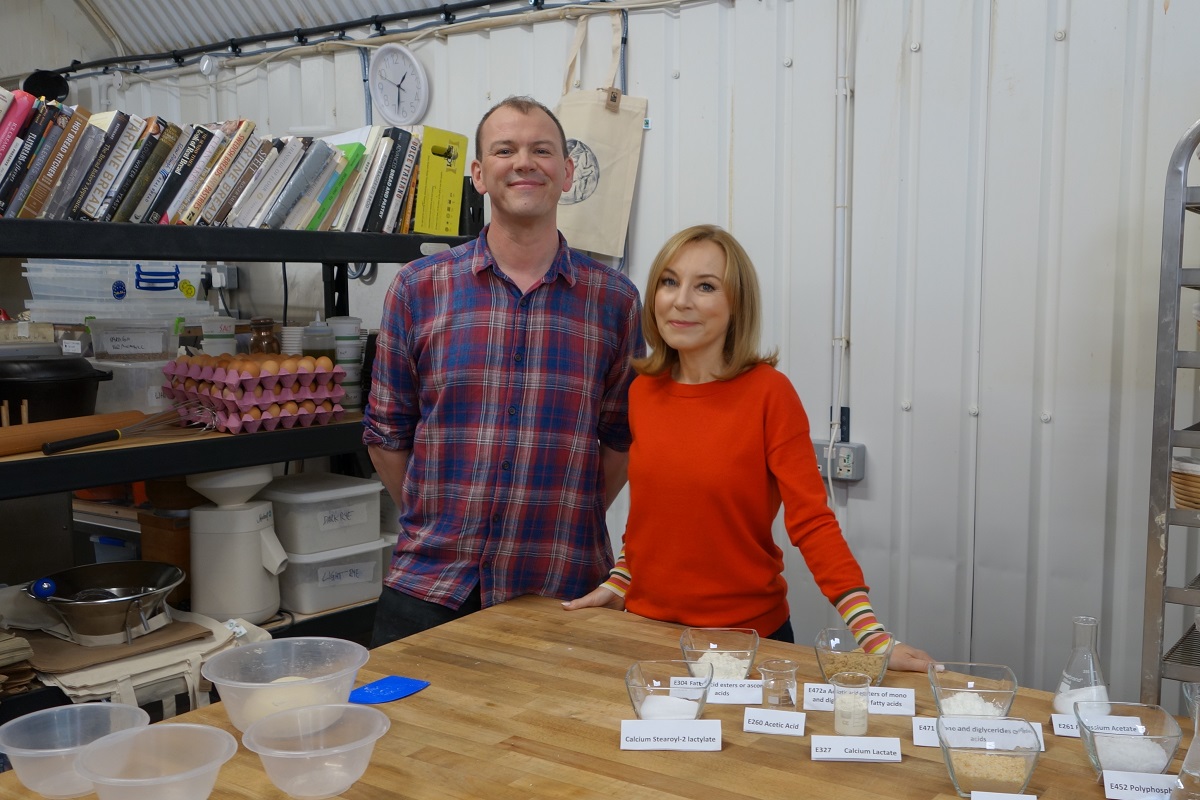 Secrets of Your Supermarket Food: Chris Young and Sian Williams. Photo: Chris Young / realbreadcampaign.org CC-BY-SA 4.0
We hope that you all and yours stay safe and well, and that your business/job weathers this storm.
COVID19 - Help us to help you
Real Bread business owners: What are you doing to help people in the current situation (including helping to flatten the curve) and what could others do to help you? Please take four minutes to say what you're doing differently, and what more you'd like to see others (including customers, the government and the Real Bread Campaign doing) here.
See also: COVID-19: our page for Real Bread bakers and customers
In other news…
Last chance to buy limited edition gifts
Your opportunity to buy our exclusive flour arranger, dough dealer and loaf monger t-shirts, aprons and mugs ends on 31 March. We get a slice from each one sold. You can also support our charity's work by buying these other Real Bread gifts.
Real Bread on the box
Campaign coordinator Chris Young will make a return appearance on Emporium Productions' Channel 5 series Secrets of Your Supermarket Food. His chat with presenter Sian Williams, recorded at E5 Bakehouse last year (pictured above) will appear on an episode broadcast on Thursday 2 April.
Britain's best bakeries
As previously reported, 17 bakeries owned by Real Bread Campaign supporters were named National Bakery Awards county winners in February. On 11 March, six of them were crowned best in their regions. Congratulations to Hambleton Bakery (East Midlands), Two Magpies Bakery (East of England), Lovingly Artisan (North West), Poppyseed Bakery (South East), The Bakers' Table (Wales) and Live Love Loaf (West Midlands).
Another best
The School of Artisan Food picked up the Best British Cookery School Award at The Food and Drink Awards, hosted by Stephen Fry. Well done! Entries for next year's awards are now open.
£600k up for grabs
People working together to save much-loved buildings and spaces can apply for a share of a new £600,000 pot from the Architectural Heritage Fund (AHF). The Community Shares Booster Programme supports community businesses to run successful community share offers. The wider fund is open for a range of projects, and AHF's contribution is for heritage projects that play an important role in high street revival and the economic resilience of an area.
Campaign supporters: We publish details of more funding opportunities in YOUR online forum, The Real Baker-e.
Passing the (baker's) hat around
As you read during Real Bread Week, the Big River Bakery team do great work in Tyneside. Now they need your help to crowdfund a new oven to enable them to build on their work creating training, volunteering and employment opportunities for local people, including some on the autism spectrum.
The School of Artisan Food is a registered charity and is committed to providing the widest possible access to its facilities. The School is asking for donations to support its general activities and for bursaries to assist Advanced Diploma students with course fees.
---
What's your news?
Wherever you are on the planet, if you have something Real Bread related you'd like us to help you share, please email a couple of very short lines, including a link to where you have published full details, to us at: realbread@sustainweb.org
(We might not spot it if you just posted it on social media)
We have supporters in countries around the world and we'd particularly love to hear more from those of you outside the UK.
If you haven't done so already, please add your bakery or bakery school to the Real Bread Map, individual classes and events to our calendar, and your good food job vacancies to Sustain's Roots to Work site.
We might post news on social media, rather than here; give priority to paid-up Campaign supporters; and reserve the right not to publish at all.
---
Sippet: A small piece of bread, often fried or toasted, used as a garnish or to dip in things. The British crouton.
Published 18 Mar 2020
Real Bread Campaign: The Real Bread Campaign finds and shares ways to make bread better for us, better for our communities and better for the planet. Whether your interest is local food, community-focussed small enterprises, honest labelling, therapeutic baking, or simply tasty toast, everyone is invited to become a Campaign supporter.
Support our charity
Your donation will help support the spread of baking skills and access to real bread.