Microbakery book 48hr flash sale!
25% discount on Knead to Know…more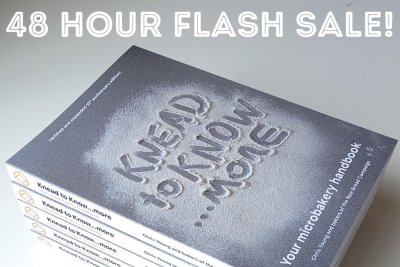 Dough deal days. Credit: Chris Young / www.realbreadcampaign.org CC-BY-SA-4.0
The summer heat's got to us: from 10am on Wednesday 29 June to 10am on Friday 1 July, you can grab the Real Bread Campaign's microbakery handbook for just £15, slicing £5 off the regular price.
No code – just get in there and grab it!
The offer applies whether you get the book on its own, at the same time as joining the Campaign, or when you bundle it in with a Campaign supporter gift subscription for someone else.
Read all about this essential guide to turning your baking hobby into a microbakery, building that business and even taking it to the high street.
This offer is available on UK deliveries, only from www.realbreadcampaign.org
What people have said about the book
"Do you want to turn your baking hobby into a microbusiness? Because if you do, you should get this book." Prue Leith
Notes
This offer is only available on books purchased from the Real Bread Campaign website between 10am on Wednesday 29 June to 10am on Friday 1 July 2022, all times BST.
For each book, £3.50 will be added to the purchase price as a contribution to postage, packing and admin.
The 25% discount doesn't apply to the trade rate.
We only post to UK addresses, so please only order the book if you can supply one.
The sooner we shift the remainder of the first print run, the sooner a publisher will add Knead to Know...more to their list and make it available outside the UK and as an ebook.
Published 29 Jun 2022
Real Bread Campaign: The Real Bread Campaign finds and shares ways to make bread better for us, better for our communities and better for the planet. Whether your interest is local food, community-focussed small enterprises, honest labelling, therapeutic baking, or simply tasty toast, everyone is invited to become a Campaign supporter.
Support our charity
Your donation will help support the spread of baking skills and access to real bread.