Buy our book / sell our book
Read or stock our microbakery handbook.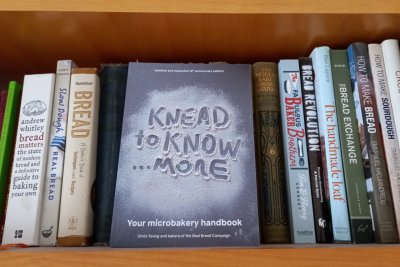 Great addition to a bready bookshelf. Credit: Chris Young / www.realbreadcampaign.org CC-BY-SA-4.0
Planning or expanding a micro/small bakery business? This is the fount of all* knowledge for you!
Run a bakery, baking school, mill, bookshop, baking/cooking equipment supplier, or any other business frequented by passionate home bakers?
You can help towards our aim of a place to buy Real Bread in every local community and make a few quid for yourself.
We've sold more than half the print run. Shifting the rest will not only support our charity's work but also let us move onto the next step of a publisher making it available worldwide and as an ebook.
"Do you want to turn your baking hobby into a microbusiness? Because if you do, you should get this book." Prue Leith
*well, quite a bit.
What we're fighting for 2023
Support our charity
Your donation will help support the spread of baking skills and access to real bread.