The Department for Education has announced that funding for Universal Infant Free School meals for pupils in English schools will increase to £2.41 per meal, to support caterers and schools struggling with rising food and fuel prices. Children's Food Campaign responds.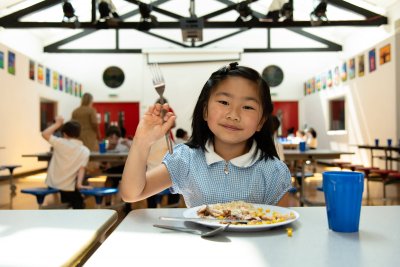 Girl enjoying school lunch. Credit: School Food Matters
The Government has allocated an additional £18 million funding for Universal Infant Free School Meals, with payments will be backdated to April 2022.
However the increase from £2.34 to £2.41 - just 7p per meal - represents just a 3% uplift in funding, well below current inflation rates, and rising food prices, wage levels and energy bills for schools and caterers. Prior to the latest announcement, the funding levels for infant school meals had only increased by 4p per meal since they were first introduced in 2014, so had already fallen well behind inflation rates over the years.
Whilst any increase in funding levels is to be welcomed, it is no surprise that the Local Authority Catering Association (LACA) has immediately expressed concern that the increase will still not be sufficient to meet rising costs of healthy meals that meet School Food Standards. For benefit-entitled free school meals for Key Stage 2 pupils and above, the funding rate is £470 per pupil per year, an equivalent of £2.47 per meal.
Whilst this funding will support delivery of meals to 4-7 year olds in primary schools, even greater concern is being expressed for the 800,000 children in England who are living in poverty but still not eligible for free school meals. Education leaders recently called on the Department for Education to urgently expand entitlement to those most in need now, and commit to a long term vision for universal meal provision.
The Children's Food Campaign, along with many other education, food and health bodies, has been calling on the Department for Education to undertake a full school food review, to ensure delivery of health and nutritious food for all children in state-funded education. However, we were disappointed that the long-awaited government Food Strategy paper has only referenced keeping school meal 'eligibility' under review. We therefore call on the Department for Education to take decisive action to ensure all children can access a healthy meal every day in school.
Support our campaign
Your donation will help us champion children's rights, parent power and government action to improve the food environment children grow up in.