As the Cost of Living crisis hits families, the number of English children who should be receiving Free School Meals rises by 160,000 to one in five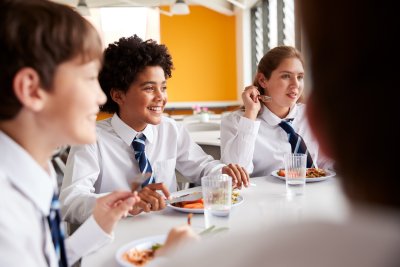 High School Students Eating Lunch . Copyright: Monkey Business Images |Shutterstock
The data from the Department of Education shows that 160, 000 (9%) more pupils are now eligible for Free School Meals (FSMs) than the previous academic year. This brings the total to 1.9 million children in England who are living in households struggling to afford school lunches as the cost of living crisis intensifies.
A major survey from The Food Foundation last month revealed that even more children in need may be missing out due to the restrictive criteria for FSMs in England. Around 2.6 million children were found to live in households that missed meals or struggled to access healthy food. However, in order to be eligible for Free School Meals and the Holiday Activities and Food Programme, children must be in families on qualifying benefits and earn less than £7400 after benefits and tax.
This very tight eligibility criteria results in many children falling through the cracks as they live in households without sufficient funds to buy food, yet also unable to qualify to receive a free school lunch. According to the Child Poverty Action Group, just under two in five children living in poverty are not eligible for free school meals, and this latest data indicates that this is the case for more than 700, 000 children.
This follows last week's calls from education and union leaders, urging the Government to take action on Free School Meals. In a letter to the chancellor, Rishi Sunak and education secretary, Nadim Zahawi, they described how the cost of living crisis and the restrictive eligibility criteria is resulting in children unable to afford a school lunch as well as having a devastating impact on children's health and the viability of the school catering service.
The education leaders call for a commitment to rolling out universal school meals, plus urgent action in the cost of living crisis to offer Free School Meals to all children in families receiving universal credit or equivalent benefits.
The devolved governments of Scotland and Wales are committed to providing free school meals for all primary school children, as well as more generous breakfast provision. There has been no such commitment to offer the same opportunities to children in England.
Fran Bernhardt from Sustain's Children's Food Campaign said: "Too many children from low income households don't qualify for a free school meal and spend their school day hungry. Our polling shows that as a response to the cost of living crisis, 72% of UK adults now support all primary school children receiving free school meals. There is no other part of the school day where children are means tested to participate and we believe that extending free school meal provision would demonstrate the government's commitment to its levelling up agenda."
Support our campaign
Your donation will help us champion children's rights, parent power and government action to improve the food environment children grow up in.