Education and Union leaders representing a million teachers and education specialists demand action on free school meals. Children's Food Campaign responds.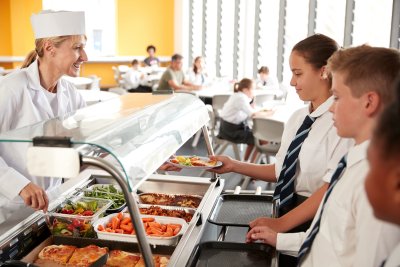 Students queueing for lunch. Credit: Monkey Business Images / Shutterstock
In the letter to the chancellor Rishi Sunak and the education secretary Nadhim Zahawi, education leaders and teaching unions say that the intensifying cost of living crisis means many more are now struggling to afford school lunches:
"We are seeing children falling into school meal debt, and there is a serious threat to take-up of school meals and the viability of the catering service, not to mention risking the health and wellbeing of our pupils. We see the devastating reality of children coming to school unable to afford to buy lunch, because their family circumstances mean they fall outside the restrictive free school meal eligibility criteria.

"Now is the right moment for the government to commit to an expansion of free school meals, providing a nutritional safety net that supports all children to learn and achieve. The clear solution to ensuring fairness and equity across our schools is to extend universal provision, as Wales and Scotland are now committed to deliver. But as an immediate first step, free school meal eligibility criteria need to be expanded to all families receiving universal credit (or an equivalent benefit)."
The demand from ten different unions and professional organisations follows a major survey from The Food Foundation carried out last month, which revealed that around 2.6 million children live in households that missed meals or struggled to access healthy food, meaning that a total of 17.2% of homes with children are affected. The same survey found levels of food insecurity in households with children have risen by 42% since the beginning of 2022.
Education leaders call for a commitment to rolling out universal school meals, plus urgent action in the cost of living crisis to offer free school meals to all children in families receiving universal credit or equivalent benefits.
Dr Nick Capstick, Chair of the School Food Review Group and headteacher at a Wiltshire primary school, says:
"The ability to thrive and enjoy school should be the fundamental right of every child, but more and more of them are coming to school underfed or undernourished.

"We are also seeing more of our pupils having time away from school because of illness and poor oral hygiene caused by inadequate diet. Schools are increasingly faced with the need to support and often feed young people whose families can no longer afford the right food at home. Universal free schools meals is a simple way of eradicating this situation."
The devolved governments of Scotland and Wales are committed to providing free school meals for all primary school children, as well as more generous breakfast provision. There has been no such commitment to offer the same opportunities to children in England. In England the threshold to get free school meals is a combined household income of £7,400 before benefits. The current restrictive policy means just under two in five children living in poverty are not eligible for free school meals, according to the Child Poverty Action Group.
This group of around a million children in total, also miss out on holiday support in terms of access to the Governments HAF schemes which include a hot lunch, as well as access to benefits from the pupil premium, the grant given by the government to schools in England to decrease the attainment gap for the most disadvantaged children.
There is no other part of the school day where children are means tested to participate and campaigners argue that extending free school meal provision would demonstrate the government's commitment to its levelling up agenda.
Polling by the Children's Food Campaign earlier this year showed that, as a response to the cost of living crisis, 72% of UK adults now support all primary school children receiving free school meals.
In response to the letter from education leaders, Barbara Crowther, Children's Food Campaign Co-ordinator says:
"Decent nutrition is a vital foundation for good learning. It is shocking to hear headteachers saying they are having to raid other parts of their learning budgets in order to make sure children are fed. We have this fantastic free education system that is meant to act as a leveller where all children are meant to have the same chance to learn and achieve, regardless of background or income. We have perversely created a culture of means-testing children for this one element of the core school day, not to mention a threshold of eligibility that is scandalously low, and children are missing out altogether.

"School leaders are speaking out now loud and clear on the unfolding crisis, the impact on their pupils and school budgets, and the risks to the whole school meal catering service. They are best placed to know what is needed, and we hope that this time the Government will listen and act swiftly and decisively."
Support our campaign
Your donation will help us champion children's rights, parent power and government action to improve the food environment children grow up in.