The Advertising Standards Authority has found Ben and Jerry's Moophoria ads broke rules designed to protect children from unhealthy food advertising. It is the sixth complaint by Children's Food Campaign to be upheld in just 12 months.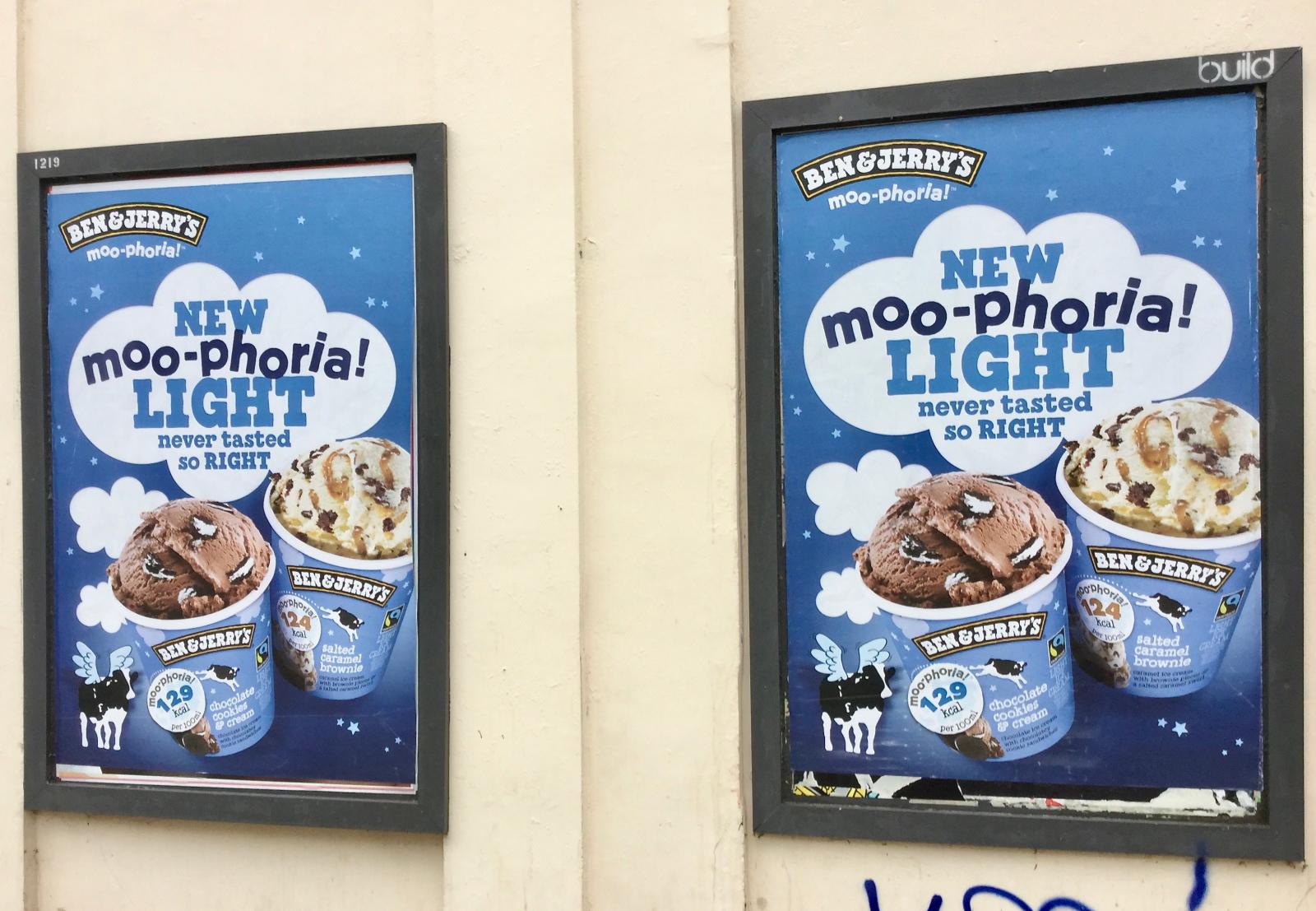 Copyright: CFC/Barbara Crowther
The food company Unilever, owner of Ben & Jerry's ice-cream, admitted to the Advertising Standards Authority that posters advertising Ben & Jerry's Moophoria ice cream broke rules meant to protect children from unhealthy food marketing, following a complaint from Children's Food Campaign. Two adverts for the ice cream were found on separate sites in London close to a primary school and a secondary school respectively in March 2019, but it took the advertising regulator four months to reach a final decision on the case.
According to rules established by the industry self-regulator, the Committee for Advertising Practices (CAP), companies are banned from advertising food or drink high in fat, salt or sugar (HFSS) directly to under-16s. The Children's Food Campaign, who reported the latest cases to the Advertising Standards Authority, believes that there is a systemic failure of due diligence in relation to online and outdoor advertising, with several cases upheld by the Advertising Standards Authority in the past 12 months, and several more rejected due to ongoing loopholes in the rules that still allow advertising outside nurseries, childcare centres and playgrounds, or on online sites if children are estimated to constitute less than 25% of the total audience.
Responding to the ASA ruling, Barbara Crowther, Co-ordinator of the Children's Food Campaign says,
"This the sixth time in just 12 months that the ASA Council has upheld a complaint we've submitted. It's good news that they have found against Ben and Jerrys, but it should not fall to the Children's Food Campaign to police the rules on advertising junk foods to children. The ASA's system of gently rapping knuckles long after a campaign has finished is clearly no deterrent to these enormous multi-national companies. When there are no penalties for breaking the rules, then there is no incentive to abide by them. Something has to change."
Rules are failing children
The latest breach of advertising rules comes hot on the heels of research published by the Advertising Standards Authority itself on 6 June 2019, in which three 'child avatars' uncovered 947 examples of HFSS food and drink advertising in one two-week period. Companies who were found to have breached the rules and allowed their ads to run on dedicated children's websites or children's channels on YouTube included Asda, Kellogg's, KFC, KP Snacks, Lidl, McDonald's, M&S and Pringles. Ads in breach of current regulations were found on one third (13 out of 39) dedicated children's websites, and on 55 out of 87 YouTube channels watched by children.
Barbara Crowther comments:
"The Advertising Standards Authority's own evidence shows that there are literally hundreds of ads being served up on a weekly basis to our children. Companies are failing to do proper due diligence, and in particular YouTube, which is the favourite 'screen time' channel for millions of children, is not regulated and monitored enough. That's why we need a comprehensive 9pm watershed, as the Government has proposed."
Calls for change
The Children's Food Campaign is calling for a number of measures to close various loopholes to protect children from junk food marketing and promotions that influence children's preferences and likely increased consumption of excess sugar and calories. These include:
A 9pm watershed on TV and across all digital media for any advertising of HFSS products – the Government announced that it would consult on this measure as part of its Childhood Obesity Plan in June 2018, but the public consultation is still awaited.
A ban on the use of child-friendly characters on product packaging, promotional activity and all advertising – this was not part of the Government's Chapter Two Childhood Obesity Plan, despite calls from politicians, health campaigners and children's organisations for its inclusion.
An end to promotional displays of HFSS products at store checkouts, end of aisles and store entrances, and rules to ensure these products remain 'in their own place.' Also Restrictions on all price promotions for HFSS products that encourage or incentivise purchase of larger quantities of unhealthy foods. The Government has launched a public consultation on these proposals, due to close on 6 April 2019.
A thorough review of current CAP rules in light of recent rulings, to close loopholes that still allow children's exposure to HFSS product ads (eg outdoor adverts next to nursery schools and children's centres, and the current 25% audience threshold), and the introduction of sanctions such as penalty fines for those found in breach of rules.
Further information:
Read the full ASA ruling on Ben & Jerry's Moophoria
| | |
| --- | --- |
| Complaints upheld by ASA in last 12 months | Ruling |
| | July 2018 |
| Squashies World App (Swizzels-Matlow)* | July 2018 |
| Cadbury's/National Trust Easter Egg hunt (Mondelez) | July 2018 |
| | August 2018 |
| KFC-Mars 'Krushem' telephone box advert (KFC)* | August 2018 |
| McDonald's Cadbury Flake McFlurry poster advert | November 2018 |
| Burger King Junior Whopper poster advert | November 2018 |
| Cadbury's Freddo (Mondelez)* e-book, audio book & YouTube advert | March 2019 |
| Ben & Jerry's Moophoria poster adverts (Unilever)* | July 2019 |
| *indicates complaints originally lodged by Children's Food Campaign | |
Support our campaign
Your donation will help us champion children's rights, parent power and government action to improve the food environment children grow up in.