The Children's Food Campaign is calling for a serious rethink of junk food advertising regulations, as the Advertising Standards Authority confirms that a second Cadbury campaign - this time featuring child-friendly chocolate cartoon character Freddo - was in breach of the rules.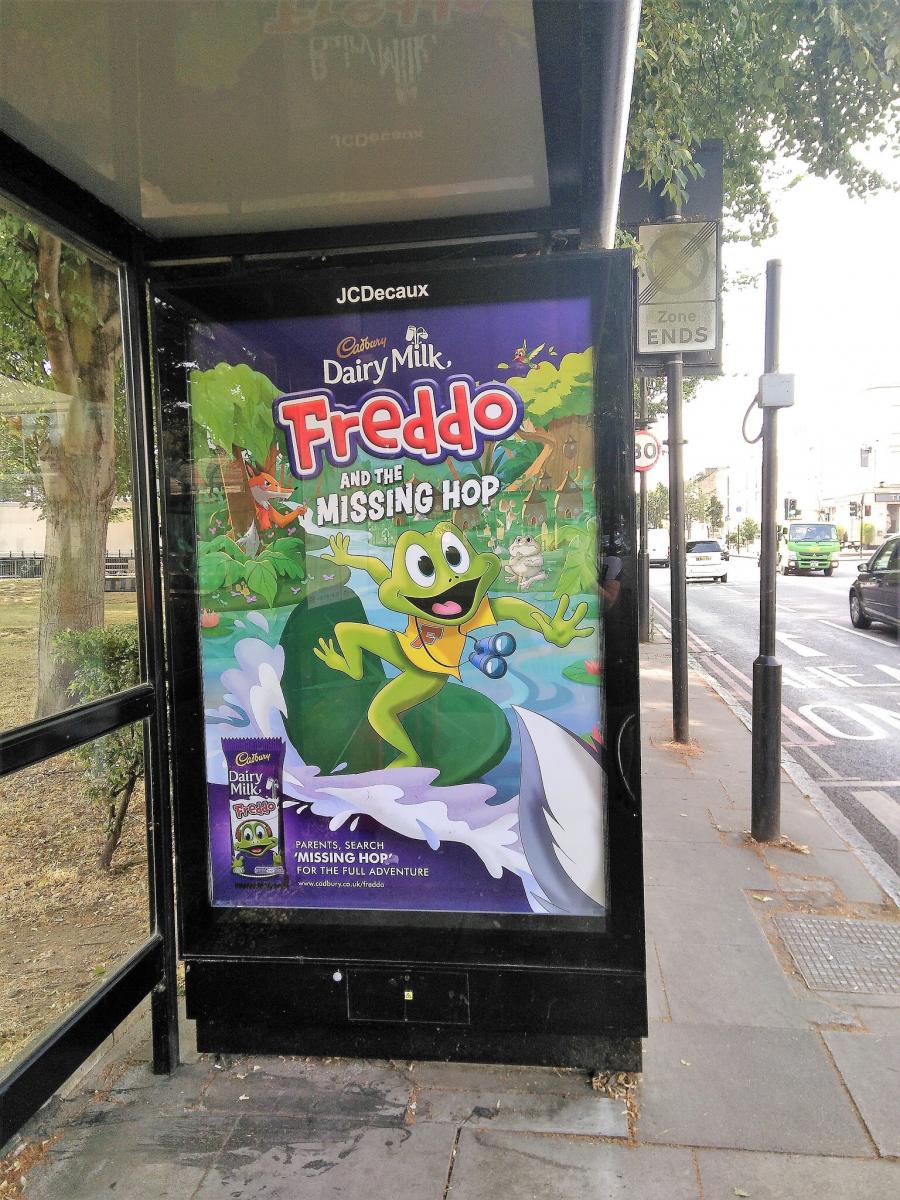 Photo credit: Sustain/Fran Bernhardt
The Advertising Standards Authority (ASA) has ruled that a Cadbury advertising campaign for 'Freddo' chocolate breached Committee for Advertising Practices rules that are meant to protect children from exposure to high fat, salt and/or sugar (HFSS) product marketing.
It is the second time the ASA has found Cadbury to be in breach of the rules in less than one year, following an upheld ruling in July 2018 for a Cadbury-National Trust Easter Egg hunt campaign.
If companies won't behave themselves, says Children's Food Campaign, it's time for 'tough love', and introduce stricter preventative and punitive measures.
The ASA has today ruled against a Cadbury's Freddo chocolate campaign, on grounds that both the content and the targeting of the adverts broke rules meant to stop high fat, salt and/or sugar (HFSS) product advertising from appealing directly to children. It is the second time in less than a year that Mondelez, the company that owns the Cadbury brand, has been found in breach of the rules.
The complaint, which was lodged last autumn by the Children's Food Campaign, concerned a promotion called 'Freddo and the Missing Hop' in which the company ran a nationwide online and outdoor campaign in July-August 2018, encouraging children and parents to visit a website and download child-friendly activities including a cartoon story book, an audio book plus other activities and promotional gifts.
The Children's Food Campaign found adverts for Freddo and the Missing Hop on bus stops outside primary schools, and also argued that the whole campaign using the Freddo cartoon character was designed to appeal directly to children of pre-primary and primary school age.
Responding to the ASA ruling, Barbara Crowther, Co-ordinator of the Children's Food Campaign comments,
"We're delighted that the ASA has upheld our complaint about this Cadbury's Freddo advertising campaign. It's yet more evidence that, unless someone does complain, junk food companies will keep using the same tactics again and again to target children with their products.

"In this case, the ASA was first alerted to a poster ad in late July 2018, and we sent a full complaint about the whole campaign a few weeks later. So this ruling comes many months after the event. Campaigns have still been allowed to run in the meantime, and the damage is done. Companies can just carry on misbehaving, knowing all the ASA will do is put them temporarily on the advertising naughty step.

"There are no major disincentives, no meaningful sanctions, and no punishments. If it doesn't lead to better behaviour, then it's not working. It's time for the government to show tough love – bring in proper regulation, plus serious fines for the rule breakers."
In response to the ASA ruling, Shadow Secretary of State for Digital, Culture, Media and Sport Tom Watson MP commented:
"This ruling from the Advertising Standards Authority on Freddo's advertising campaign is welcome. Advertising for food that is high in sugar and of dubious nutritional value should not target children; their health must be a top priority.

"This is the second time Cadbury's has been found breaching rules in just one year – they and industry must do better.

"Using attractive characters is wrong. That's why Labour is calling for wider advertising reforms including on packaging and online."
The Children's Food Campaign is calling for a number of measures to close various loopholes to protect children from junk food marketing and promotions. These include:
Further information, images and media interviews:
Contact Barbara Crowther at the Children's Food Campaign barbara@sustainweb.org
Read the full Advertising Standards Authority ruling on Cadbury's Freddo
About the ASA ruling
The Advertising Standards Authority ruling, to be published on 6 March 2019, found that the following elements of the Cadbury's Freddo chocolate campaign were in breach of HFSS advertising rules:
A poster ad featuring a cartoon image of Freddo the Frog under the heading "Freddo AND THE MISSING HOP". Next to an image of the product packaging in the bottom left corner text stated "PARENTS, SEARCH 'MISSING HOP' FOR THE FULL ADVENTURE www.cadbury.co.uk/freddo". Posters were found displayed on bus stops close to primary schools.
The Cadbury website Cadbury.co.uk/freddo with a landing page encouraging parents and children to "Discover the adventures of Freddo! Here you'll find all sorts of fun Freddo activities, downloads and promotions for your kids - it's choc-full of fun!". There were links to a Freddo & the Missing Hop downloadable comic book and audiobook, plus further icons for 'Freddo's Big Adventure' and 'Freddo's Summer Fun' with more activities for children, including making origami Freddo frogs and chocolate Freddo cupcakes.
A downloadable 'The Missing Hop' comic book, featuring the company's chocolate frog character Freddo on a hunt for his friend. The Freddo character on the front of the chocolate bar appears in almost every cartoon panel, and is mentioned by name 18 times over 16 pages in a book which also makes heavy use of the Cadbury purple branding.
A downloadable 'The Missing Hop' audio book with the same story as the comic book.
The campaign also featured a branded gifting website, promotional prizes such as tickets to family attractions such as Legoland, Chessington World of Adventures and London Zoo through purchase of promotional Freddo chocolate bars, and two YouTube advertising videos. Although the ASA agreed that these were all HFSS product adverts, they were not upheld as part of the complaint, as current rules say that an HFSS ad is only considered to target children if it can be proven that more than 25% of the audience for an advert is under 16.
Support our campaign
Your donation will help us champion children's rights, parent power and government action to improve the food environment children grow up in.