Sippets: July 2019
Crumbs of recent Real Bread news.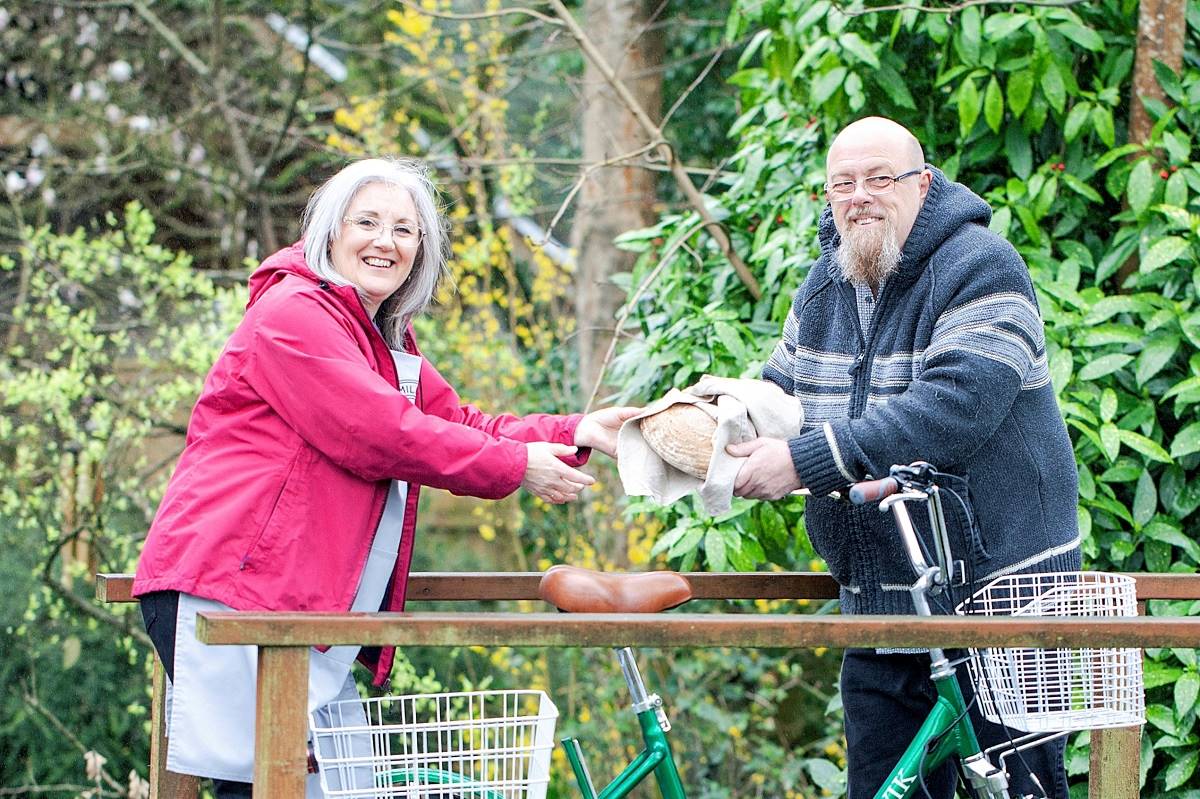 Miles and miles
Lesley and Mike Lloyd recently launched One Mile Bakery Pontardawe, the first couple (and first grandparents) to join the collective. They are teaching classes around their kitchen table, as well as delivering Real Bread and more by electric trike within a one mile radius. Other bakers are on the road to open OMBs this September in Oxford and Paulton, near Bath.
Baker of the Year is one of ours…again
All three finalists in the headline category of this year's Baking Industry Awards are Real Bread Campaign supporters. Whether Lovingly Artisan's Aidan Monks, Bread Source's Steven Winter, or Bara Menyn Bakehouse's Jack Smylie Wild takes the top spot, it'll be the sixth time since 2013 that the accolade goes to one of our lot. Campaign supporters on the podium in other categories this year include Seasons Bakery, Poppyseed Bakery, The Modern Boulangerie and Mark's Cotswold Bakery.
Two Magpies become three
Rebecca, Steve and co have spread their wings and opened a bakery, café and baking school in Darsham, Suffolk. The original Two Magpies Bakery opened in Southwold in 2013, with Aldeburgh added to the mischief* in 2018.
*Other collective nouns for magpies are available...
---
Real Bread Map: Update or vanish!
We will soon be removing from the Real Bread Map bakeries, baking schools, mills etc. that haven't updated their details in the past 12 months. Login to update yours today!
Please remember that while the Real Bread Map is free to use, we asking baking schools to make an offer to paid-up Campaign supporters in order to appear.
---
Crowdfunding
Husband and wife team Ami and Lance are working to move Bisbrooke Artisans bakery from the kitchen of their Rutland cottage into a proper business unit. They need help raising £9500 by 7 August for the move, including buying a second hand oven.
On your marks
There are now 61 bakeries signed up to use The Real Bread Loaf Mark to give customers their additive-free assurance at a glance. Recent signatories include: Willaston Country Market, Ivy Cottage Baker, Billowing Loaf, Stark Farm Bakery, Baked Potato, Companions Bakery, Andy's Bread, Hunnypot, Chalk Hills Bakery and Geary's.
Slow Food UK Awards
Nominate your favourite Real Bread bakery before 1 September and, if you opt into the draw, you'll be in with the chance of winning a case of Chapel Down Brut.
Floury flick
Daphne Lambert at Greencuisine Trust has created Wheat - the staff of life? The short film includes contributions from Campaign supporters Aidan Chapman and Alex Gooch, an organic farmer, and a paysan boulanger who mills his own flour.
---
What's your news?
If you have something Real Bread related you'd like us to help you share, please email a couple of lines, including a link to where you have published full details, to us at: realbread@sustainweb.org
We give priority to paid-up Campaign supporters; might post on social media, rather than here; and reserve the right not to publish your news.
---
Sippet: A small piece of bread, often fried or toasted, used as a garnish or to dip in things. The British crouton.
---
30/07/2019
Real Bread Campaign
SHARE
---
Real Bread Campaign: The Real Bread Campaign finds and shares ways to make bread better for us, better for our communities and better for the planet. Whether your interest is local food, community-focussed small enterprises, honest labelling, therapeutic baking, or simply tasty toast, everyone is invited to become a Campaign supporter.