Buttermilk-enriched buns as an alternative to brioche.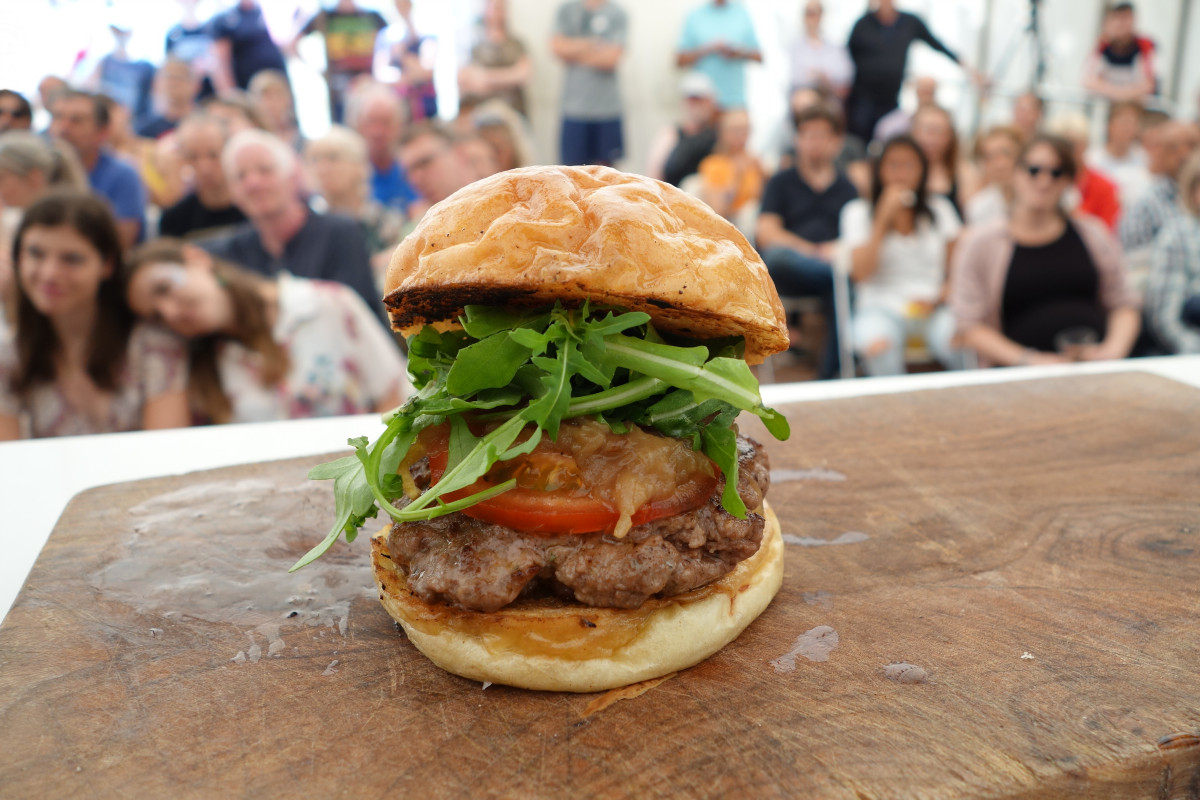 Photo by Chris Young / realbreadcampaign.org CC-BY-SA 4.0
David came up with this recipe atThe Cake Shop Bakery in Woodbridge, Suffolk to showcase ingredients from fellow local producers. Instead of butter, the recipe uses cultured buttermilk, a by-product of cheese making, for greater depth of flavour, and golden, cold-pressed rapeseed oil. The buns are made extra moist and fluffy by the use of tangzhong, a Japanese technique involving heating flour and water to gelatinise the starch, locking in moisture.
Ingredients
Tangzhong
160g Water
30g White bread flour
Dough
500g White bread flour
105g Cultured buttermilk
105g Water
40g Egg
40g Cold-pressed rapeseed oil
30g Fresh yeast
30g White sugar
10g Milk powder
10g Salt
190g Tangzhong
Glaze
1 Egg
30-40g Milk
1tsp Yeast extract
Method
Make the tangzhong by warming the water in a pan, whisking in the flour and continuing to heat until boiling, stirring continuously. Reduce the heat and simmer for a few minutes, stirring occasionally, until smooth and glossy. Leave to cool.
Mix all of the other ingredients together until cleared – ie fully-combined, with no dry bits remaining.
Add in the tangzhong and work the dough until fully developed and cover to prevent it skinning over. Alternatively, stretch and fold the dough, cover and leave for a while. Repeat this process until developed.
Leave the dough to prove at room temperature (approx. 22°C) for about an hour, or until about doubled in size.
Divide and scale dough into 50g pieces, then hand up / shape into balls and place on parchment on a baking tray.
Mix together the glaze ingredients and brush over the top of the buns. Cover (allowing space so the dough can rise without touching the cover) and leave to prove for about 55 minutes.
Heat the oven to 190°C and then bake the buns for about 15 minutes. Leave to cool before using.
Baker's tip
To get the best out of burger buns, slice them, putt them cut-side down in the pan in which you've just fried the burgers, add a dash of water, cover and briefly steam-fry. This makes them extra fluffy and infused with the flavour of browned meat juices.
Professional bakers: At The Cake Shop Bakery, the buttermilk is at 8°C, water in the main recipe is 35°C, the final dough temperature is 27°C, and the bakery at around 31% hydration. Mix the dough at slow speeed for about three minutes, add the tangzhong and mix at fast speed for about eight minutes.
---
© David Wright / The Cake Shop Bakery
Reproduction prohibited without written permission of the copyright holder.
---
Social sharing
If you make this, please share your photo(s) with the world on social media using #RealBread and other relevant hashtags, linking back to this recipe. Better still if we can see you in the photo, too: #WeAreRealBread!
Please don't forget to tag us, and the recipe's author. You can find us on:
Published 24 Jul 2019
Real Bread Campaign: The Real Bread Campaign finds and shares ways to make bread better for us, better for our communities and better for the planet. Whether your interest is local food, community-focussed small enterprises, honest labelling, therapeutic baking, or simply tasty toast, everyone is invited to become a Campaign supporter.
Support our charity
Your donation will help support the spread of baking skills and access to real bread.