Government set to turn its back on bakers?
Reduced business energy support scheme could 'leave small bakery owners crossing their fingers.'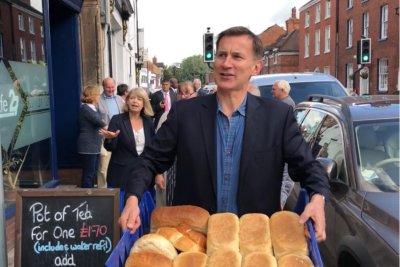 At a bakery in 2019. Copyright: @Jeremy_Hunt on Twitter
Update 10 January 2023: Real Bread Campaign reacts to business energy support cut
Today (9 January 2023), Chancellor Jeremy Hunt is set to announce a reduction in support for UK businesses struggling in the face of unprecedented energy bills.
The announcement of the new system, which will replace the Energy Bill Relief Scheme at the end of March, comes more than three months after the Real Bread Campaign first wrote urging the government for assurance of support for small bakeries.
On 3 January, Young replied to a belated response from BEIS to the Campaign's September 2022 letter, renewing its calls for a range of support measures, including grants, the ability to reclaim VAT, local food vouchers for shoppers, and the long-proposed Honest Crust Act.
According to the Press Association: 'Mr Hunt had promised to give firms certainty over future plans for support by the new year, saying last month the announcement would come just before or just after Christmas.'
Real Bread Campaign co-ordinator Chris Young said: "This reported move would reinforce what we said last week and feel like the government turning its back on bakers. Instead of providing certainty, it will leave small business owners simply crossing their fingers that wholesale energy prices drop and that energy suppliers will reduce their rates as far and as fast as they put them up last year."
Toby Mitchell, of Celtic Bakers in London, said: "This is quite simply an existential threat to the industry. Failure to renew the support in Spring would mean that the government is effectively condemning the country to another massive wave of food inflation, as producers such as us pass on the costs just to be able to survive."
View from a bakery

by Real Bread Campaign supporter John Townshend, owner of LocoLoaf in Hayling Island.

Whilst a long time coming, the Energy Bill Relief Scheme announced last September has been critical to the continued existence of our small bakery business. If the Government cuts support drastically, we will be in dire trouble.

My bakery has very much been living on the edge for many months. Our contract with our electricity supplier, British Gas, expired just after the war in Ukraine started. Renewing the contract on the substantially increased rates was ridiculously and prohibitively expensive. Running at over three times the 2021 contract price, my monthly electricity bills exceed all my other fixed outgoings - rent, etc. I have tried to change the baking schedule, eliminated our community bake and done everything else I can to reduce oven usage but it's not enough. Bakeries need to run their ovens!

I felt it was unreasonable to pass on all the cost increases, especially as we are a new business attempting to attract more customers, but we were forced to raise our prices twice in 2022. We clung on, hoping the Government would provide support, which it eventually did.

As ever, the Government's stated intentions and their ability to implement them seem vague and disjointed. I feel that they are not in a position to reduce inflation as the situation is a reflection of market forces over which they have no control. I assume that even if the Government and utility providers work out a method of implementing different rates for different industry sectors, something I doubt they will be able to do, then they may well only do so for large corporations.

Will the Government show that it really does care about small businesses? Who knows? I am not holding my breath. Frankly, I am immensely irritated with all of this. I feel it is better to just get on with it all and do the best I can.
---
What now?
Bakery owners: Is this the support that your small bakery business needs? If not, what are your concerns and what do you need the government to do as well / instead? Is there clarification or further assurance that you need, beyond what we have called for? Please email us.

Everyone: What do you think that the Real Bread Campaign should do (and enable our supporters and other friends to do) next? Click here to send us your suggestions.
See also
Support our charity
Your donation will help support the spread of baking skills and access to real bread.