SUGAR SMART Lambeth sets sights on local food businesses
The London Borough of Lambeth is the latest local area to launch its SUGAR SMART campaign, working with food businesses and organisations to improve public health and support the local economy.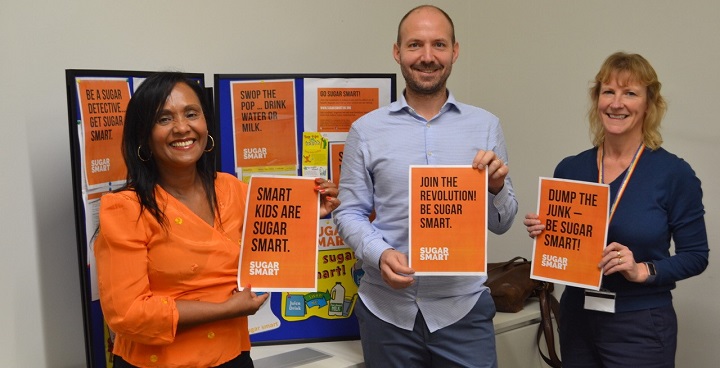 The campaign, led by Lambeth Council in partnership with the Lambeth Food Partnership and others, aims to encourage organisations, food businesses, communities and individuals across the borough to take action to help make it easier for people to reduce their sugar consumption. Consuming too many foods and drinks high in sugar can lead to weight gain, which in turn increases the risk of heart disease, type 2 diabetes, stroke and some cancers. It is also linked to tooth decay.
Dedicated council officers are working across the borough to encourage a healthier food system that also supports the local economy. Public Health and council colleagues are co-ordinating the local Sugar Smart campaign and are already taking action to:
Promote free drinking water
Reduce high sugar options in vending machines
Promote healthy eating in all settings
Work with food businesses to encourage them to reduce sugar, fat, and salt in foods
Implement wider policies and practices that align with the aim of reducing sugar consumption
Cllr Edward Davie, Cabinet member for Health and Adult Social Care, said:
We know that there is no single solution to tackle obesity and we are working hard to take multiple actions across the borough. The SUGAR SMART Lambeth campaign is a good opportunity for us to work together to help our communities reduce their sugar intake. I would encourage everyone to take part in this initiative and help raise awareness around the risks of consuming too much sugar.
Fran Bernhardt, SUGAR SMART National Campaign Coordinator (maternity cover) said:
We are delighted that Lambeth is launching a SUGAR SMART campaign. Lambeth joins a network of local areas across the country putting residents' health first by stemming the flow of unhealthy food. We look forward to seeing lots of organisations across Lambeth getting involved.
SUGAR SMART is a campaign run by Sustain: the alliance for better food and farming. SUGAR SMART is one of the featured campaigns in the UK's Sustainable Food Cities network.
---
17/01/2020
Sugar Smart UK
SHARE
---
Sugar Smart UK: Want your local area to become Sugar Smart?