Boris Johnson dismisses food standards concerns in future trade as 'mumbo jumbo'
Prime Minister Boris Johnson claims the UK will maintain food and welfare standards and dismissed concerns about US food standards as "hysterical".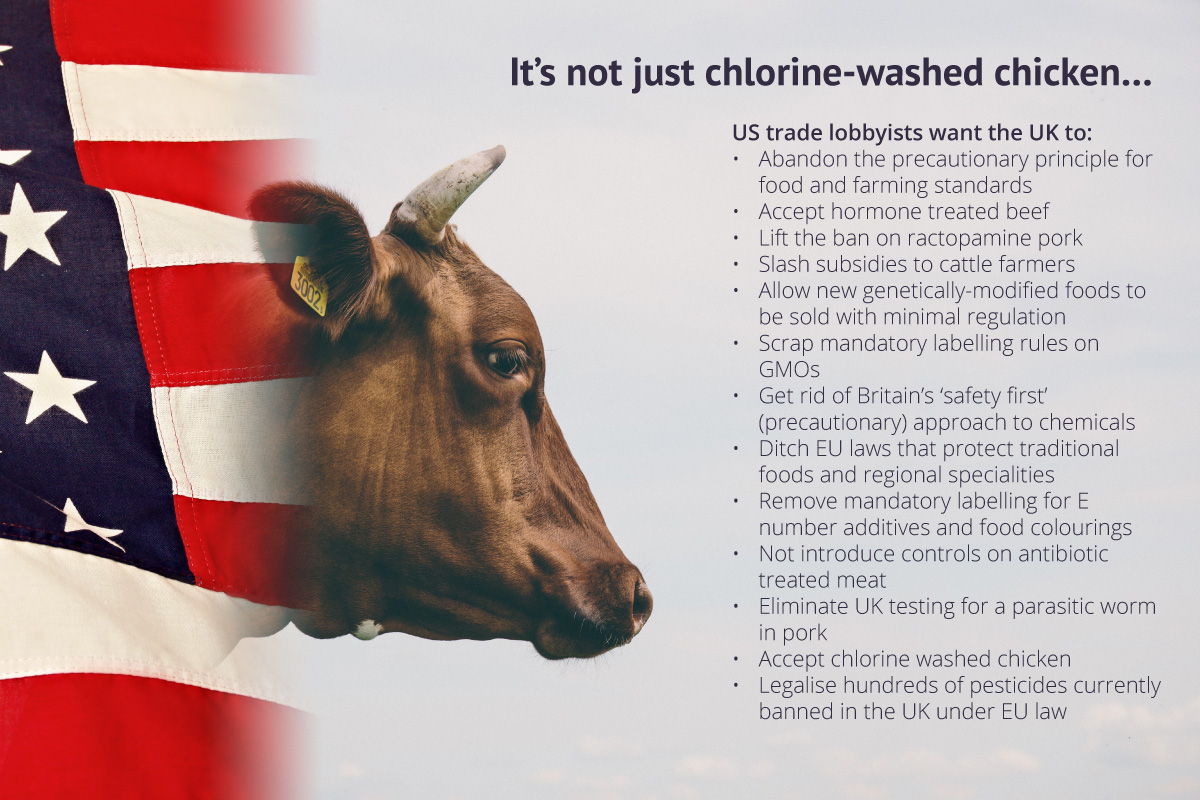 In a speech today, PM Boris Johnson outlined the UK's objectives for a trade deal with the European Union. He said that the UK would "maintain food, hygiene and animal welfare standards" and that the UK's policy would be "determined by science", not by "mumbo jumbo". The comments immediately prompted questions about food standards in a future deal with the US.
When asked to clarify his comments, Johnson said he was not dismissing concerns about chlorine-washed chicken and said this was an issue about animal welfare. He followed up saying "the US will have to follow UK animal welfare standards".
He went on to dismiss concerns about US food standards as "hysterical", saying he did not think there is a problem with US food and joking that "Americans look well nourished" to him.
He said that the UK was not leaving the EU in order to undermine its own standards and that in some areas the UK would want to go further than the EU – for example with animal welfare. He pointed to the example of veal crates, which he said were banned by the UK 16 years before the EU.
Kath Dalmeny, chief executive of the Sustain alliance for better food and farming responded:
"The Prime Minister's statement suggests we should trust our trade negotiators to defend British food and farming standards. But the stakes are high and the pressures are great. Food, farming, environment and welfare standards for the food that we produce and import need to be written in law.

"UK consumers have already made it clear that they won't sacrifice food standards in exchange for a US trade deal. Boris Johnson is quite right to say that chlorine-washed chicken is an animal welfare issue; producers in the US keep chickens in deplorable cramped conditions which means bleach-like chemicals are needed to make the meat clean enough for human consumption.

"When the Prime Minister says the UK's approach will be science based, we would like to direct him to Southampton University study showing these bleach-like washes merely make pathogens undetectable, rather than killing them off."
Michel Barnier, the EU's chief Brexit negotiator, also gave a speech outlining the EU's negotiating objectives today in which he said that a zero tariff, zero quota trade deal on goods was possible, as well as an 'ambitious' deal on services. However he stipulated that there would need to be a level playing field on high standards "over the long term" as well as a deal on fisheries, involving reciprocal access to waters.
On standards, he referred people to the political declaration published by the EU and the UK last year which included a reference to upholding social and employment standards, environment and climate change (amongst others).
He specified that there would be no mutual recognition of rules and that UK goods entering the EU would be subject to regulatory checks. On timing, he said that negotiations with the UK can begin immediately once the mandate is approved by the EU Council at a special summit on 20th February 2020.
If you would like to read Sustain's full concerns about a future trade deal with the US, and implications for food and farming standards, please click here.
Support our charity
Donate to enhance the health and welfare of people, animals and the planet.